10 Balcony Railing Planters to Buy from TrustBasket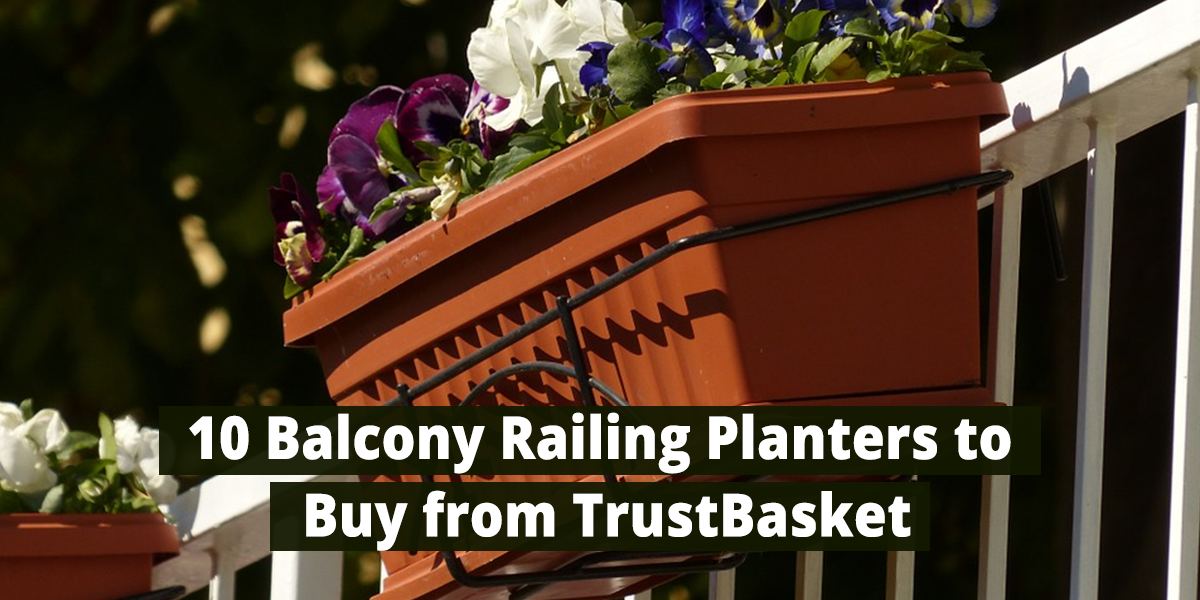 Do you live in a high-rise apartment and miss having a garden in your home? No matter the size of your balcony you can create a beautiful green space for you and your family with the help of railing planters. Unlike large and heavy pots that take up a lot of space, a railing planter can be easily fixed to the balcony rail which frees the ground space and also helps to keep it clean and stain free.
If you are looking to spruce up your balcony, try the railing planters, flower pots, or pouches offered by TrustBasket. There are different types of balcony railing planters offered on the website, and the most popular varieties are listed below for your reference. Choose any of these railing planters to give your balcony a gorgeous facelift.
Oval balcony railing garden flowerpots: Available in a wide range of vibrant colours and spotted with white polka dots, these balcony railing pots can give your garden a cheery springtime look. The container length is 12 inches, and it has a width of 6 inches which provides ample space for the roots to set and the plants to grow and thrive.
Dotted round balcony railing flowerpots: These cute set of planters are available in red, blue, yellow, green, and orange shades and are spotted with white or black polka dots. You can easily grow a plant of your choice be it herbs, vegetables, perennials, or flowering varieties in this railing planter. The container length is 6 inches, and the top width is 7 inches.
Bee balcony railing garden flowerpots: Give a quirky look to your balcony garden with the unique bee design planters. The planter and the bee wings are made of galvanized iron metal and have a powder coated finish that ensures durability and prevents rust.
Vertical gardening pouches (small): Available in black, green, and blue shades, these planters can house small ferns, herbs, or shrubs. You can easily hang a couple of these planters on your railing to develop a green cover on your balcony. You can place a plant of your choice, grown in small plastic pots or polythene bags, in these planters to improve shelf life.
Round ribbed railing planters: A hot seller thanks to the vibrant colours, sturdy build, and white ribbed patterns, these balcony railing planters exude a cottagecore vibe.
Railing planters round dotted:  Available as a single planter or as a set of 10 in multicolours, these planters are all you need to grow your favourite plant babies. They offer a generous length of 5.9 inches and a top width of 7 inches making it ideal for growing hanging plants, your favourite pothos, syngoniums, or even exotic orchids and anthuriums. 
Railing planters round plain: Add the colours of the rainbow to your balcony garden with these round plain planters that are offered in single colours or as a set of 5 (green, yellow, red, blue, orange). These are a perfect choice for people who like to give a classy, minimalist look to their garden and are not fond of too many patterns or clash of colours.
Oval railing planters dotted: TrustBasket's polka dotted oval railing planters are a hit among gardeners as they help to add a pop of colour to a green balcony space. These cheerful looking planters have a height of 5 inches and a width of 6 inches providing enough space for plants to sprout new roots. You can get these planters as a set of 10 or try a single planter in your favourite colour.   
Advantages offered by Railing planters
TrustBasket's planters are not only durable, but they also offer the depth required for the plants to put down roots and grow. All the planters sold by TrustBasket are made of galvanized iron metal and powder coated paint that improves their longevity and also provides corrosion and weather resistance.
The top features of TrustBasket's Railing planters
Detachable handles.
Comes with a hole for drainage.
Vibrant colours with a glossy finish.
Affordable price range.
Available in a wide range of sizes and shapes.
Are you searching for beautiful and sturdy railing pots online in India? Visit https://www.trustbasket.com/collections/balcony-railing-planters-pots-online to choose planters that are right for your balcony garden.
0 comments