11 Best Out of Waste Ideas For Plant Pots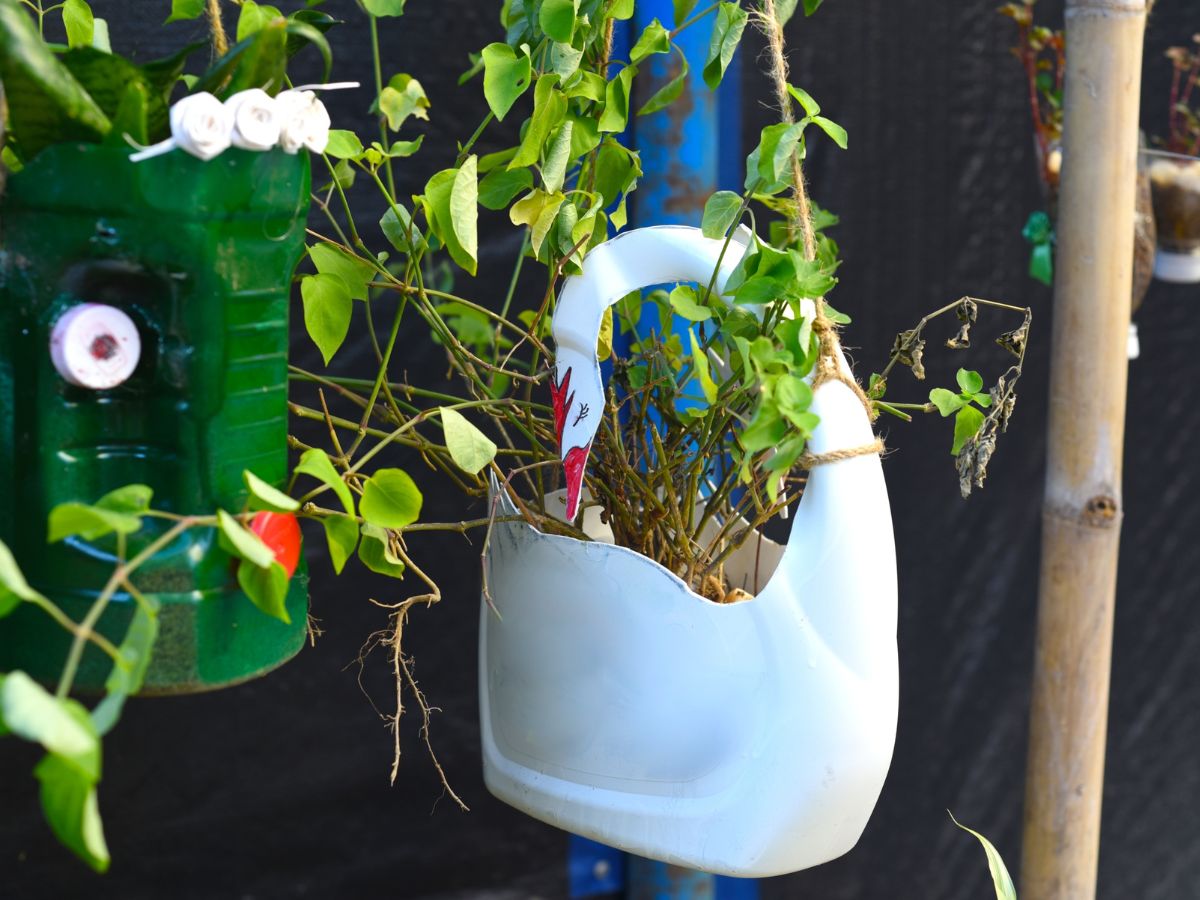 Apart from the population, what's that one thing that we keep making more and more of every day? It's waste!
Organic, re-usable, recyclable, plastic, or ceramic – waste in every form is thrown away or discarded every minute of the day in every corner worldwide.
The world would definitely look healthier, greener, and prettier without these waste materials. Maintaining standard protocols like using dustbins isn't enough. And again, not everyone is Nek Chand (the one who made Rock Garden, Chandigarh), but if some of us start making the best out of waste materials, our ecosystem will improve a lot.
Plenty of waste materials that keep piling up at our home can be used to intensify our indoor or outdoor garden spaces. How? By making plant pots from waste materials, there can be a considerable deduction of waste from at least one home.
To prepare your new "best from waste" model of garden, you need only a few simple materials that are readily available at home.
Ready to give your creative cells some work? So, let's get started and make some beautiful plant pots from waste materials: -
1. Plastic Bottle Planter
This is perhaps the most widely used or most promoted "best out of waste" craft idea. Plastic has crept into our lives almost like oxygen – every second item in our households is made of plastic – isn't it? Among all the plastic items, the use of plastic bottles is the most common.
Bottles of cold drinks or drinking water bottles made of plastic can be beautifully used to make planters. You need to cut them in the middle horizontally (with cap intact) and poke some small holes at the opposite end for better drainage. Now put in some potting soil and grow coriander, fennel, green chilies, petunias, or whatever plant you like.
You can make multiple plastic bottle planters at home, use ropes on both ends to tie them properly, and then hang them on your wall. It will look like a nice vertical garden against your wall. Plus, the aesthetic value would increase.
2.Old Bird Cages Planter
Have you ever had birds? If yes, then you must have a bird cage. Your mom must be complaining about the space this bird cage eats up in the storeroom, right? She will be happy when you put this useless, wasteful object into something worthwhile.
Bring out the cage, clean it, and check if it has rust. Use a rust remover, paint it, but before that, check which portions of the cage you need to cut for ease of maintenance (putting soil, plant, applying water, etc.).
As a base for this cage, use coir liner, burlap, or chicken wire and moss. If it is large enough, you can simply put small containers of plants inside the cage. Now use potting soil or good quality garden soil.
Put succulents, air purifying plants, annual or perennial flowering plants, or decorative plants in this cage planter.
3. Dustbin Planter
How long have you been using the dustbin of yours? If it looks old and you are planning to buy a new one, then use this old one as a planter.
You can grow your favorite veggies, flowers, or ornamental plants in it.
If you have that large or extra-large size of dust bin, simply use good quality garden soil and grow your own tomatoes, potatoes, or carrots. You can keep this planter on your balcony and grow perennial or annual flowers in it.
The metal or plastic dust bins can be given a makeover before using them as planters. Clean it up, paint it with two contrasting colors like black & orange, black & gold, red & white, blue & white, etc. Grow colorful flowers in them and when they bloom, keep them beside your main door to welcome guests.
4. Jute Rope, Paint, & Plastic Container
All you need is a plastic container, jute rope, and acrylic or fabric paint for this unique and colorful planter. The plastic container can be medium-sized (250 gms).
Glue the jute rope all around it and then make a hole at the bottom for drainage. Now use paint to make this planter look brighter.
Put some potting soil in and grow your green friends. Water it regularly and give it some sunshine too.
Isn't this best out of waste idea too easy to make at home?
5. Egg Cartons Planter
99% of us throw away the egg cartons after the eggs are consumed. Do you know that egg cartons are an example of recycling and reuse? They are made up of various materials, such as recycled paper, cardboard, molded pulp, and different polymers.
Egg cartons, made from recycled materials, can be further used as planters. They have clearly marked compartments, and that's why it is easier to grow various flowers or veggies in them easily.
Use potting soil, put in seeds of various plants you want to grow, and then moisten the soil. Keep the carton in a warm space so that germination occurs soon. You can put the carton in a plastic vegetable bag for this purpose.
As you see them sprout, remove the plastic, then set your container in a sunny, warm spot until they are ready to be planted outside.
6. Coconut Shells Planter
As Dussehra arrives, the use of coconuts in our kitchen increases. Various sweets are produced using coconuts, and then you are left with way too many coconut shells—isn't it?
Use these coconut shells to grow some herbs, succulents, or microgreens. If growing herbs, you can use the kitchen window space to keep these coconut planters.
You may opt for perennial herbs like oregano, chives, rosemary, mint, etc. to spruce up your kitchen all year long.
Make a small hole at the bottom of the shell for drainage and fill it with good quality herb soil or potting soil. Plant seeds of the herbs you want to grow, water thoroughly, allow some sunshine, and enjoy your dishes.
You may use some paint to color up the shells and write the name of the herb you are growing on them.
7. Alcohol Bottle Planter
Some alcohol bottles are just too creative to throw away – isn't it? But keeping them stacked in a box is only going to eat up your space.
Bring them out, clean them, and use them as planters. If you want you can paint them too, make designs with acrylic pens, etc.
Fill a few alcohol bottles with water and place a money plant by snipping a few stems from a tree. Keep it beside a window, so that the plant can crawl up the rods and add much beauty to your place.
8. Ceramic Mug Planter
Ceramic mugs look ravishing. Some have cute quotes, while some have funny emoji and some have personalized images. How many big ceramic mugs do you have at home? Most of them are kept as show pieces only as we are too scared to put them to daily use.
Then there can also be some ceramic mugs that you don't use anymore after many years of usage.
So, convert these colorful, medium-sized or big-sized ceramic mugs to planters.
Make a hole at the bottom of your selected ceramic mug and fill half the mug with cactus soil. Place the succulent that you brought.And now fill up the rest of the mug with some more soil.
Add water and your "best out of waste" planter pot is ready for display. Use these ceramic mug succulent planters as bookends or as your coffee table accessories.
9. Wine Cork Planter
Gather some wine or champagne bottle corks for this best out of waste planter pot idea. This innovative planter will impress anyone coming to your home.
Take a sharp knife and make a hole of approximately 0.8 cm in diameter and 2 cm in depth. After that, glue a small magnet to this cork. Allow a few hours for the magnet to dry and then put in some good potting soil.
Now cut a small stem of a succulent and place it carefully in this soil. Pour a few drops of water.
Your creative cork planter is ready to be hung from your refrigerator door or your wall. It would be nice if you made 3–4 of these wine cork planters, as the tiny planters would look better together in a cluster.
10. Mason Jar Planter
Bring out the used mason jar and clean it up. Dry it and then put 1 inch of stone at the bottom. This layer of stones will work as an internal drainage as mason jars don't have holes. After this stone layer, put ½ inch layer of charcoal. This layer of charcoal will balance the soil pH, preventing bacteria and assisting in drainage.
Now add potting soil and place the desired plant in it. Keep it wherever you want, but make sure it receives good sunlight and water.
You may decorate this jar more by using spray paint or glitter.
11. Tin Can Planter
Used tin cans of clarified butter, oil, etc. can now be used as an attractive planter. Wash the tin cans well and dry them up. Use a hammer and nail to make three or four holes at the bottom for drainage.
Use spray paint to spruce up the tin can and an acrylic pen to write a nice quote. Put in potting soil and place a cactus, succulent, or ornamental plant, or any annual flowering plant of your choice.
Water the soil and make sure it receives some sunshine too.
Ref links:
https://housing.com/news/diy-plastic-bottle-planters-for-modern-homes/
https://empressofdirt.net/make-birdcage-planter/ https://theprojectspot.blogspot.com/2012/05/garbage-can-planter.html https://www.gardeningknowhow.com/garden-how-to/propagation/seeds/egg-carton-seed-tray.htm
https://rainforestbowls.com/blogs/product-spotlight/plants-to-grow-in-coconut-planters
https://jewelpie.com/craft-money-plant-in-glass-bottle/ https://craftychica.com/2014/06/coffee-mug-planters/ https://arts.onehowto.com/article/how-to-make-wine-cork-planters-6348.html
https://homesteadbrooklyn.com/all/2017/1/12/how-to-build-a-mason-jar-garden
https://www.homedit.com/easy-diy-tin-can-planters
0 comments