You can live inside a bottle without Air!!! Have a look at this fantastic study.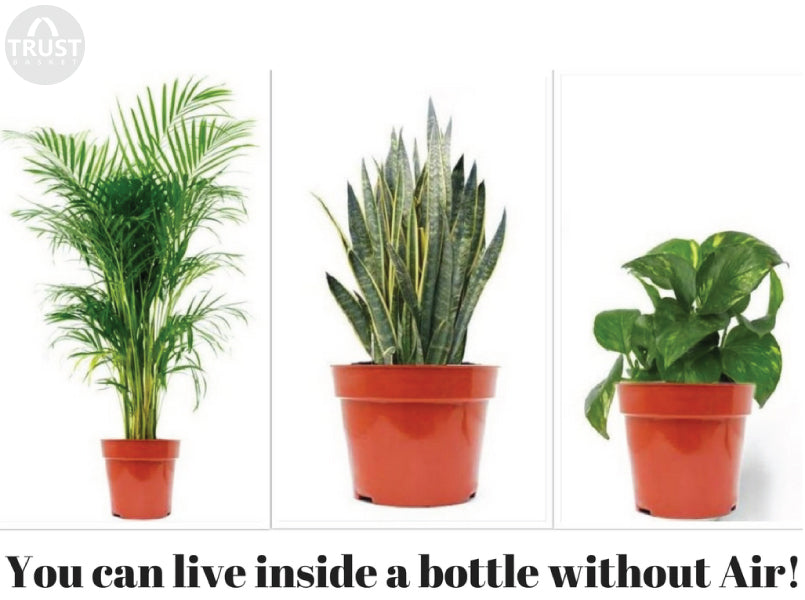 This is a story of three insanely powerful plants. If you close yourself inside a bottle with these plants, you don't need any external oxygen!!! Let us find out how?
Plant 1: Areca Palm
Converts CO2 to Oxygen and perfect indoor air cleaner.Ideal for a living room. Need one plant per person.
Plant 2: Sansevieria/Mother inlaw's tongue
Converts CO2 to Oxygen at NIGHT. Ideal for bedrooms. Need 6-8 plants per person.
Plant 3: Money plant

Removes formaldehyde and all other impurities from the air... Can be placed anywhere in the home. Very easy to maintain and hard to kill


There was a study done using all these plants form researchers and the results were amazing!!! Have a look at the video from a Researcher who was part of the study.

Popular Searches: Garden Accessories for Sale, Compost Bin India, Plastic Flower Pots Online, Contemporary Plant Pots, Hanging Pots Online, Colourful Plant Pots, Bird Feeders Online, Rectangular Planters Online, Small Pots Online, Flower Pots Online, Kitchen Waste Compost Bin, Balcony Railing Planter, Buy Pots Online, Indoor Plant Pots, Metal Flower Pot
1 comment