How to remove salt deposits from clay pots?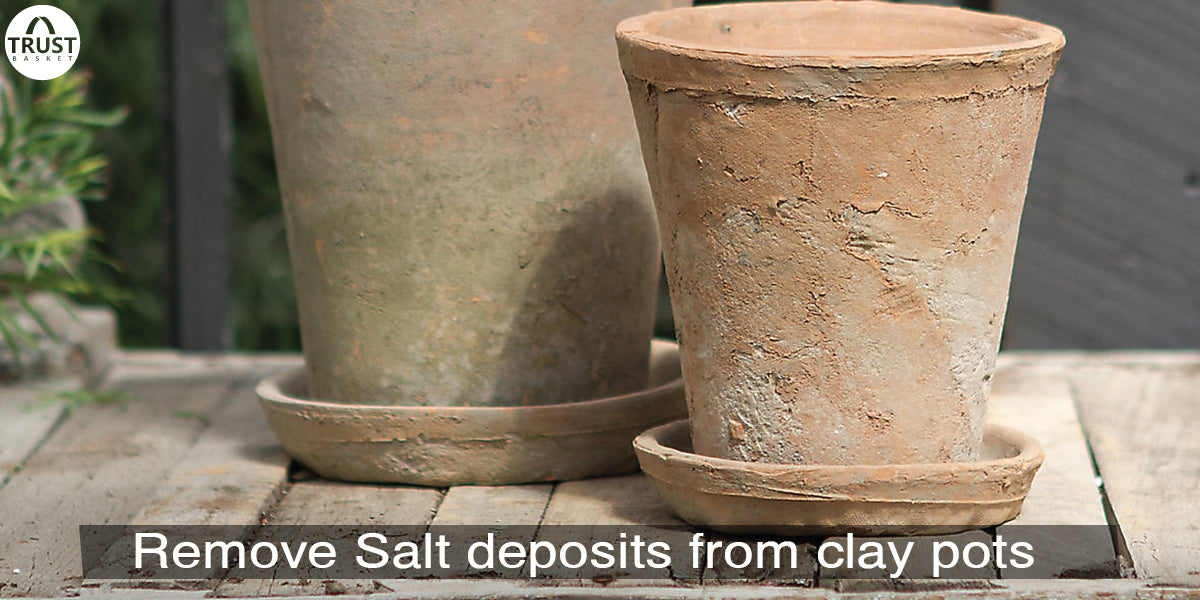 Usually, clay pots/terracotta pots are raw so due to continuous watering, you will find a white deposit on pots. This white deposit destroys the pot as it loses its strength to withstand. To avoid this we suggest a simple hack to protect your pots for a longer duration. 
Plants prefer growing in terracotta pots because the clay is porous and breathes. This wick-like action is beneficial to plants but can make inexpensive pots erode and flake, generally because the clay wasn't fired in a kiln, or it is a soft kind. 
Image courtesy: baileysup (helpfulgardener.com) 
The white deposits are calcium and other minerals found in our water or in fertilizers. The wicking action of the clay causes them to accumulate on the outside, where they will not harm pot or plant.
To remove these salt deposits, combine equal parts white vinegar, rubbing alcohol and water in a spray bottle. Apply the mixture to the pot and scrub with a plastic brush.
Let the pot dry before you plant anything in it. Do this for every 6 months to keep your clay pot healthy and also protect your plants.
Popular Searches: Garden Accessories for Sale, Compost Bin India, Plastic Flower Pots Online, Contemporary Plant Pots, Hanging Pots Online, Colourful Plant Pots, Bird Feeders Online, Rectangular Planters Online, Small Pots Online, Flower Pots Online, Kitchen Waste Compost Bin, Balcony Railing Planter, Buy Pots Online, Indoor Plant Pots, Metal Flower Pot
4 comments