Calabash (Lauki Or Bottle Gourd) - Facts, Benefits, Cultivation & How To Grow at Home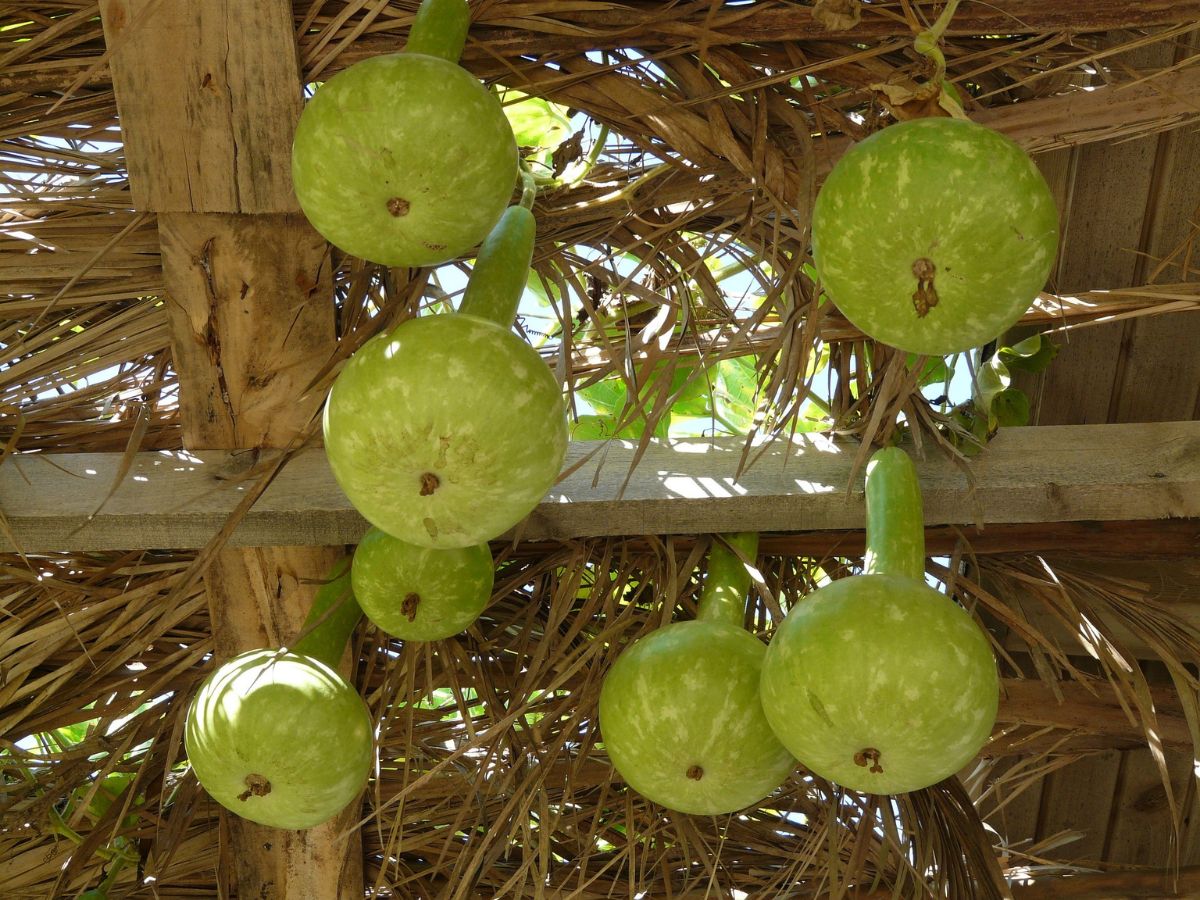 Lauki (or bottle gourd), alongside Karela (bitter gourd) and Tinda (round gourd), is one of the most infamous vegetables in Indian households.
The memes say that lauki is the vegetable most wives cook for their husbands as a silent protest after a household disagreement.
Keeping jokes aside, it's surprising that Lauki has a lot of health benefits.
Studies say that bottle gourd could help in curing skin diseases, improving heart health, and controlling diabetes.
In this blog, we'll learn -
Interesting facts about Calabash (Bottle Gourd or Lauki in hindi)
Health Benefits of Bottle Gourd (or Lauki)
How to grow Lauki (Bottle Gourd) at home?
Important care tips for growing Lauki at home
Excited? Let's get started.
Interesting facts about Calabash/Lauki/Bottle Gourd
Depending on when it is harvested and how it is grown, the size, shape, and length of lauki vary. Short, round, elongated, curved, cylindrical, and bulbous are some of its shapes
The color of lauki varies from light green to dark green
The taste is similar to cucumber or squash
Lauki became a domestic plant 10,000 years ago in Africa. Currently, lauki is found in all tropical and sub-tropical countries of the world.
In India, we may know lauki as a boring vegetable, but in Africa, the dried laukis are used as vessels for rice and water.
In Hawaii, dried lauki are used as centerpieces and bowls, while in South America, it is used to drink the popular yerba mate tea-like beverage.
Large laukis when dried, are used as helmets and hats for protection against the sun rays.
When the FIFA World Cup was held in Africa, the Soccer City stadium was designed in the shape and color of lauki, paying tribute to its historical importance.
What are the benefits of Lauki?
This "not so popular" vegetable is highly recommended by physicians for its amazing health benefits. 100 grams of bottle gourd, calabash, or lauki contain only 15 grams of calories and 1 gram of fat. So, it is the vegetable you don't want to throw away for sure. Know more benefits of eating lauki below: -
1. Promotes weight loss
With 96% water content, lauki is the best food when it comes to weight loss regimes. Plus, the fat and calorie content are also at a minimum, which makes lauki even more irresistible for obese people. Lauki is also rich in fiber to facilitate weight management. Adding bottle gourd or lauki to a regular diet will thus be beneficial.
2. Good for digestion
Lauki, rich in alkaline and fiber content, is a blessing for the human digestive system. Also, the anti-inflammatory property of lauki reduces all inflammation related diseases of the liver. Plus, there are antioxidants in vitamin C that make lauki cure all digestion related health issues.
3. Cool for summer
You must have seen a spike in the sale of lauki in the summer season, and there's a good reason for that. It is a vegetable that cools the body from the inside. You may go out in the sun or stay inside all the time, but the summer heat will find a way to affect you. That's why you must include vegetables that are cool for the body. Also, remember that lauki has more than 90% water, which makes it a perfect summer drink and vegetable both. It will re-energize your body and never let you get dehydrated.
4. Rich in Vitamins & Minerals
If you want to fill your body with fibers and nutrients without any medication, then keep your trust on Lauki. It is high in minerals, including riboflavin, zinc, iron, potassium, folate, manganese, magnesium, and vitamin C and low in saturated fats and cholesterol. Along with vitamins B and C, it also has anti-oxidant properties.
5. Treats urinary tract infections
One of the prime reasons why urinary tract infections occur is loss of fluid from the body. When you consume lauki as juice or vegetable, your body receives that required alkaline to flush out the toxins.
6. Treats stomach problems
A vegetable that is rich in vitamins, minerals, antioxidants, and fiber is a boon. For all stomach related health issues, drink lauki juice or include lauki in your lunch and dinner dishes. You will benefit a lot from this small lifestyle change.
7. Helps in controlling diabetes
Lauki is high in fiber and low in fiber, which makes it ideal for diabetic patients. It is included in the list of food types with a low glycemic index. With regular intake of lauki, you may see a reduction in your blood sugar level.
8. Regulates blood pressure
A rich source of vitamins C, K, and calcium, lauki takes care of cholesterol and thus has a good impact on our hearts. By bringing down bad cholesterol, a healthy heart and blood pressure are maintained.
9. May cure hypertension
As said in the previous point, bottle gourd, or lauki, is good for regulating blood pressure. This also means it will cure patients with hypertension too. The potassium content in it helps people with hypertension calm down.
10. Great for skin
Food items rich in vitamin C, antioxidants, and other nutrients are the biggest blessings for glowing, younger-looking skin. With regular consumption of lauki, most of the skin-related problems like wrinkles, dullness, sun damage, etc. are wiped away.
How to cultivate Lauki at home?
Preparing the soil
The first and most important step in the growth of a lauki plant is the preparation of the soil, because that is the source of all nutrients. So, gather some of your garden soil, add some manure, and add some peat moss. Assemble them well and also add natural compost made from vegetable peels. Your soil is now ready.
Time to plant lauki
Summer and monsoon months are perfect for planting the seeds of lauki or calabash. Sow directly in your garden or use a container or pot.
Growing from seeds
You can grow lauki all year long using this seed planting method. You can collect the seeds while peeling a lauki at home, buy them from a local nursery, or buy them online
As told earlier, prepare your soil and place the seeds directly in shallow holes
Water it well, and you will see the germination of seeds in 7-8 days
Make sure the place receives an ample amount of sunlight for better growth
Lauki is a climbing plant and grows up to 15 feet, and thus, it will require support to grow and produce. So, build a frame or trellis for this purpose
To encourage more leaves, pinch off the young plant's growth tips
After two months, you will see side shoots that will give rise to male and female flowers
The female flowers are the ones that have little gourds under them after pollination
In case you notice a lot of male flowers, you can remove some of them manually
Growing in container or pots
Bottle gourds can easily be cultivated in large grow bags or 14-inch containers. Fill the container with a high-quality potting mix before spreading the seedlings. Then follow the same procedure mentioned in the seed planting method. But as the plant crosses 2 months, you have to transfer it outside because now it will require more space to grow.
Important care tips for growing Lauki at home
Soil
A sandy, loamy soil that is rich in organic matter and has good drainage is ideal for the growth of lauki. The pH can range from 6.5 to 7.5.
Water
You need to check the soil once or twice a day to know if it requires water or not. In the summer, Lauki needs more water than in the winter. It can be every 2–4 days, depending on the temperature.
Pests
Powdery mildew, white or grey bugs, fruit flies, etc. may affect your lauki plant. Remove dead leaves and water the roots daily to avoid such problems. To avoid insects, you can cover the plant with mosquito nets.
Fertilizers
Well rotted organic manure, cow dung manure, FYM (farmyard manure), compost, or vermicomposting would be great fertilizers for lauki plants.
Sunshine
A bright, sunny day is a boon for lauki plants. So, make sure the plants receive a good amount of sunlight all through the day. It will lead to better crops. Make sure there are no shades.
Temperature
Lauki thrives in the summer and monsoon seasons, which is why the ideal temperature for the growth of lauki is 25-35 degrees Celsius.
Location
Choose the brightest spot in your garden or on your terrace to grow a lauki plant.
Frequently Asked Questions related to Lauki (Bottle Gourd)
1. How long does Lauki take to grow?
Lauki usually starts flowering within 25-30 days of planting and should appear within 2-3 months of planting.
2. How do Lauki seeds grow?
Lauki seeds are placed directly in shallow pits or raised beds. The seedlings grow quickly, germinating in 7-8 days. There should be strong trellis support for the climber to grow.
3. In which season does bottle gourd grow?
Bottle gourd can be grown throughout the year. However, the summer and monsoon seasons are the best time to plant the seeds.
4. What is the best fertilizer for Lauki?
Well-rotted organic manure, cow dung manure, FYM (farmyard manure), compost, or vermicomposting work as great fertilizers for lauki plants. Additionally, large amounts of phosphorus and potassium result in better fruiting in lauki.
5. Is chicken manure good for bottle gourd?
Chicken manure or the faeces of chicken has the highest amount of phosphorus and potassium, compared to other animal manures and could be beneficial for bottle gourd.
6. Does bottle gourd need full sun?
Bottle gourd plants thrive in the sun, so make sure to place the plant in a spot that gets plenty of sunshine and fresh air.
 References
Katare C, Saxena S, Agrawal S, Joseph AZ, Subramani SK, Yadav D, Singh N, Bisen PS, Prasad GB. Lipid-lowering and antioxidant functions of bottle gourd (Lagenaria siceraria) extract in human dyslipidemia. J Evid Based Complementary Altern Med. 2014 Apr;19(2):112-8. doi: 10.1177/2156587214524229. Epub 2014 Feb 20. PMID: 24647091.

Gourd, white-flowered (calabash), raw [Internet]. Food data central. 2022 [cited 13 July 2022]. Available from: https://fdc.nal.usda.gov/fdc-app.html#/food-details/169232/nutrients 4. Verma A, Jaiswal S. Bottle gourd (Lagenaria siceraria) juice poisoning. World J Emerg Med. 2015;6(4):308–309. Available from: https://www.ncbi.nlm.nih.gov/pmc/articles/PMC4677076/pdf/WJEM-6-308.pdf 

Verma, A., & Jaiswal, S. (2015). Bottle gourd (Lagenaria siceraria) juice poisoning. World journal of emergency medicine, 6(4), 308–309.

https://doi.org/10.5847/wjem.j.1920-8642.2015.04.011

https://www.mykitchengarden.info/2014/06/how-to-grow-bottle-gourd.html

https://gardeningtips.in/bottle-gourd-terrace-gardening-louki-ideas-tips

https://krishijagran.com/agripedia/how-to-grow-bottle-gourd-lauki-at-home-a-complete-guide/

https://www.practo.com/healthfeed/health-benefits-of-lauki-3556/post

https://lifestyle.livemint.com/food/cook/here-s-why-bottle-gourd-is-not-boring-111602911615631.html#:~:text=Fun%20fact%3A%20Bottle%20gourd%20was,wall%20for%20increased%20capacity%20within.

https://specialtyproduce.com/produce/Bottle_Gourd_10640.php
0 comments