How to plant and grow sweet potato in container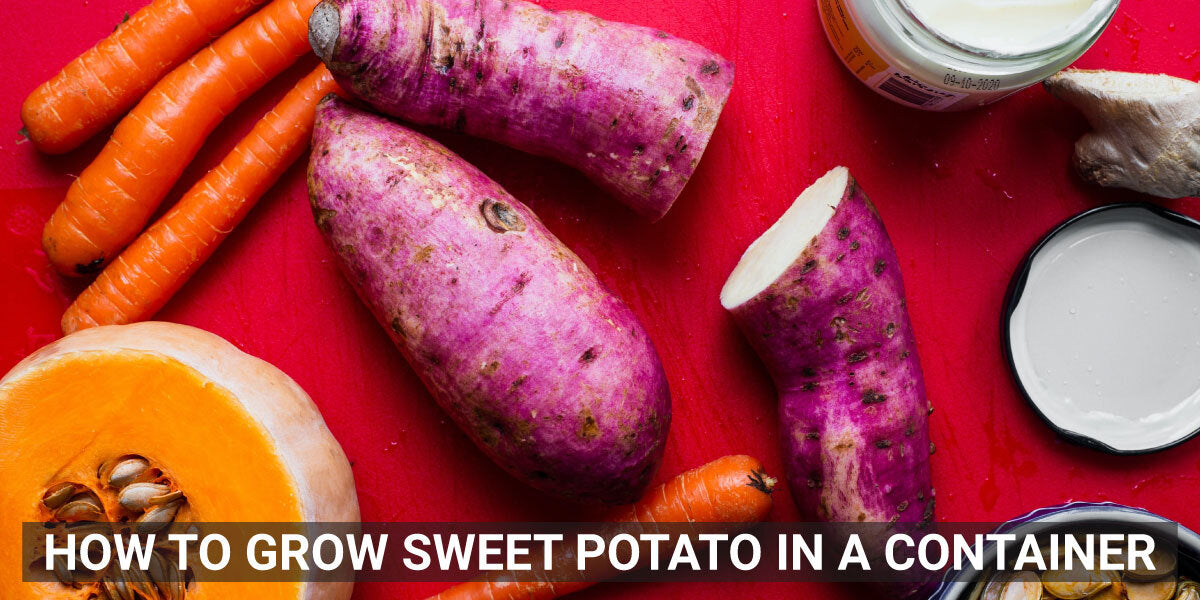 Sweet potato is one of the important root crops grown in India. You can grow them easily in any garden/backyard or even in a single pot. Here I am bringing the complete guide to grow sweet potato in a container.
Sweet potato has a bunch of health benefits like, supports healthy vision, enhances brain function, supports the immune system, and may have cancer-fighting properties. Having such a healthy plant in your garden is exciting. Give a trail of growing your sweet potato in your home.
Sweet potato is also known as, kumara, and umala in the different parts of the world. Botanically sweet potato is Ipomoea batatas.
Materials and tools you require: 
 Here are simple steps and methods you have to follow for growing sweet potato in a container easily without using any specialized tools, 
1. Rectangular/ round pots
2. Good quality potting mix
3. Healthy cuttings/ slips
4. Knife
5. Watering can 
Be ready with all these materials before starting the propagation of sweet potato, once you are ready with the materials you can start growing them. 
10 simple steps to grow sweet potato in a container: 
Here are simple steps and methods you have to follow for growing sweet potato in a container easily without using any specialized implements'. 
1. Best place: sweet potato loves warm & moist climate. To have a good growth of roots warm days are very much necessary. Temperature available in the Indian climate is very congenial for sweet potato. So we can easily grow them.
2. Best season: as sweet potato loves warm and moist condition, June-July, and September is the best time for planting.
3. Best potting mix/soil: it can be grown in loamy soils with a pH range of 5.5-6.6, which is slightly acidic soil.( Potting mix ) Or you can use good quality potting mix for growing healthy potatoes. 
4. Prepare your potting media: prepare potting media with 2:2:1 ratio of garden/red soil+organic compost+sandy soil. Fill this in a large-sized container of size 18-20". ( Red soil, organic compost )
5. Collect the cuttings: sweet potato is propagated mainly by cuttings/slips. Cuttings should be 10-15 cm length with the 2-3 nodes. These cuttings /slips should be collected from 3-month-old mother vine. Mother plant can be grown in home. Keep sweet potato length wise in a rectangular pots, cover 3/4th of the potato with the soil. Plants will start growing within 15-20 days. When plant/vine becomes three months old, you can collect slips/cuttings from the Mother vine.( Rectangular pots)
6. Ready to plant: plant only one cutting in a large-sized round container. As it requires space to grow the potatoes. If you planting in the ground give a space of 20cm between the plants for healthy growth and development. While planting in the ground make raised beds surrounded by wooden blocks. So it avoids the rodents attack. ( Round pots)
7. Water accordingly to the need of plants: water your vines three days once depending on the climatic condition. Water once in 2-3 days in summer. Once in 3-4 days in winter, and once in 5-7 days in the rainy season. Before watering checking soil wetness and watering is a good option. 
8. Give organic food for plants: 
apply good quality organic manure 30 days after planting. And adding a good amount of organic matter while planting slips/ cuttings ensures robust growth. Check below blog, we have written in detail how organic matter takes a very important role in the growth and development of plants. 
Role of organic matter in plant's growth
9. Spend some time with plants: after planting, for every 35, 55,80 days earthing up has to be done to cover the roots( sweet potato). Before earthing up you have to lift your sweet potato vines before the nodes start rooting into the soil. 
10. Time to enjoy the sweet potatoes: sweet potatoes can be harvested 110-120 days after planting. One week before harvesting stop watering your vines, so roots get sufficient time to dry and come out easily. 
Some common pests and diseases of sweet potato: 
Pests: major pest of sweet potato is sweet potato weevil. It can be prevented by planting healthy vines. After harvesting destroy all the plant residue. Because it may favor pest growth for next season.
Disease: soft rot is an important disease of sweet potato. It can be prevented by proper application of water to your vines.
 Follow the above mentioned simple steps and methods, you can successfully grow sweet potato at your home. Give it a try.
Top questions related to the propagation of sweet potatoes:
 1. How many sweet potatoes do you get from one plant?
Sweet potatoes require a moist and warmer climate for higher yield. If you grow them in warmer regions usually from one sweet potato you can get up 7-8 potatoes. 
2. How many days does sweet potato take to grow? 
From the date of planting, you can harvest sweet potatoes after 110-120 days. 
3. What is the best time to plant sweet potatoes?
Sweet potato loves warm and moist condition, June-July, and September is the best time for planting.
4. Can I grow a sweet potato from a sweet potato? 
We can propagate sweet potato from a slip. When slip becomes a few inches in length, you can separate that from sweet potato and put it in water for rooting purpose after that you can plant it in the soil. Or directly you can place the slip in soil. So it becomes a new plant.  
Popular Searches: Garden Accessories for Sale, Compost Bin India, Plastic Flower Pots Online, Contemporary Plant Pots, Hanging Pots Online, Colourful Plant Pots, Bird Feeders Online, Rectangular Planters Online, Small Pots Online, Flower Pots Online, Kitchen Waste Compost Bin, Balcony Railing Planter, Buy Pots Online, Indoor Plant Pots, Metal Flower Pot  
0 comments