Karela/Bitter gourd - facts, benefits, how to grow, and take care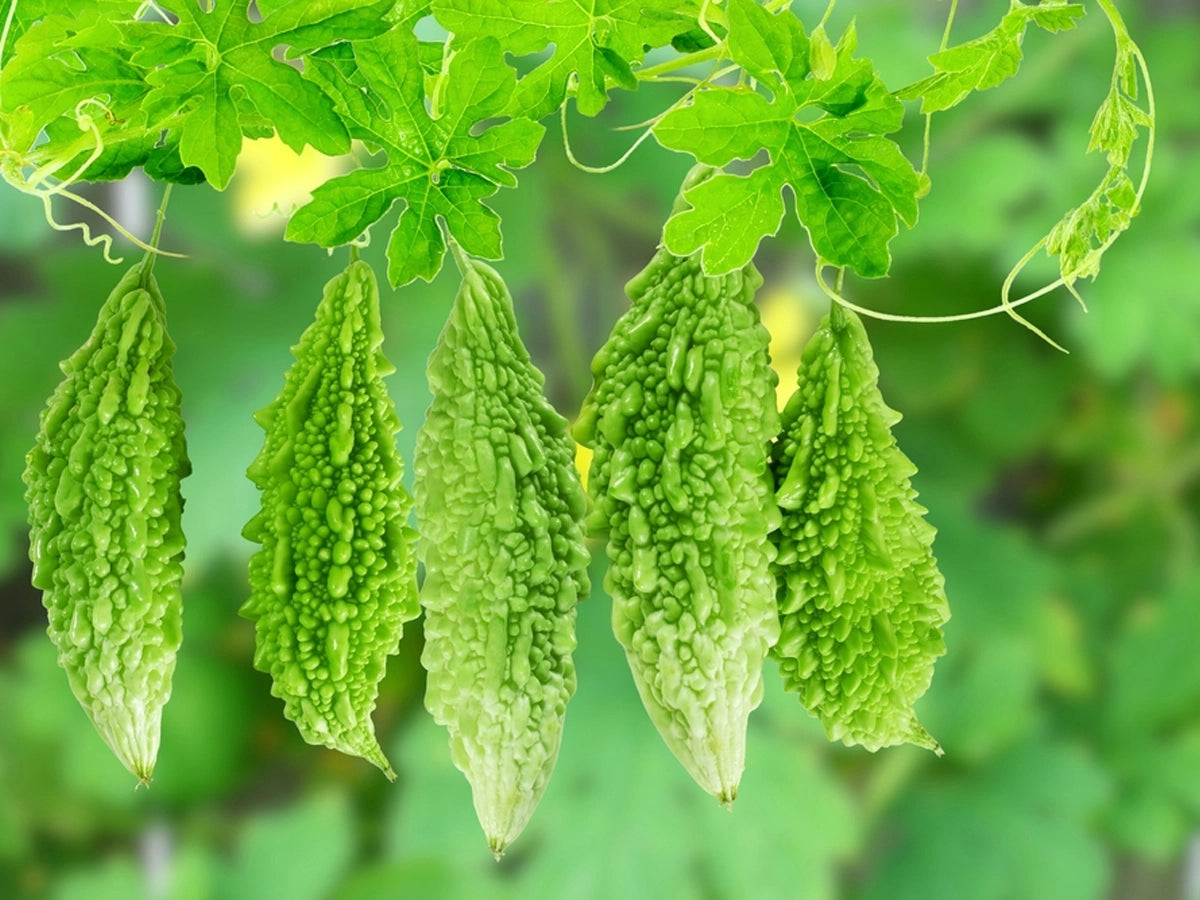 If we asked what vegetable everyone hates, maybe the whole nation would point to the bitter gourd.
Most kids tend to flee Karela because of the bitter flavor. Even we adults avoid that bitter gourd taste.
From an early age, we are instructed to consume karela for its therapeutic benefits. So, our mummies and grannies have thought a lot about it and presented us with stuffed karela, karela chips, or yogurt karela to counteract its bitterness.
They've succeeded to some extent, haven't they?
Suffering from acne or high blood sugar? Bitter gourd is an easy remedy to take alongside your medicines. Bitter melon also lowers cholesterol, prevents premature aging, may combat cancer, etc.
Moreover, they can be easily grown at home. This blog will inform you everything about growing and caring for karela vines. We will discuss the following: -
Some interesting facts about Karela or bitter gourd

How to grow bitter gourd or karela at home easily

How to take care of karela or bitter gourd plant

Significant health benefits of karela or bitter gourd
So, let's start the blog.
Some interesting facts about Karela or bitter gourd
Momordica charantia or bitter gourd is a tropical and sub-tropical vine of the family Cucurbitaceae that includes cucumber, pumpkin, and squash.

Karela originated in Africa although now it is grown extensively in Asia and the Caribbean Islands

There are bioactive substances found in bitter gourds – terpenoids and saponins. These substances are in charge of giving the vegetable its bitter flavor.

Do you know that karela helps blood clot faster, thus helping heal wounds in a better way?

Bitter gourd is a special summer vegetable and there is a reason for that. Karela is 92% water and is rich in fiber, and so, it cools the body from within.
How to grow bitter gourd or karela at home easily
Karela or bitter gourd, grows well in hot and humid regions. That's why India is a great place to produce this vegetable. If you provide proper care, you can also grow your karela plant. Read below and know the growing mechanisms in detail: -
Basic arrangement for growing bitter gourds
Best time to sow bitter gourd seeds
For the plains, the best time to sow karela in the summer season would be between January and March, and in the rainy season, between June and July. For hilly regions, the best time to sow karela seeds would be between March and June.
Find a proper location
Karela requires a minimum of six to eight hours of direct sunlight and partial shade. So, you have to scout for a location in your backyard or terrace or make arrangements on your balcony to grow a healthy bitter gourd vine.
Soil preparation
In your regular soil, add compost or manure to increase its productivity.

You may mix some organic materials to enhance the nutrients of the soil

To make your soil well-draining, you can mix sand

Check the soil pH which should be between 5.5 and 6.7
Build a trellis
It is important to build a trellis if you want to grow karela on your terrace or in your garden. It will aid in disease prevention, facilitate harvesting, and result in larger fruit.

The trellis should be at least 6 feet tall for the vine to expand nicely.
Growing bitter gourds in pots or containers – Outdoor Gardening of Bitter Gourds
Soak seeds for a day
Take bitter gourd seeds and put them in a bowl of water for twenty-four hours. Before planting, dry the seeds with a paper towel.
Planting seeds
Dig a hole in your garden and place two to three seeds half an inch deep.

Apply soil over the seeds. If you have plans for more bitter gourd plants, keep them at least 40 to 60 inches away.
Water the soil
Water the soil and ensure the top half inch is properly soaked in water.
Morning ritual
Keep misting the soil every morning. After 2–3 days, you would see the seedlings.
Thin the plant
Once the seedlings have four to six genuine leaves, thin them out. Cut the weaker growths to promote the better ones.

Post this, continue the basic care instructions described in the next segment of the blog, and wait for harvest time.
Harvest
After 12–16 weeks of planting, the vine is ready for harvest. The fruits should be 4-6 inches long and firm when you pick them.
Growing bitter gourds in pots or containers – Indoor Gardening of Bitter Gourds
Soak seeds of bitter gourd for twenty-four hours after removing the red outer cover

The germination will take place in three to four weeks

Take a 12 inches deep and 10 inches wide pot and fill it with regular potting mix or your garden soil mixed with compost and animal manure

Place a layer of small stones or cracked pottery pieces over the drainage holes of the pot to prevent soil from dripping

Fill up the pot with soil as instructed above leaving just an inch from the top

Dig a small hole at the center and plant two seeds of bitter gourd. Cover with soil and water well.

Keep this pot under bright sun and continue taking basic care

Once the plant reaches 2-3 inches in height, offer a trellis or stake support

In four to six months, the vine will be ready for harvest.

 
How to take care of karela or bitter gourd plant
Taking care of a bitter gourd vine is not at all difficult. Just follow the care instructions given below and act accordingly: -
Sunlight
Karela or bitter gourd is a warm-season crop. So, five to eight hours of direct sunlight are important for this plant. It can also grow in partial shade with good light and air circulation.
Location
The ideal location for growing karela vegetables would be where there is a good amount of sunlight, partial shade, and good support to climb upwards. This vine can be easily destroyed by a strong wind, so the selected location should have some protection against winds.
Soil
Karela grows in various types of soil but prefers soft, sandy, and loamy soil with a pH between 5.5 and 6.7. For growing bitter gourds indoors, you may also use a potting mix. Remember that the soil should have rich organic content and be well-draining. Add compost or dried animal manure to the soil before planting bitter gourd seeds. To make the soil well-draining, add vermiculite or perlite in a ratio of 1:1.
Water
A good amount of water is necessary for a healthy karela plant. Water the bitter gourd plant regularly, and remember that it likes moist soil but soggy soil would lead to rotting of the roots. So, always dip your finger two inches deep into the soil to check if the soil is dry or not before watering.
Temperature
Bitter gourd is a warm-temperature plant and thrives in hot, humid climates easily. In high temperature and humidity conditions, plant growth and vegetable production increase. The ideal temperature requirement for bitter gourd is between 20 and 27 degrees Celsius.
Fertilizer
You can use a balanced, slow-release fertilizer while sowing for a healthy plant. During the blooming season, feed the plant with a liquid fertilizer or seaweed solution once a month. While buying fertilizer, opt for a potassium-rich fertilizer because that would promote more fruits and flowers.
Pruning
When the main stem reaches the top of the trellis, prune it. Cut the expanding stem back by 2 inches with a pair of pruning shears.

If you have no trellis support, prune the developing vine when the plant produces its first female flower.
Pests & Diseases
Leaf spot, downy mildew, or watermelon mosaic potyvirus are some of the diseases that may attack your karela plant. Fungal infections are the result of prolonged wet seasons. You can use a fungicide designed for squash to treat the plant.
Wrap the karela vegetables in newspapers or paper bags if you see fruit flies around your plant.
Stick to insecticides that are safe for consumption if you intend to eat your bitter melon, such as vinegar, liquid soap sprays, or Bacillus thuringiensis. 
Significant health benefits of karela or bitter gourd
Everyone knows that karela is a healthy vegetable. Read below for the nutritional profile and probable health benefits of bitter gourd: - 
| | |
| --- | --- |
| Calories | 34 |
| Carbohydrates | 7gm |
| Calcium | 0.04 |
| Fat | 0.2gm |
| Iron | 5% of the RDI |
| Magnesium | 23% of the RDI |
| Potassium | 602mg |
| Protein | 3.6gm |
| Sodium | 13mg |
| Vitamin A | 48% of the RDI |
| Vitamin B6 | 40% of the RDI |
| Vitamin C | 92% of the RDI |
(*This table represents the nutrition of bitter gourds per 10gms)
Lowers diabetes
The most widely accepted bitter gourd benefit is its ability to lower blood sugar levels. Polypeptide-p, also known as p-insulin, is an insulin-like substance present in karela. Patients with type-2 diabetes can drastically lower their blood glucose levels by regularly consuming the recommended amounts of karela juice. It also helps people with type-1 diabetes.
Builds stronger immunity
Bitter gourd is rich in vitamin C, an antioxidant. As a result, it offers protection from three extremely severe diseases, including heart attacks, renal damage, and liver failure.
Purifies blood
There is perhaps no better blood cleanser than a bitter gourd. With regular consumption of karela, you can keep various diseases away. The antioxidant and anti-microbial qualities of karela help in purifying blood.
Aids in digestion
People who suffer from IBS or constipation can benefit from moderate consumption of karela.
Helps in weight loss
Karela is high in fiber and low in calories, so it helps people to lose weight. Adipose cells store fat in the body, and with the consumption of karela, they are prevented from forming and expanding. Karela can enhance metabolism on the one hand, and the antioxidants aid in the body's detoxification while reducing fat on the other hand.
Promotes healthy heart
The potassium in bitter gourd helps the body absorb the extra sodium, helping to keep the blood pressure stable. The iron and folic acid content in karela also help in preventing heart attacks and strokes.
Promotes good eyesight
The chemicals beta-carotene and vitamin A are present profusely in karela which promotes good eyesight. Including bitter gourd in your diet may delay or prevent the occurrence of cataracts.
Boon for healthy skin and hair
For healthy skin and hair, you should have foods that are rich in antioxidants, vitamins A, and C. Karela has all those elements, and thus, regular consumption will keep acne, pimples, and blemishes away. It may effectively treat ringworm, psoriasis, itching, and other skin infections. Also, karela juice makes hair more lustrous and treats split ends, dandruff, and hair loss.
 Bitter gourd is excellent for revitalizing the body in addition to the advantages listed above. So, don't always go for its bitterness, because the result is brighter. Blessed with essential nutrients and easy to grow and care for, growing karela would be painless even for a beginner. Get your gardening tools and get started with the bitter gourd plantation.
Happy gardening! 
FAQs related karela or bitter gourd
What do you call Karela in English?
Karela vegetable in English is the bitter gourd. Bitter melon, goya, bitter apple, bitter squash, and balsam-pear are some other Karela English names.
What is the scientific name of the bitter gourd?
The bitter gourd's scientific name is Momordica charantia.
What are some of the best bitter gourd recipes?
Bitter gourd curry, bitter gourd fry, stuffed karela or bitter gourd, bitter gourd chips, and khatta meetha karela are some of the best and most famous bitter gourd recipes.
Is karela good for diabetics?
Yes, karela or bitter gourd is good for diabetics. Karela has elements that function like insulin and bring glucose into the cells for energy. So, with the consumption of bitter gourd vegetable or karela, there will be a healthy movement of glucose from your bloodstream to your muscles, liver, and fat.
How long does it take for the karela plant to harvest?
The bitter gourd plants take 55-60 days from sowing to produce the vegetables.
In which season karela grows the best?
In general, karela grows all through the summer and monsoon seasons. In monsoons, this plant spreads extensively. However, in Central and South India, karela grows throughout the year.
0 comments