Medicinal Herbs You Can Grow in Your Home Garden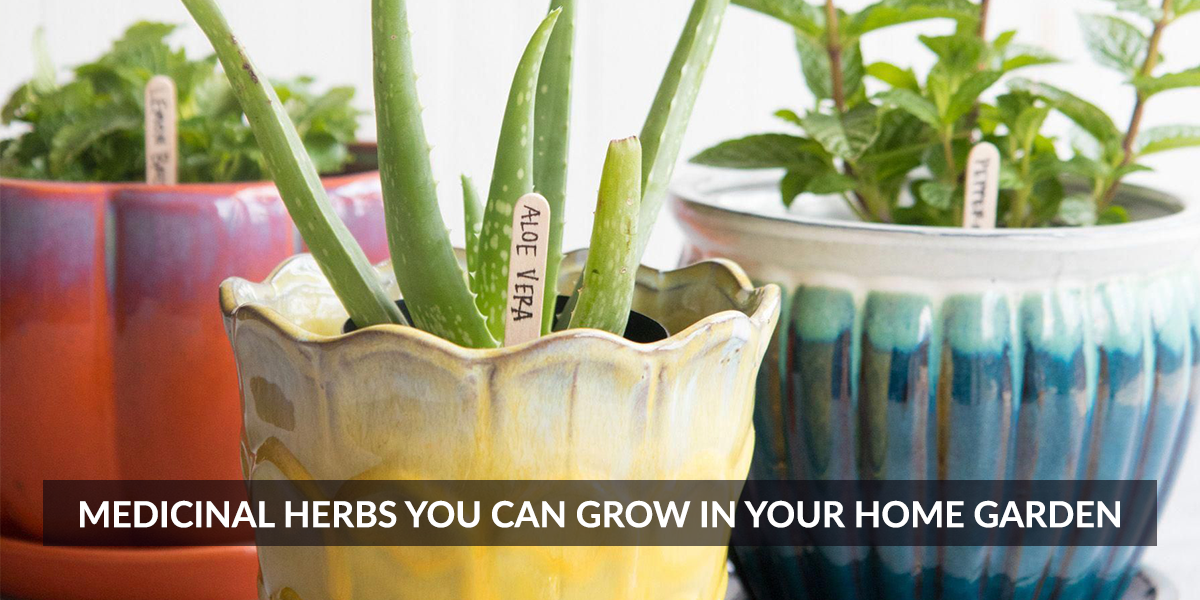 The best way to good health is to go for natural remedies. With the increase in pollution, unhealthy lifestyle habits and unhealthy diet, it has now become more so important than ever to get back to nature. If you are worried about the health of your family, here's a small but vital step that you can take to ensure the wellbeing of your family. You can set up a small medical garden in your house. 
Medicinal herbs have been used for ages to treat various medical conditions and ailments. The best part is that these herbs are easy to grow and maintain. You can easily buy small pots online and use them to set up your very own herbal patch in your backyard. There are numerous plastic pots online you can choose to buy to set up a herbal garden in your balcony. Now that you have a general idea of setting up a medical garden at home, let's take a look at the kinds of medicinal herbs that you can grow at home. A few of them are described here. 
Tulsi
Tulsi is a common sight in most Indian households. It is believed that this plant is holy and is worshipped as God. However, apart from the godliness, this plant also has many medicinal properties. Juice taken from Tulsi leaves is effective against cough, fever, cold and other bronchial conditions. You can encourage your family members to just eat a leaf every day for good respiratory health. 
Aloe Vera
We don't have to tell you about the medical properties of this succulent plant. Every television commercial of cosmetic products claims to have Aloe Vera talk in length about its numerous benefits. Instead of using artificial products, you can grow this plant by buying a plastic pot online. The plant is easy to grow and requires minimal maintenance. Aloe Vera gel is not just good for the skin. The juice is good for digestive problems, chronic constipation, poor appetite and ulcerative colitis. 
Gotu Kola
Gotu Kola is a herb that is known for its medicinal properties. It helps in building connective tissues and aids in the healing of open sores, skin injuries, ulcer and other conditions. You can make many tasty dishes using this herb. 
Methi
Methi or fenugreek is another popular ingredient that is used in many dishes. Instead of buying this herb at the market, you can grow it organically at home by simply buying a small pot online. The medicinal benefits of methi are plenty. If you have anorexic kids at home, add methi to their diet and get them to put on some weight. There are many ways in which you can add this herb in your daily food to make it healthier. 
Lemon Grass
Lemon grass looks pretty and makes a great addition to your balcony garden. At the same time, this herb has many medicinal properties. Its antipyretic properties make it a great option to reduce high fever. Lemon grass tea or juice can also be consumed to reduce headache, abdominal pain, digestive tract cramps, stomach pain and joint pains. 
Coriander
Coriander is not just for making chutneys or garnishing dishes, it is also loaded with numerous medicinal properties. It aids digestion and helps overcome bowel gas, nausea and intestinal gas. Growing coriander at home is very simple. Also, you will have fresh coriander leaves that will add the subtle flavour and smell to your dishes. 
So, what are you waiting for? Set up a herbal garden in your backyard or balcony. You have not only fresh herbs for cooking but also herbal remedies in case of a medical condition at home.
Popular Searches: Garden Accessories for Sale, Compost Bin India, Plastic Flower Pots Online, Contemporary Plant Pots, Hanging Pots Online, Colourful Plant Pots, Bird Feeders Online, Rectangular Planters Online, Small Pots Online, Flower Pots Online, Kitchen Waste Compost Bin, Balcony Railing Planter
10 comments