4 Indoor plants that are hard to Kill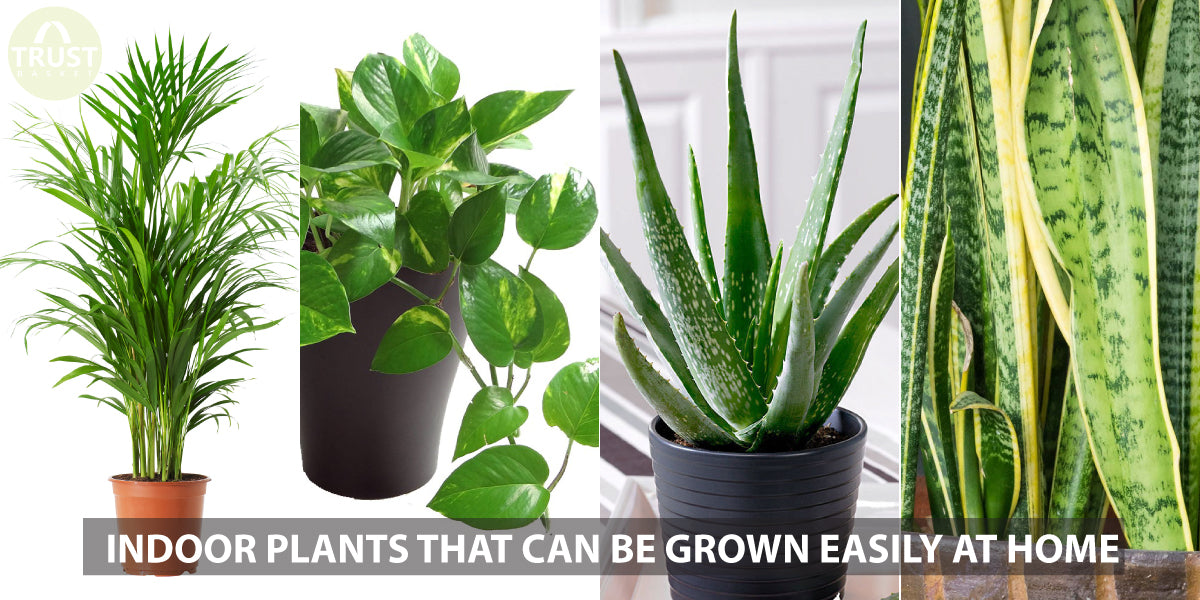 Gardening has become one of the trending hobbies nowadays. People are getting attracted towards gardening. But in today's congested world, it is not possible to have a big garden in front of your house. But no need to lose the hope. You can grow plants inside your house. Yes, there are certain categories of plants which can be grown inside the house with minimal effort. These plants are called Indoor plants. Let's know about some of the indoor decorative plants today.
1. Areca Palm
Looks like a butterfly shining in green which can enhance the beauty of your household, it's Butterfly Palm or Areca Palm plant. Long leaves with multiple stems and more than 50 leaflets on it. Areca palm will change the looks and the atmosphere of the place at affordable prices and grows faster as well. It is the widely used and preferred plant for interiors. It not only adds up to your interior but also has the air purifying ability. It has been listed as one of the best air purifying plants by NASA. 
Benefits:
1. As it is an Indoor plant, it can adapt to any kind of interiors and also outdoor gardening.
2. It helps in detoxifying the air (Air purifiers).
3. As Areca palm plants are non-toxic, it is Safe for children and pets.
4. It is one of the preferred decorative plants for interior decorations.



2. Aloe Vera
Aloe Vera plant belongs to the species of Succulents. It has thick and fleshy leaves with tooth-like projections in the borders. These succulent plants resemble cactus so it may give a scary appearance at first. But no need to get panic, these succulents are non-toxic plants. It is an evergreen perennial plant which grows about 80 to 100 cms tall. Aloe Vera is been used since more than 500 years.
Benefits:
1. Aloe Vera has antioxidant and anti-bacterial properties. Hence it has its significance in the field of medicine.
2. It is the best companion to help you have glowing skin and helps you nourish the dead skin.
3. It used as a natural moisturizer for your body. It is vastly used in preparing medicines and cosmetics.
4. Aloe vera plants is used both decorative purpose as well as medicinal purpose.
3. Sansevieria or Snake plant
Sansevieria or Snake plant is one of the best indoor plants to grow. It belongs to the succulents category native to Africa, Madagascar and Southern Asia. This succulent plant is also known as devil's tongue plant or Mother-in-law's tongue plant. Snake plant would be the highest rated plant when it comes to indoor plants. It can stay without water for a longer period of time. In outdoors these succulents usually grow up to 8 to 10 feet long. According to Feng shui tradition it is believed as a lucky plant in indoor conditions. It is also known as Mother in law's tongue. It can even grow in low light conditions and with less water. There is no need for particular fertilizer to look after it and no special care is needed. It is one of the easy plants to maintain.
Benefits:
1. It does not acquire much space. So it can be easily grown in indoors.
2. It is a non-toxic plant. It does not harm your children and pets.
3. It is considered to be one of the best air purifying plants by NASA.
4. It has the ability to eliminate bad odor from its surroundings.
4. Money plant
Devil's Ivy or commonly called as Money plant is one of the indoor plants grown in every household. It is called as Devil's Ivy because it is almost impossible to kill this plant. These plants have white or yellow lined patterns on their leaves. As the plant requires minimal care, it is often grown in every household. There is a notion that if this plant is grown at home, there won't be any scarcity of money. So it is called as Money plant. It is also used for gifting purpose during many occasions. 
Benefits:
1. It removes formaldehyde, xylene and other impurities from the air.
2. It purifies the air in its surroundings. So NASA has declared it as one of the best air purifying plants.
3. It is often used for decorative purposes.
Popular Searches: Garden Accessories for Sale, Compost Bin India, Plastic Flower Pots Online, Contemporary Plant Pots, Hanging Pots Online, Colourful Plant Pots, Bird Feeders Online, Rectangular Planters Online, Small Pots Online, Flower Pots Online, Kitchen Waste Compost Bin, Balcony Railing Planter
0 comments