ANCIENT INDIAN PLANTS - Religious beliefs and their Scientific reasons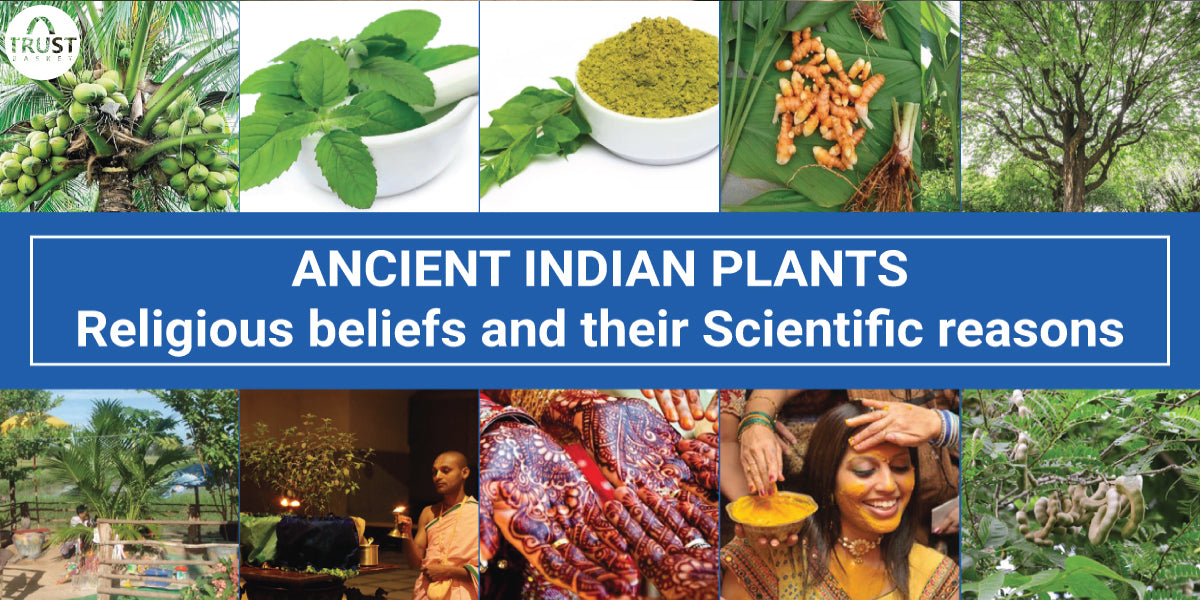 India is said to be one of the culturally rich countries in the world. Nature was worshipped as a god in olden times. We have many practices which are followed by our ancestors. We might not be knowing the reason behind those practices. So I'm here to build a bridge between the religious views and scientific views. Here are some of those religious beliefs and the scientific reasons behind them.

1. Growing Tulsi or Holy Basil at home
Religious view in Indian culture
Tulsi plant or holy basil is considered to be one of the sacred plants in India. Our ancestors worshipped it as god and have made it mandatory for every household. Our ancestors have been practicing worship for ma Tulsi early in the morning. It is considered that if a married women worship ma tulsi every day, her husband's lifespan will increase. This is about the religious part.
Scientific view
Tulsi has been given a great importance in Ayurveda. The reason why our ancestors have made it mandatory to grow tulsi is that of its medicinal qualities. It is scientifically proven that tulsi plant produces oxygen even in the night time. It also purifies the air around. Its characteristic aroma is enough to cure many diseases. It also stimulates the sense of smell which is essential for a person to keep healthy. Its extract is widely used in preparing ayurvedic medicines. Its leaves consumed with honey will cure all stomach related problems. It is boiled in water and consumed to cure the cough and throat infections. It is said that tulsi plant prevents mosquitoes and other insects from entering the house. So tulsi plant or holy basil was suggested to grow at every house by our ancestors.


2. Growing Coconut tree at home
Religious view in Indian culture
The coconut tree is considered as the most useful tree. It is also worshipped as a god. Our ancestors have practiced growing these trees around the house. The fruits of this tree i.e, tender coconuts are considered to be the foremost offerings in a temple. It is vastly used for almost all the occasions and rituals. As the coconut shell has 3 spots on it, it is also considered as Lord Shiva. So there is a notion that coconut belongs to the species of kalpavruksha, a tree grown in heaven which gives anything we ask.

Scientific view
As each and every part of the coconut tree is useful to the humans, it is considered to be a good species to grow near the house. Tender coconut water or sometimes called coconut juice is rich in sodium. As it does not have any side effects, it is the most preferred natural drink. There are many benefits of coconut water. It is often suggested by doctors to drink coconut water to cure kidney stone problem. It also helps in keeping the body hydrated. It contains the vital nutrients required for the nourishment of our body. Its branches and leaves are used as temporary shelters and in decorative arches during the traditional rituals.


3. Applying Mehandi during marriages
Religious view in Indian culture
Mehandi ceremony during the marriages and other religious occasions have been a custom since ancient times. It is applied to the hands and lets to beautify oneself. Our ancestors have made it mandatory to have Mehandi ceremony during the religious occasions. It has been considered as a sign of joy or as an indication of a happy occasion.

Scientific view
Mehandi or henna is a very useful medicinal herb. Generally, during marriages and other religious occasions, applying mehandi for groom and bride is practiced. It is prepared by the leaves of henna plant. It has been scientifically proven that henna reduces mental and physical stress. As the occasion approaches, the excitement increases which leads to stress. In order to avoid stress, applying Mehandi was made mandatory during the happy occasions. It cools down the body and avoids nerves becoming tensed. Nerve ends are present in hands and feet. Hence Mehendi is applied to the hands and feet during the occasions.


4. Applying turmeric during the wedding
Religious view in Indian culture
Applying turmeric paste or turmeric powder to the bride and groom is practiced since long ago in Indian tradition. It is considered to be one of the main rituals during marriages. The color yellow symbolizes prosperity. So it is applied to bride and groom in order to bring prosperity in their life. There is a notion that by applying turmeric, we can avoid evil eyes.

Scientific view
Turmeric powder is obtained from the root part of turmeric plant. There health benefits of turmeric. It has been scientifically proved as the best antiseptic and given importance in Ayurveda. It is used to cure wounds. It is widely used in Ayurvedic medicines. The reason behind the ritual of applying turmeric to bride and groom is to beautify them. It has the ability of detoxifying and cleanses the skin. Both bride and groom will be tensed during their wedding. Turmeric also acts as anti-depressants. So, it will help to relieve wedding day anxiety and mental stress. It increases the immunity and is also a good remedy for a headache.
4. Should not sleep under Tamarind tree 
Religious view in Indian culture
Tamarind tree is related with evil spirits or souls in Indian. There is a notion that evil spirits and souls live on this tree. So if anybody sleeps under this tree, he will fall sick. The spirits on the tree cause trouble. So it is said not to sleep under the tamarind tree.
Scientific view
We do not get sufficient oxygen near the tamarind tree during night times. Its leaves will fold and avoids the air circulation. As it contains Tartaric acid, the soil around it becomes barren. So no other plant grows around it. This makes the atmosphere around it unhealthy with deficiency of oxygen. As we all know a person cannot breathe without oxygen, the person who sleeps under the tamarind tree falls sick due to Oxygen deficiency but not due to the influence of any spirit.
Popular Searches: Garden Accessories for Sale, Compost Bin India, Plastic Flower Pots Online, Contemporary Plant Pots, Hanging Pots Online, Colourful Plant Pots, Bird Feeders Online, Rectangular Planters Online, Small Pots Online, Flower Pots Online, Kitchen Waste Compost Bin, Balcony Railing Planter
3 comments