Best Garden Accessories for Your Outdoor Space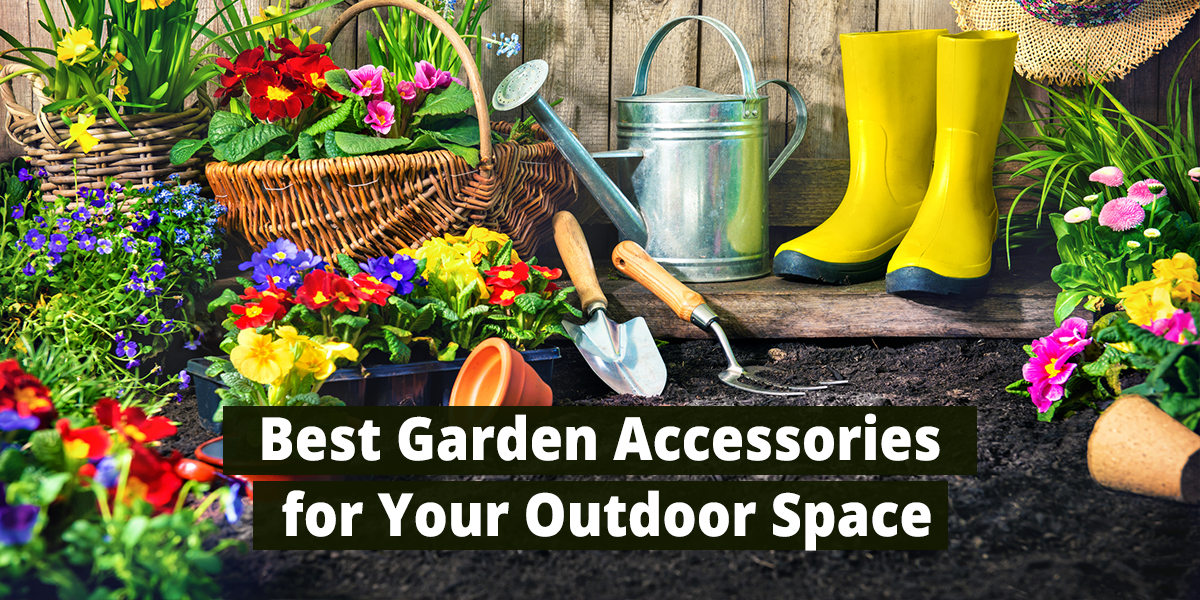 In today's frantic modern-day life, a calm and tranquil garden can be the perfect spot for rest and reflection. Gone are the days when a garden was limited to plants growing on the ground or in mud pots. With the rise in urban dwelling, gardeners living in high rises use garden accessories available online to make the best use of their outdoor space. Sturdy, ornate accessories are used to beautify the look of the garden, and it also makes it easy to tend to the plants. At TrustBasket you can find a wide range of balcony garden accessories that can meet your garden's unique needs. Here is a short list of the most popular products offered by TrustBasket that can not only add a refreshing look to your garden and also offer functionality.
Long S hooks: Make the best use of the vertical space in your balcony with long S hooks that let you hang pots of your favourite trailing plants like begonias, petunias, jades, ivies and more. The hooks are made of galvanized metal which makes it durable and corrosion resistant. The length of the hooks is 40 cms and is ideal for creating the right elevation for watering your plants, weeding, pruning, and maintaining with ease.
Heavy duty wall bracket plant hangers: Improve the aesthetic of your garden space with TrustBasket's wall bracket hangers. The hangers come as a set of two and you can hang two hanging pots from a single hanger. They are sturdy and well made to meet the changing environmental conditions of your outdoor garden. You can easily nail these hangers to an outdoor wall and suspend your hanging pots.
Hanging metal chains: Suspend your hanging pots with TrustBasket's high quality metal chains that can withstand the weight of the potted plants. The chains are made of materials that can prevent rust or corrosion, making it ideal for outdoor use. These strong chains are available as a pack of 5.
Retro planter stands: Available as a pack of 2, these planters have a decorative design and come with a 7-inch gap to accommodate three potted plants. These sturdy planter stands are made of galvanized metal and are a great option if you want to make the maximum use of your space and adds not only to the beauty but also functionality of your garden.
Iron hoop round pot stand: You can place four or five pots in this iron hoop shaped pot stand with a contemporary design. The iron hoop and save more space in your balcony or outdoor garden area. The hoop stand can be used to create an interesting corner that can be the focal point of your garden.
2 feet coir moss stick/coco pole for climbing indoor plants: Improve the growth of your money plants, pothos, and other varieties of climbing plants with TrustBasket's coir moss stick. Moisture and nutrients are retained by the coir moss stick which in turn helps to set and support the roots. The 2 feet coco pole creates the ideal growing environment for your climbers and can help to achieve the perfect height you want your plants to grow to.
A pleasant and welcoming garden is a treat to the eyes. TrustBasket's garden accessories does just that and can make gardening even more fun and fruitful for you. Macrame hangers, garden shade nets, hose pipes, watering cans, bird feeders/houses and a great range of other high quality and affordable garden accessories for sale are available at TrustBasket.
Visit https://www.trustbasket.com/collections/garden-accessories-online/ for all your gardening needs.
0 comments