Chocolate Tree - Everyone's Favorite Tree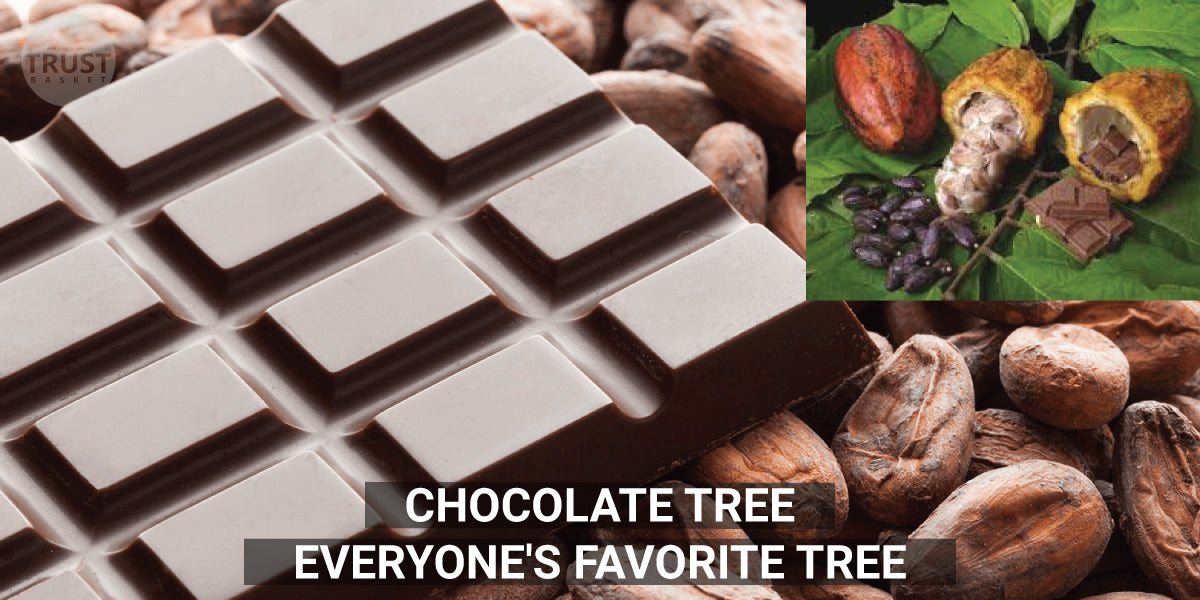 Do you like chocolates? There is nobody on this earth who doesn't like chocolates. Everybody gets excited by just hearing the word "Chocolate". It is such a magical word. Irrespective of age groups, everybody loves to eat chocolate. A piece of chocolate is enough to bring happiness on your dear one's face. But do you know how are chocolates manufactured? I was excited to know about the process and collected some information. Some of you might be aware that chocolates are manufactured from the Cocoa beans of the Cocoa tree. The beans are processed and the chocolates are made. Today I'm discussing about the Cocoa Tree or Chocolate Tree.


What is a Cocoa Tree?
Image source

Cocoa Tree or scientifically called Theobroma cacao is a small evergreen tree native to the deep tropical regions of the Americas. The seeds also called cocoa beans are used to make cocoa mass, cocoa powder, bakery products, ganache and chocolate.

Chocolate originally found in South America is known as "The Food of the Gods." The first record of chocolate or cocoa dates back to 1900 BC. The people used chocolate seeds as a form of currency. Chocolate was served as a bitter beverage in the early days and was believed to be having super powers.


What are Cocoa Beans or Cocoa Seeds?
Image source

Cocoa beans or Cocoa seeds are the dried and fully fermented seeds of Theobroma cacao tree from which cocoa solids and cocoa butter can be extracted. These beans are roasted, powdered and used as the main ingredient in the preparation of chocolate.



Growing condition for Cocoa Trees
Image source

The chocolate tree is a small tree and grows as an understory species in the rainforest. So it can tolerate partial sun conditions. Most standard potting mixes are fine for the chocolate plant. It needs good drainage with a pH of 5 to 6. The chocolate tree is easy to grow in pots but it needs a bit of room to produce fruit. Cocoa Plants are generally grown from seed and need 3-4 years to reach fruiting size. The tree reaches 5 to 6 feet in height with a trunk diameter of 1.5 to 2 feet. A large, sunny and warm spot is needed to grow a Cocoa tree. A Cocoa plant requires a warm growing area with the temperature above 15°c. The flowers are produced on the woody trunks and branches in clusters.
Image source

Fruits are produced once the tree has reached 5 to 6 feet in height. Initially, the potted plant will produce 3-4 chocolate pods. The fruit develops as a small green pod and grows for many months until it is fully matured. Matured fruit will be 4 to 8 inches long. It turns from green to a yellow or yellow-orange color once the fruits ripen. The ripening process takes 5-6 months. After this, it is ready to pick. Cocoa harvest is not restricted to one period per year and a harvest typically occurs over several months.
Image source

Cocoa can be harvested at any time of the year. Unlike most fruiting trees, the cacao pod grows directly from the trunk or large branch of a tree rather than from the end of a branch, similar to jackfruit. This makes harvesting by hand easier as most of the pods will not be up in the higher branches.



How are Cocoa beans processed?
Image source

The harvested Cocoa Pods are opened using a sharp tool and the Cocoa beans with the pulp are extracted. The beans are spread on the floor and dried for a few days. During this time the seeds and pulp undergo "sweating", where the thick pulp liquefies. The fermented pulp flows away leaving cocoa seeds behind. Sweating is an important stage for the quality of the beans, which gives a strong and bitter taste. If sweating is interrupted, the resulting cocoa may lose its characteristic flavor and the whole process will be spoiled.
Image source

Each pod contains nearly 30 to 40 beans in it. About 800 dried beans are required to make 1kg of chocolate. The beans are roasted in a big container. The resulting pieces of beans are called nibs. Since nibs are directly from the cocoa tree, they contain high amounts of theobromine. 


The nibs are crushed using various methods and made into a thick, creamy paste, known as chocolate liquor or cocoa paste. This "liquor" is then further processed into chocolate by mixing in cocoa butter and sugar. Alternatively, it can be separated into cocoa powder and cocoa butter using a Hydraulic press or the Broma process.
The mixture of cocoa paste, cocoa butter and sugar is given the desired shape and packed. This is how delicious chocolates are made in factories.
Varieties of Cocoa Tree


The three main varieties of the cocoa plant are Forastero, Criollo, and Trinitario. The Forastero is the most widely used variety comprising 80 to 90% of the world production of cocoa. Cocoa beans of the Criollo variety are rarer and considered a delicacy. Trinitario which is widely grown in Trinidad is a hybrid between Criollo and Forastero varieties. It is considered to be of much higher quality than Forastero as it gives a higher yield and is more resistant to disease.
Popular Searches: Garden Accessories for Sale, Compost Bin India, Plastic Flower Pots Online, Contemporary Plant Pots, Hanging Pots Online, Colourful Plant Pots, Bird Feeders Online, Rectangular Planters Online, Small Pots Online, Flower Pots Online, Kitchen Waste Compost Bin, Balcony Railing Planter
0 comments