How to select plants according to your climate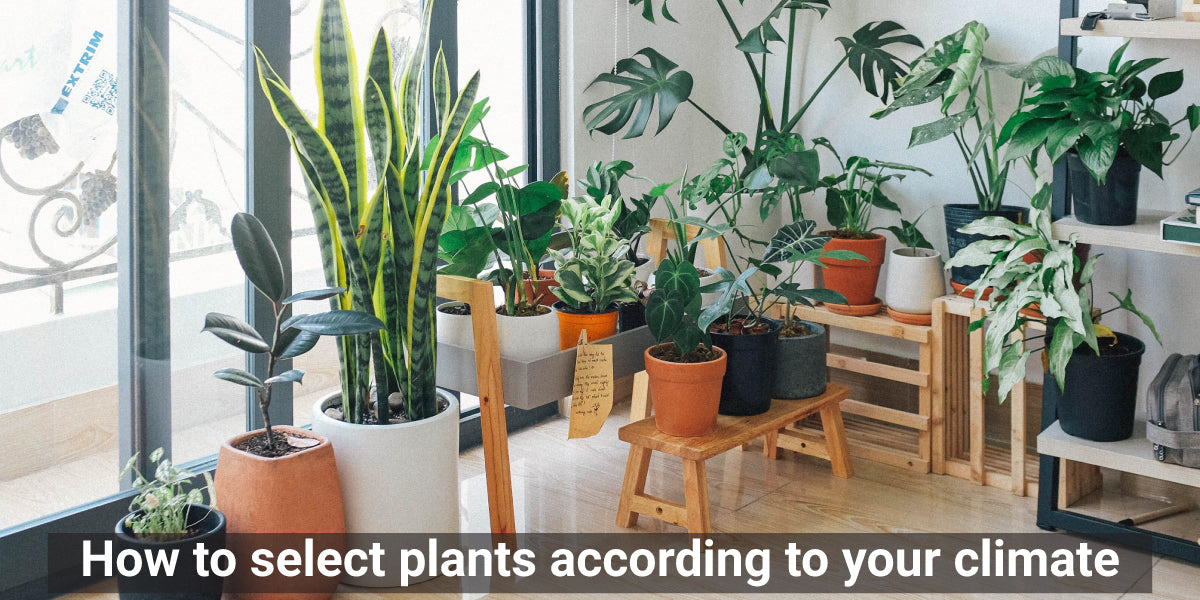 Every gardener will have an idea to grow their dream plant in their garden/home/backyard. But the only constrain is climate. Because different plants require different climatic conditions for their growth and flower/fruit production. If you get a chance to grow plants irrespective of their climatic requirement, it seems a dream coming true. Yes, we can grow plants in unconventional areas. Here I will let you know how to provide an artificial environment to grow plants irrespective of their native place. 
Plants are adaptable to different climatic conditions. Some plants are very tolerant of harsh sun, like cactus, some plants are tolerant to chilling temperature. According to this adaptability, plants are categorized into sun tolerant, winter tolerant plants. Plants that grow well in western Ghats cannot grow well in temperate regions. Therefore it is always important to select plants according to your climatic conditions.
1. Sun tolerant plants:
In nature, many plants can tolerate hot sun and grows well in the summer season. You have to select such kind of plants if you are living in high-temperature regions.
Examples for sun tolerant plants: 
| | | |
| --- | --- | --- |
|  Flowering plants  |  Vegetables  |  Fruit plants  |
| Hollyhock |   Sweet potatoes |  Pomegranate |
| Butterfly weed | Beets, cabbage |  Fig |
| Fountain grass | Cauliflower, okra |  Guava |
| Cana lily | Corn, peas |  Mango |
| Rhododendron | Cucumber |  Ber  |
| Limelight crop | Spinach, squash |  Papaya  |
| Lantana | Bell pepper, hot pepper. |  Carambola  |
| Purple coneflower |  Eggplant |  Banana  |
 2. Winter tolerant plants: 
There are certain plants which are adapted to low temperature, you have to select such kind of plants if you are living in low-temperature region. Some of the examples are as follows, 
Examples of winter tolerant plants: 
Flowering plants
 

Vegetables

 Fruit plants/ trees 
Pansy
Carrot
 Apple
Wintergreen boxwood

Celery

 Pear
Coral bells
Collards
Peach
Blue spruce
Green onions
Plum
Primrose
Turnips
 Kiwi
Hostas
Radishes
 Cherry 
 Whatever may be the climate and weather condition in your region, in nature certain plants adapt to specific climate and weather. If you want to succeed in gardening you need to select the right plants for your place. 
Controlled/ artificial environment: 
If you want to grow the plants in unconventional areas. Then you have to follow certain tips. For example, if you are living in Karnataka and want to have a bunny ear cactus in your home, you can keep it. But as you know cactus are desert plants. So you have to provide similar conditions at your home for growing those plants. 
Artificial environment for cactus: 
Cactus wants very little water (tolerant to water scarcity)

Needs dry potting media, low humid conditions.

So In your home, you have to artificially provide all these requirements.

You have to water only once in three to four weeks.
Planting in a well-draining potting mix.

And to keep in well-aerated and under good light condition. This is called providing an artificial environment for your plants.
In the same way, if you are living in Rajasthan and you would like to keep orchid plants in your home. Then you have to provide the required environment that orchids want to grow. 
Artificial/ controlled environment for orchids:
Orchids need high humidity of 60-80%,
Letting the potting medium dry between watering;
It doesn't like to sit in the waterlogged situation,
Full sunshine,
And a good amount of orchid's food.
Mist (

spray bottle

) your plants frequently to maintain the humidity level in your home.
And using perforated pots or slit pots with some barks, charcoal, and wood chips.
Exposing the plants to a good amount of partial light can enhance their growth.
So whichever plants you select, you have to provide artificial climate according to the plants. If you want to go for very hardy or drought tolerant plants follow these measures.
Care for hardy and drought tolerant plants: 
You have to keep them in well lit area,
Provide good sunshine,
Apply water according to their requirement,
Do not over water,
Use good draining potting mix along with good amount of manure.
Care for humidity loving plants:
If you have decided to grow humid loving plants, then you have to provide artificial humidity by using some humidifiers.
Water those plants consistently,
Do not keep those sensitive plants directly under sunlight as it may scorch the leaves of plants.
Provide organic manure twice in a month for robust growth. 
If you want to check whether a plant can survive in your region the best thing to do is bring/select a plant according to your climate and see whether that plant can survive or not. Do not bring more plants of the same kind. Always check a single plant. If it grows well, then go for buying more plants. So if you are ready to provide this artificial environment for your plants you can grow any plants irrespective of where you live. 
.
Top question related to adaptability of plants:
Questions on Temperature: 
1. What temperature is the best for growing plants?
Plants prefer an optimum temperature of 20 to 32 degrees Celsius for their growth. They always perform better during this range of temperature. If you are living in this temperature zone, you can grow plants successfully with very little effort.
2. At what temperature plants perform higher photosynthesis?
Photosynthesis refers to the process of the production of food in plants. Plants need many ingredients to produce their own food. The ingredients are water, sunlight, carbon dioxide, and chlorophyll. At a temperature of 24-28 degrees rate of photosynthesis will be best.
3. Can we grow succulent plants at less than 10 degrees Celsius?
Cactus and succulents are hardy plants, that can tolerate very high and low temperatures. These plants are desert plants. In deserts usually, the temperature will be very low during night and very high during daytimes. So cactus and a succulent group of plants have the ability to adapt to the very low and high temperature. Therefore the answer is yes.
4. What is the maximum temperature tolerance for vegetables?
In vegetables, there are many categories. Few vegetables are very sensitive to heat and few vegetables are sensitive to cold temperature. Generally speaking, vegetables grow well up to 30-35 degrees Celsius. But vegetables like onions do well even at temperature more than 35 degrees Celsius. 
Questions on climate: 
1. What are the best vegetables for hot weather?
Many vegetables perform well under high temperatures. Examples are Sweet potatoes, beets, corn, peas, okra, bell pepper, cucumber, etc.

2. What are the best flowering plants for hot weather?
Many flowers perform well under high-temperature examples are Hollyhock, purple coneflower, rhododendron, Cana lily, butterfly weed, limelight crop, lantana.

3. Which fruit plants grow best under high temperatures?
For successful growing of fruits under high temperature go for selecting hardy and drought tolerant fruits. Some of the examples are pomegranate, fig, guava, Ber, papaya, carambola, banana, and mango.

4. Can we grow flowering plants under very low temperatures?
For sure yes, because as we discussed in the blog there are different plants that are adapted to different climatic conditions. Some grow well under high temperature, some grow well under low temperature. It is same for flowering plants as well. Examples are pansy, wintergreen boxwood, blue spruce, primrose, Hostas.

5. Do we get a good yield of vegetables under low temperatures?
The yield of vegetables, flowering plants depends on many factors like fertility of the soil, water, sunlight, temperature, and weather. You have to select plants according to the weather and season. In cold regions or under low temperatures, certain plants like carrot, collards, celery, green onions, radishes, and turnips perform well.
Popular Searches: Garden Accessories for Sale, Compost Bin India, Plastic Flower Pots Online, Contemporary Plant Pots, Hanging Pots Online, Colourful Plant Pots, Bird Feeders Online, Rectangular Planters Online, Small Pots Online, Flower Pots Online, Kitchen Waste Compost Bin, Balcony Railing Planter, Buy Pots Online, Indoor Plant Pots, Metal Flower Pot 
0 comments