Seed bombs - The environmental friendly Bombs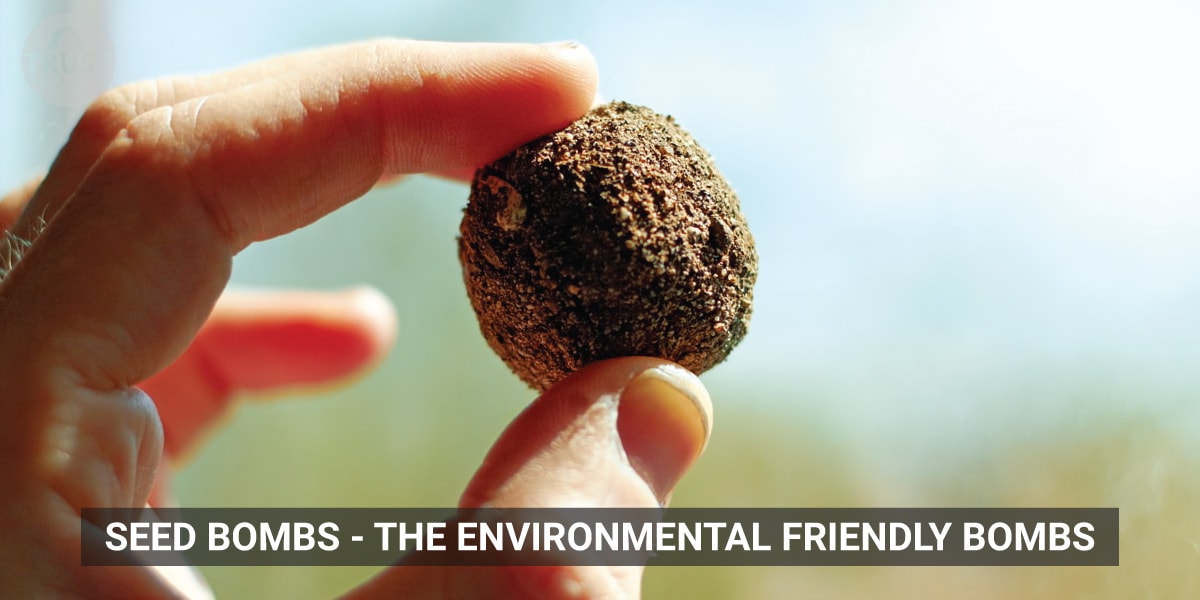 Having a beautiful vegetable garden is everyone's dream. There is a joy from sowing the seeds and taking care of them till the harvest. Everyone will be aware of sowing the seeds and growing the plants. What if I show you an innovative way to grow plants? Grow healthy plants from Seed Bombs.
Yes. it's a seed bomb made in the similar shape of the vegetable.


What are Seed Bombs?
Image source

Seed Bombs or Seed Balls are clay balls consisting of different kind of seeds in it. They are made of clay, preferably volcanic pyroclastic red clay. The medium may also contains various additives such as humus or compost. These are placed around the seeds, at the center of the ball, to provide microbial inoculants.

The technique for creating seed balls was introduced by Japanese natural farming pioneer named Masanobu Fukuoka. The technique was also used in ancient Egypt to repair farms after the annual spring flooding of the Nile. In modern times, during the period of the Second World War, the Japanese botanists working in a government lab who lived on the mountainous island of Shikoku wanted to find a technique that would increase food production without taking away from the land already allocated for traditional rice production. This led them to introduce the technique called Seed Bombing.
Today seed bombing is already regarded as a practical reforestation technique in a few countries. More than a million hectares of well-stocked forests in the United States, Canada, China, Australia, and New Zealand demonstrate its success. Some of these forests have been established despite seemingly adverse conditions-for example, on steep slopes and on overburden from strip mines.

Although aerial seeding technology has been used mainly in industrialized countries on a larger scale from a commercial point of view, it can also be introduced in every cities, villages and town. These are done on a smaller scale with less expenditure. Many schools and educational institutions take this initiative and encourage their students in seed bombing. The students are taken to the countryside and the seed balls prepared are thrown wherever sufficient space is available.



How to prepare seed bombs?
Image source

Preparing simple seed bombs is a child's play. Here are the instructions for preparing seed bombs.
Step - 1
Image source

Mix the seed, clay, and compost together in a bowl to a ratio of three handfuls of clay, five handfuls of compost, and one handful of seed.


Step - 2
Add water slowly and gradually such that the mixture does not become too watery.

Step - 3
Mix it all together until you get a consistency that you can form clay balls.

Step - 4
Keep the seed balls in sunlight and let it dry for at least three hours.

Step - 5
Once the seed bombs are dried, you can use them for sowing.
Image source

You need to make the seed bombs at least 2 to 3 cms big so that the seeds can stay safe inside them until it starts to germinate.


Advantages of Seed Bombs:
1. With the help of seed bombing technique, you can sow the seeds in a larger area as it is difficult to sow the seeds in the conventional method.

2. As the seeds are covered with clay, you can avoid insects, animals and birds from eating the seeds.

3. You can create the vegetation in large area with the lesser amount of time.

4. As you are making the seed bombs at home, they are completely organic and eco-friendly. Hence there is no harm to the environment.


You can also buy these seed bombs from online stores. Some stores sell the seed bomb made in the similar shape of the vegetable. These seed bombs are made of clay. They are colored with natural watercolors. The respective seeds are placed inside the clay bombs. Each seed bomb contains 3 to 5 seeds in it. You need to just sow them in the soil and water them. The clay melts and mixes with the growing soil and the seeds start to germinate within 10 to 15 days as per their germination time.

This is the best way to make your kids interested in gardening. This can also be the best gift you can give irrespective of age groups. You can encourage your children for growing the plants with Seed Bombing technique.
Popular Searches: Garden Accessories for Sale, Compost Bin India, Plastic Flower Pots Online, Contemporary Plant Pots, Hanging Pots Online, Colourful Plant Pots, Bird Feeders Online, Rectangular Planters Online, Small Pots Online, Flower Pots Online, Kitchen Waste Compost Bin, Balcony Railing Planter
2 comments