These Famous Gardens & Parks In India Offer a Blissful Natural Retreat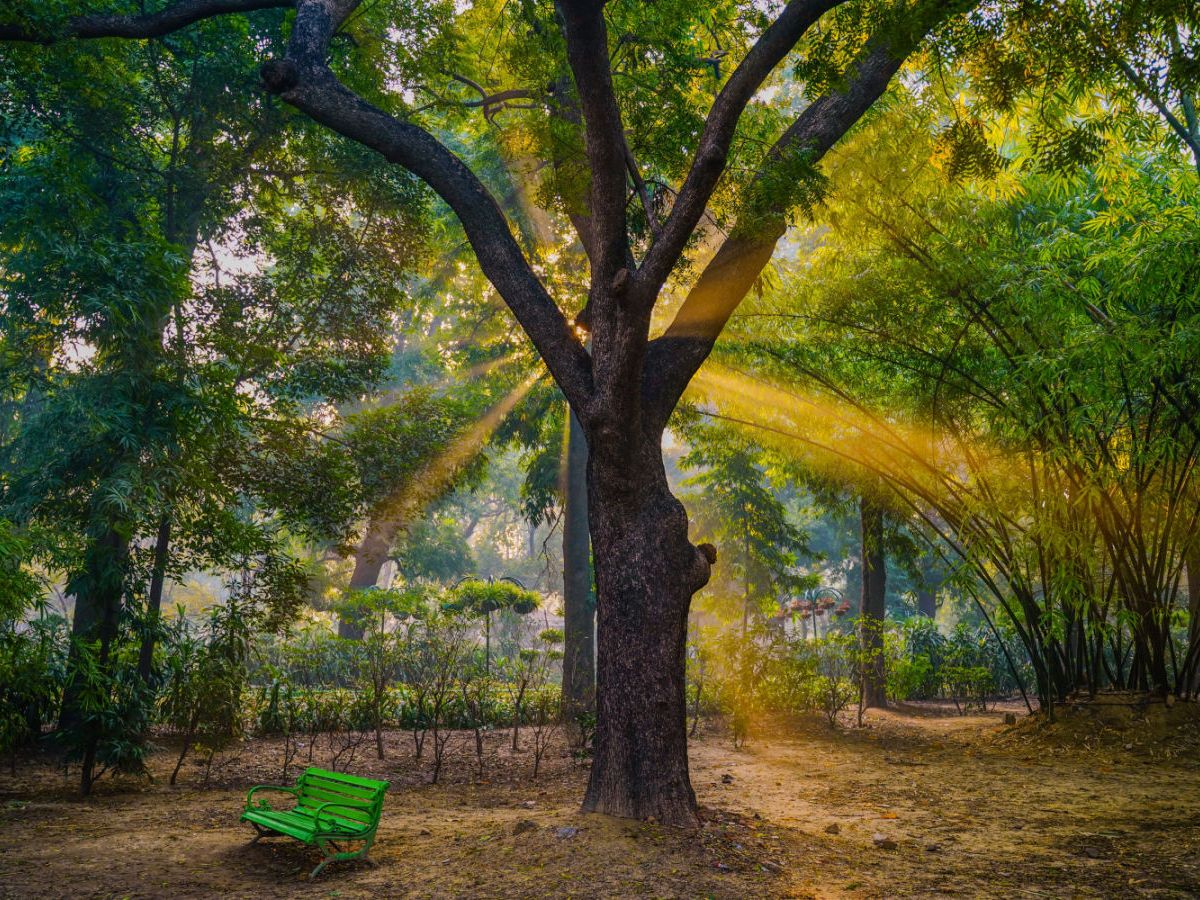 How to quit your job, move to a nature's paradise and get paid to change the world?
After all, that's a dream, right?
Forget owning a mansion, big cars and hollywood-style wealth. Sure, it would be nice, but most of us are simpler souls with much kinder dreams.
We don't mind being trapped in our jobs or the hustle-bustle of a busy city life. We just want to be able to make ends meet and live comfortably.
It's a modest dream and deserves to come true.
But stress and burn-out slowly catches on, and it sucks the soul out of our lives.
Fortunately, we have an escape plan for you < /p>
To cut down your stress
To recharge your will-power
& To bring you peace
This activity is like a spa for your soul.
We are talking about - a walk in the local parks and gardens near you.
Don't believe us?
Scientific research suggests the same too.
As per a paper published in International Journal of Environmental Research and Public Health[1] , walking in an urban park results in a significantly lower heart rate, higher parasympathetic nerve activity, and lower sympathetic nerve activity than walking through the city area. Also, they found evidence that it led to significantly lower levels of negative emotions and anxiety. This study confirms the physiological and psychological relaxation effects of walking in urban parks.
If you're searching for "gardens & parks near me" already, then we have got you covered. Go for long walks on the weekend to these famous gardens and parks near your city, and reconnect with nature.
1. Mughal Garden, New Delhi – the magnificent one
Occupying 15 acres in the heart of Lutyens' Delhi, the Mughal Gardens form the third Circuit of the Presidential Palace tour
This magnificent garden was created by Sir Edwin Lutynes for Lady Harding during the British era. This garden is a good illustration of how Mughal and British architecture coexisted.
This garden, which is a part of Rashtrapati Bhawan, attracts people from all over the world. The garden's landscape is embellished with canals, fountains, terraces, and chatris in the Mughal style, as well as flowerbeds, hedges, and a diverse variety of trees and flowers, including roses, bougainvillaea, marigolds, and sweet william, etc.
The garden features 4 interconnected rivers, each with a specially designed fountain. At the crossing lie 3 large red sandstone discs resembling lotus leaves. There are also other small and large lawns, including the circular garden, butterfly garden, and pearl garden.
2. Indian Botanic Garden, Kolkata – one of the finest of the world
An arboreal avenue in the dense reserved forest of Botanical Garden in Shibpur, Howrah.
The real name of this garden is Acharya Jagadish Chandra Bose Indian Botanic Garden. This renowned botanical garden occupies 273 acres of space.
Established in 1787, this garden was first referred to as the Company Garden. It is currently managed by the Ministry of Environment and Forests, the Government of India's Botanical Survey of India (BSI).
The colourful garden is now regarded as one of the most beautiful manicured gardens in the entire nation, thanks to its amazing man made lakes and undulating land topography.
For those who enjoy the outdoors, visiting this location and relaxing in the gardens' natural surroundings is an absolute treat.
You will find no less than 12,000 living perennial plants and more than 14,000 exotic species. Also, there are thousands of dried plants collected from all over the world. The prime attraction of this garden is the vast Banyan tree, whose circumference is 450 metres.
3. Shalimar Bagh, Jammu & Kashmir – the pearl among all gardens
Shalimar Bagh is considered the high point of Mughal horticulture. Now a public park, it is also referred to as the "Crown of Srinagar"
This Shalimar Bagh is another magnificent creation of the great Mughals, who were renowned around the world for their keen aesthetic sense. Due to its strategic placement, one can enjoy the tranquil Dal Lake from this garden.
The word Shalimar means "abode of love" and this impressive garden was built by one of the great Mughal emperors, Jehangir, for his beloved wife, Nur Jahan.
The beautiful green garden has terrace lawns, flower beds, chinar trees, fountain pools, and pavilions. The most beautiful segment of this garden is considered to be the 4 terraces, which in royal times were reserved for the ladies.
Spread across 31 acres of land, the most favourable times to visit this garden are either February–April or September–October.
A short visit to thisfamous garden near youwill work as a booster!
4. Lodi Garden, New Delhi – the one loaded with history
Bara Gumbad tomb and mosque, built in 1490 CE, at Lodhi Gardens
One of the most notable features of New Delhi is Lodi Garden. Located on the main Lodi road, this beautiful garden is spread over 90 acres of land.
You will be astonished to learn that Lodi Gardens was initially a hamlet that was built around the ruins of the Sayyid and Lodi dynasties' monuments. The British government resettled the villagers in 1936 and built a lush green garden. This was again re-landscaped in 1968 and houses the National Bonsai Park.
Various species of trees and rose shrubs can be seen here. Many birds, including mynah, hornbills, kites, and kingfishers, are drawn to this area of greenery.
In addition, Lodi Garden has ponds, flowering trees, blooming bushes, artificial streams, and a jogging path. You must not miss the beauty of this place in the winter season.
5. Rock Garden, Chandigarh – the majestic one
Statuettes built out of waste materials at the Nek Chand Fantasy Rock Garden in Chandigarh
There is an interesting history behind this mesmerizing Rock Garden of Chandigarh.
A Public Works Department employee named Nek Chand had the knack of collecting waste materials from all over the city and nearby villages. He used these materials to create art pieces. On an infertile piece of land near Sukhna Lake, he was secretly giving shape to his vision. When he was caught by the authorities, they were hell-bent on destroying it as it is illegal. But the majestic art pieces and figurines made by Nek Chand impressed them so much that they gave him 50 labourers to complete the project. Finally, this garden was opened to the public in 1976, and soon it gained popularity among people.
This garden is an example of how waste materials can be recycled to create something beautiful and memorable. Nek Chand used broken mirrors, glasses, bangles, metal wires, etc.
There are many things to keep your mind occupied here, including art, sculpture, a man-made waterfall, aquariums, and an open-air theatre.
6. Sayaji Baug, Vadodara – the largest one in Western India
Sayaji Baug, also known as Kamati Baug, is a massive green square in the middle of the town, which houses the famous Baroda Museum and Picture Gallery and children's attractions like aquarium, zoo, health museum, planetarium, a toy train and a flowerbed clock
Sayajirao III constructed the famous Sayaji Baug in 1879, which is located on the river Vishwamitri. Inside its premises, you will find the Baroda Museum and Art Gallery, which was set up by the Gaekwads in the 1890's. You may view Mughal miniatures and texts written by Buddhist and Jain preachers on palm leaves in the Art Gallery.
This garden is spread over 100 acres of land and has a rail track too. Sayaji Baug will fascinate you with exquisite flowers in properly landscaped gardens, full of mesmerizing fragrance and a cool breeze. With all of their exquisite pavilions and fountains that embellish them, these gardens are a triumph of human will over the harshness of nature, and it's a pleasure to stroll through them.
7. Hanging Garden, Mumbai – a beauty to behold
Stairs to the entrance of the Hanging Garden park at Malabar Hill in Bombay
Mumbai is known for its fast-paced life, but amidst that hustle-bustle lies a piece of serenity and calmness. This Hanging Garden was established by Ulhas Ghatkopar in 1880 and was later restructured in 1921. Since then, it has remained one of the most popular tourist attractions in Mumbai.
This terrace-style garden offers a spectacular view of the Arabian Sea and is famous for its animal-shaped hedges. Kids find these animal-shaped hedges fun and appealing.
The sunset view from Hanging Garden is also famous among people. Giant trees, beautiful flowering shrubs, and plants of varied species are found here. You can also enjoy the panoramic view of Marine Drive from here. So, once a while, plan a trip to this local park and garden near you.
8. National Botanical Garden, Lucknow – home to 6000 flowering plants
Founded in 1978, this Botanical garden is a haven for those who love flowers, plants and floral crafts.
Within this Botanical Garden lies the renowned National Botanical Research Institute. When it was first built under the reign of Nawab Saadat Ali Khan, this location was known as Sikandar Bagh. Later, it was conquered by the British Empire, who turned it into an organisation for horticultural study.
A picnic with friends and family would be a great idea in the public garden, which contains a wide range of flowers, fruits, herbs, and plants.
9. Assam State Zoo cum Botanical Garden, Guwahati – the largest in North East India
The largest of its kind in the North-East region, the Assam State Zoo cum Botanical Garden (often referred to as Guwahati Zoo) is located on 432 acres (175 hectares). The zoo is situated near Guwahati, India's Hengrabari Reserved Forest.
Nearly 113 different animal and bird species from all over the world are represented by the zoo's 895 resident animals, birds, and reptiles.
Your body, mind, and soul will get that much-required spa treatment when you visit this famous garden near you.
10. Empress Garden, Pune – a colourful paradise?
Bonsai of Palm Duranta Tree, Empress garden, Pune, Maharashtra, India
This 39-acre Empress Garden is situated close to the Pune racecourse. Here, you can locate a variety of uncommon and exotic plants, including White Shireesh, Baobab, Banyan, and Cannonball trees. There are over 150 different species of trees in existence.
Within this garden area, there is a children's park, a park for grandparents, a plant nursery, and a fern house. Take a stroll occasionally among the beautiful flowers, plants, and trees to refresh your spirit.
11. Brindavan Gardens, Mysore – a spiritual retreat
The beautiful landscape terrain of Brindavan Gardens provides the perfect picnic spot or weekend getaway for residents of Bangalore and Mysore
Brindavan Garden is spread over 60 acres of land at the bottom of Krishnaraja Sagara Dam, across the river Cauvery. The prime attraction of this garden is the immensely well-synchronized fountain show with music and light. This feature will blow your mind and soothe your soul. You can also go boating and lie down on the nicely manicured grass with flower beds.
Sir Mirza Ismail, Diwan of Mysore, founded the Brindavan Garden in 1932. The fountain and many other aesthetics of this garden are inspired by the Shalimar Bagh of Kashmir, built by the Mughals. A walk in this famous garden is sure to refresh your mind and soul.
Bottomline
Even if you live in a bustling city, a short trip to the local garden or park nearby might be just what you need to rejuvenate your soul. Try it.
Also, how about setting up a small balcony or terrace garden at your home? Trustbasket team can definitely help you out here. 
References
[1] Song, C., Ikei, H., Igarashi, M., Takagaki, M., & Miyazaki, Y. (2015, November 9). Physiological and Psychological Effects of a Walk in Urban Parks in Fall. International Journal of Environmental Research and Public Health, 12(11), 14216–14228. https://doi.org/10.3390/ijerph121114216
0 comments