Simple & Eco-Friendly Ganapati Decoration Ideas With Flowers, Leaves & Plants To Try at Home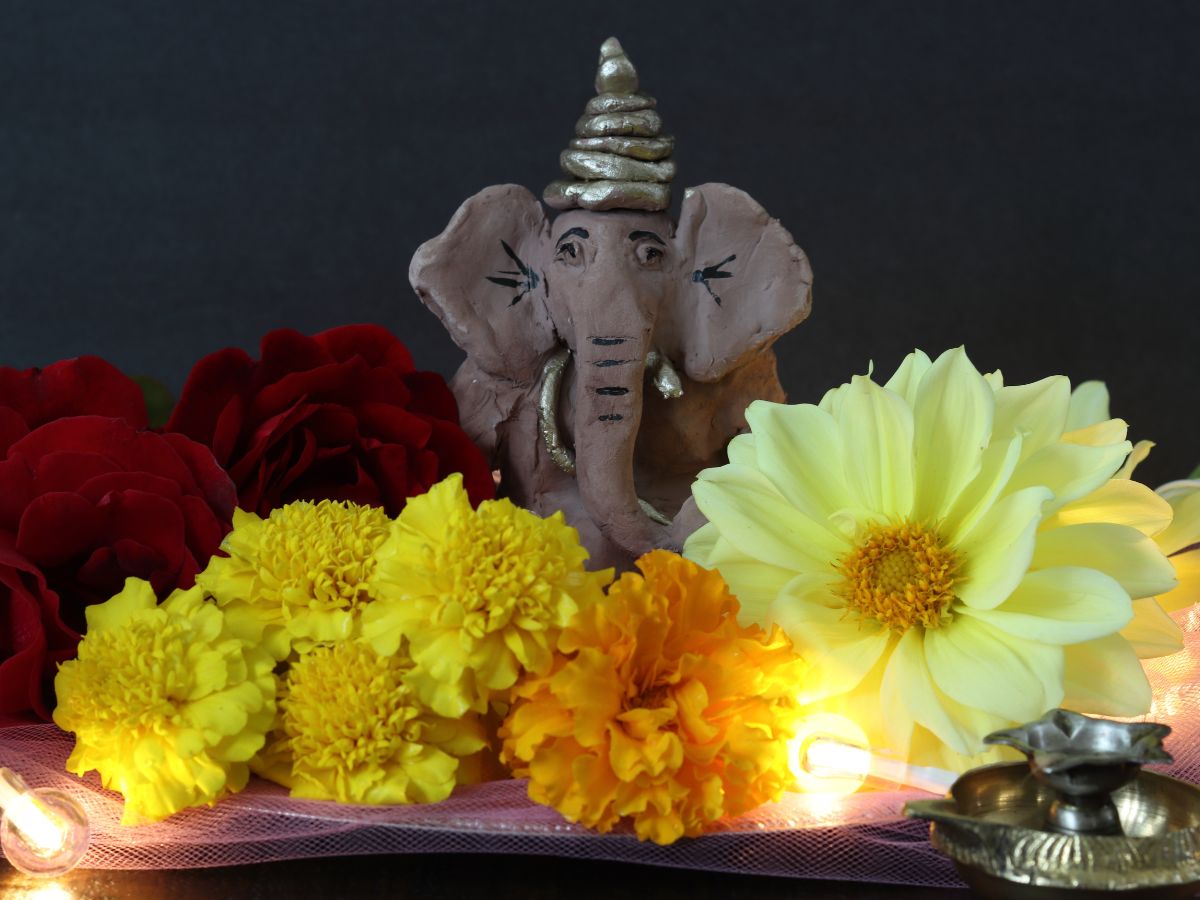 Ganesh Chaturthi honors the birth of Lord Ganesha.
This is a festival that is akin to a 10-day gala, featuring exquisite décor, sumptuous meals, and a majestic submersion of the idol (visarjan).
With its steadily growing popularity, the festival draws a far larger crowd every year that leads to waste, littering, and pollution.
While pandals have been adopting eco-friendly practices to ensure environment safety for the last 15 years, it's about time we do our bit too for the environment.
So we've put together some simple & eco-friendly Ganapati decoration ideas to try at home, which will also serve to fuel your creativity for this Ganesh Utsav:
A simple Ganpati decoration with flowers
Cardboard temple for Ganpati Bappa
A palm leaf background for Ganesh Idol
A simple Ganesh idol made from clay and paints
Make Ganesh idols with stones
Floral decoration with red and white roses or carnations for mandap
A spicy Lord Ganesha
Mango leaves and banana plants décor for Ganesh Chaturthi
Using vertical garden frame as backdrop of Lord Ganesha
A canopy of colorful flowers
A feathery backdrop
Indoor plants to place around Lord Ganesha
As a bonus, we've also included :
Ganpati decoration significance
Ganapati puja - Vastu tips for home
Frequently asked questions related to Ganesh Chaturthi
Excited much? Let's get started.
1. A Simple Ganpati Decoration with Flowers
Flowers represent innocence and have been used since ancient times as an offering to God. Bring fresh flowers like roses, carnations, and lilies and use them creatively around the Ganpati temple. You can make garlands of marigold and jasmine and hang them around the idol. Use a drape of light shade and then hang bright colored flowers to make a gorgeous contrast. You can use white and red flowers as a frame for the idol. This Ganpati decoration idea is simple yet gorgeous.
2. Cardboard Temple for Ganpati Bappa
Online shopping has increased over the years, and all our homes are loaded with cardboard boxes received from those deliveries. Take a small, medium, or large cardboard box and prepare first an outline for a temple. Cut it to size and then decorate with paint, coloured papers, and mirrors or other decorative elements. Place Lord Ganesha's idol inside this temple on a nicely polished wooden stool. Use decorative lights and flowers to highlight the temple more.
3. A palm leaf background for Ganesh idol
The palm leaves have a unique structure that gives them an ornamental look. Use well-evolved deep green palm leaves to make an interesting background for the Ganesh idol. Decorate in a way that the palm leaves are facing upwards. For that, you can cut the leaves from the middle stem and glue them on your background, resembling sunrays. Complete this Ganpati decoration look with earthen lamps in a semi-circle in front of the idol.
4. A simple Ganesh idol made from clay and paints
Clay used to be the prime material for making idols. But with time, various other toxic and environmentally hazardous things have been put to use to make the idols look more attractive. Remember that when visarjan/immersion happens, these idols with jewels and other decorations become a danger to the ocean. So, make your own Lord Ganesha idol or buy it from local artisans who use simple and eco-friendly materials. It is easy to make an idol at home. Use old newspapers and glue to make the base model first and then cover it up with ample clay. After it dries up, use paint to make it look attractive. You may watch a few YouTube videos to get a clearer picture. Place this idol on a wooden stool wrapped in a nice yellow cloth. Use colorful earthen diyas to border the stool with the idol.
5. Make Ganesh Idols with Stones
Gather some round stones and pebbles for this unique Ganpati decoration idea. Wash them well and then color them in your favorite colors. Then use glue to make a Lord Ganesha idol. This would look amazing and everyone will gape at your creative powers! Use a cardboard or wooden block as a platform so you can use it every year.
6. Floral decoration with Red and White Roses or Carnations for Mandap
Red and white colors are often associated with Lord Ganesha. The red color represents activity in the world and also symbolizes energy, brilliance, and good luck. The white color represents the moon and symbolizes purity, devotion, and prosperity. So, a beautiful red and white floral decoration would be a great idea. Cover the table where Ganpati is kept with red and white flowers in alternate lines. Use a big thali and, in circles, glue the red and white flowers alternately. This will make a bright background for Lord Ganesha.
7. A spicy Lord Ganesha
Our Indian kitchens are filled with numerous spices, pulses, and condiments such as green cardamom, red chilies, turmeric, black peppercorns, cloves, coriander seeds, cumin seeds, nigella seeds, red lentils, kidney beans, etc. Glue these items on a strong cardboard or wood piece and border with oyster shells or paint.
8. Mango Leaves and Banana Plants Décor for Ganesh Chaturthi
Mango leaves are used in almost all Hindu festivals. They symbolize the limbs of the god and are also known for waiving off negative energies. So, you can weave mango leaves along with bright marigolds to mark the entrance area of the Lord Ganesha mandap. Bring small banana plants that will be kept on two sides of the Ganesha idol. Isn't this Ganpati decoration idea simple, easy, and fuss-free? 
9. Using Vertical Garden Frame as Backdrop for Lord Ganesh
Vertical gardens are climbing the popularity charts slowly. If you have a wooden frame vertical garden, you can use that as a background for keeping the Lord Ganesha idol and it will accentuate the overall look of the mandap 100 times.
10. A Canopy of Colorful Flowers
Isn't a canopy just so nice to look at? If it is constructed of vibrant flowers, you would not want to take it down at all. To have a canopy of red, white, and yellow flowers prepared, you may either make it yourself or work with a florist. Decorate this canopy by using fairy lights.
11. A Feathery Backdrop
If possible, you can collect a variety of colorful feathers or you can stick to peacock flowers only. Cut out a rectangle or round shaped cardboard and simply glue these feathers on it. You'll have a stunning yet simple backdrop for Lord Ganesha. To draw attention to this aspect even more, use lights around the feathers.
12. Indoor Plants To Place around Lord Ganesha
Plants, when kept indoors, not only enhance the home décor but also purify the air, help assuage signs of stress, and keep diseases away. There are many small and beautiful indoor plants like peace lily, lucky bamboo, bonsai, jade plant, Syngonium plant, orchid plants, etc. Use these plants around Lord Ganesha to give a warm, relaxed, and eco-friendly look.
Why Celebrate Ganesh Chaturthi & What's the Significance of Ganpati Decoration?
Ganesh Chaturthi is one of the major festivals celebrated in India. This grand festival is all about spending happy time with friends, family, and relatives. To celebrate the birth of Lord Ganesha, Ganesh Chaturthi is celebrated with pomp and show. And thus, Ganpati decoration holds quite a significance.
It is also said that while celebrating Ganesh Chaturthi we derive the benefits from Ganesha frequencies that aids in reducing the effects of Yama frequencies.
When it comes to the Ganpati decoration part, people can better connect with one another by doing the decorations together and cooperating to achieve a shared objective.
If you and your family members decide to make your own Ganpati decorations, you will have more playful time to interact with each other and it will create more harmony in the family.
In conclusion, Ganpati decoration fosters a sense of community.
Ganapati Puja - Vastu Tips for Home
The god of fortune, money, and prosperity is Ganesha. But in order to get more, you must understand the direction in which to keep the idol of Lord Ganesha.
A lot of individuals have an idol of Lord Ganesha right at the front door of their homes, but many are unaware that the idols should be placed in pairs at the entry for wisdom and prosperity.
Remember the following Ganpati Puja Vastu tips for home:
The right direction to place the idol of Lord Ganesha is North, West, and North-East.
Always refrain from placing a Ganesha idol facing South because that's considered harmful as per Vastu studies.
There are certain places in your home that you must avoid placing an idol of Lord Ganesha, such as your bedroom, laundry room, garage, under the staircase, or bathroom.
What kind of idol you buy for Ganpati Puja is also important as per Vastu. Lord Ganesha's idol should always be seated because that radiates peace and harmony. In case you want a life filled with riches and luxuries, then opt for the reclining Ganesha idol.
Vastu experts say that the way Lord Ganesha's trunk is situated also needs attention. If the trunk of Lord Ganesha is directed right then he is difficult to pacify. If the trunk is in the left direction then it symbolizes happiness and wealth.
The color of Lord Ganesha's idol is also important to decide before Ganpati puja. If you want success and self-growth, then bring home the red-colored Ganesha idol. If you want peace and prosperity, then opt for the white Ganesha idol.
While purchasing a Ganesha idol for Ganpati puja at home, you must familiarize yourself with some details. An idol without a modak in Ganesha's hand and his vehicle mouse must not be bought. The modak represents the 'prasad' offered to Lord Ganesha and the mouse represents his omnipresence.
Frequently Asked Questions related to Ganesh Chaturthi
What is the significance of Ganesh Chaturthi in Hindu mythology?
Ganesh Chaturthi is the birthday celebration of Lord Ganesha.
Why Lord Ganesha is known as Vighnaharta?
Lord Ganesha is known for removing all obstacles from one's life and that is why he is known as Vighnaharta. The word 'vighna' in Hindi means obstacles, whereas 'harta' means to remove or take away.
What is the connection between Lokmanya Bal Gangadhar Tilak and Ganesh Chaturthi?
It was Lokmanya Bal Gangadhar Tilak who started the 10 day celebration of Ganesh Chaturthi because he wanted to bridge the gap between Brahmins and non-Brahmins with a common festival.
Tulsi is a holy plant whose leaves are used in almost all Hindu festivals, but why not during Ganesh Chaturthi?
Lord Ganesha is known as the God who removes obstacles, and thus helps in fulfilling desire. He is, therefore, associated with expectations. But Tulsi according to our mythology is a symbol of detachment and thus, it is not offered to Lord Ganesha.
Why is Lord Ganesha worshipped before any new beginnings?
Lord Ganesha is known as the remover of obstacles and that's why he is worshipped fondly before starting anything new.
0 comments