Things To Do In Kaas Pathar - A Trip to the Valley of Flowers (World Heritage Site)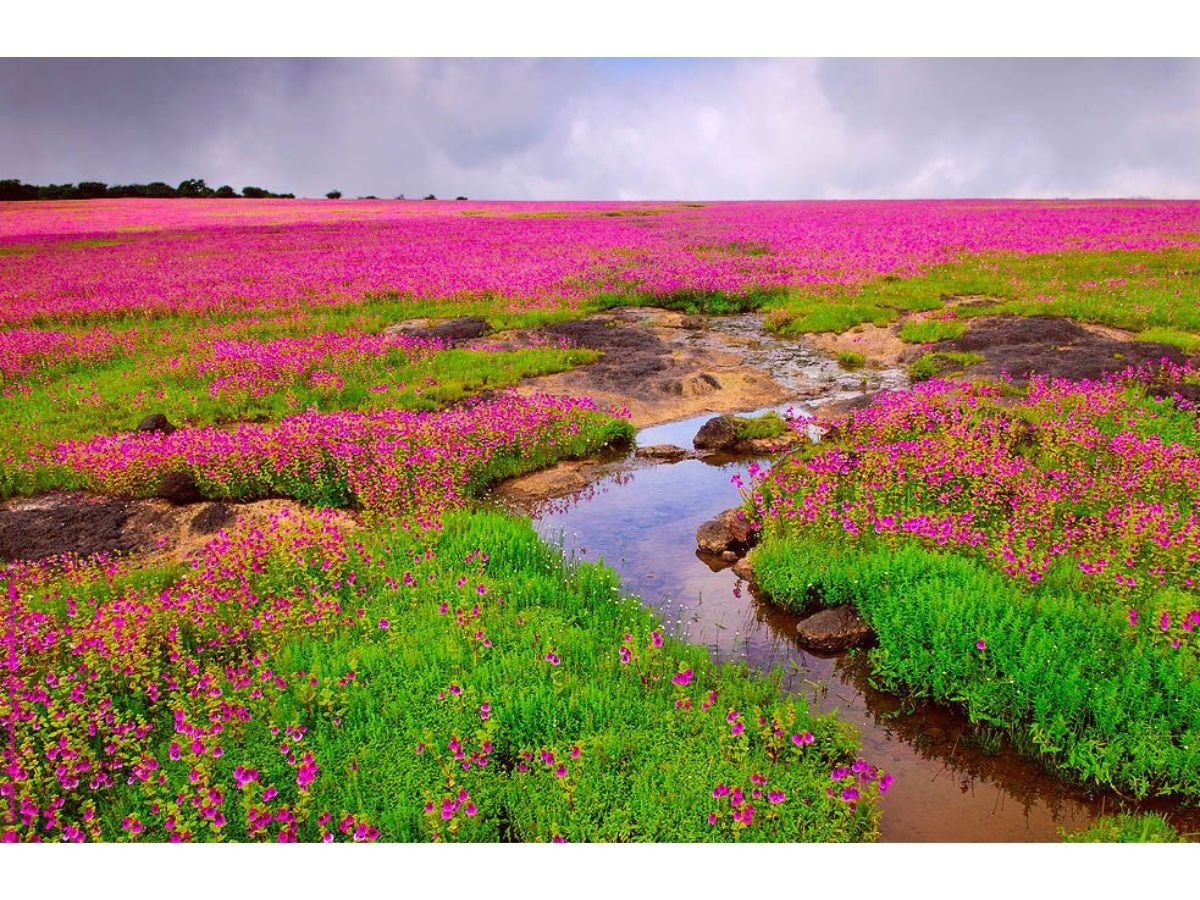 Soft, green carpet that caresses your feet
A rare collection of flora that startles your mind
A family of unwonted & glittering butterflies ….. that sets you free
Endemic butterflies and uncommon flowers here will make you think deeply about the vastness of nature and the huge extent of the unknown. 
You can only be grateful for being here and having a chance to soak in the beauty this place has to offer. Any guesses as to which place is being talked about?
It's Kaas Pathar, a world heritage site located near Satara in Maharashtra. Kaas Pathar became a World Heritage Site in 2012.
In this blog, we will know a lot more about Kaas Pathar
Interesting facts about Kaas Pathar

How to reach Kaas Pathar?

Things to do in Kaas Pathar

.

List of flowers found in Kaas Pathar

Important things to carry while traveling to Kaas Pathar

Care tips for travelers
So, read the following paragraphs and get ready to pack your bags.
Do you know why Kaas Pathar is a World Heritage Site? 
Because it fulfills the prime criteria set by UNESCO, i.e., "to contain the most important and significant natural habitats for in-situ conservation of biological diversity, including those containing threatened species of outstanding universal value from the point of view of science or conservation".
If you want a break from your regular life, you can plan a trip to Kaas Pathar.
What's so good about Kaas Pathar?
While driving to Kaas Pathar from Tapola via the link road, you can also stop at Mahabaleshwar and Panchgani. So, you can make memories at 3 scenic locations!
How to reach Kaas Pathar?
They say that the beauty of Kaas comes alive during the monsoon season. That's because of the gorgeous flowers that bloom during this period. To cut the monotony of your regular city life, you can thus plan a short trip to Kaas. Those who have already been there say that the road trip to Kaas from Mumbai or Pune is one of the most memorable ones.
By Road
In Maharashtra, Kaas is situated 30 km from Satara and 25 km from Mahabaleshwar. Pune and Kaas Plateau are separated by 136 km, which may be traveled in 2.5 to 3.5 hours by NH4. The distance from Mumbai would be 278 km, and it would take around 5 hours to travel there by car using the Mumbai-Pune Expressway and then the NH4.
Now, from both Mumbai and Pune, you need to drive up to Satara on the NH4 and then drive another 22 km from Satara. The only reason this road journey will live in your memory forever is the last ascent to the Kaas Valley. It has a beautiful view and is possibly one of the most picturesque road trips in India. There are numerous overnight buses from Mumbai to Satara for all types of budgets if you decide to take the bus.
By Rail
You can take the Koyna Express train from CST in Mumbai to Satara, where you can then catch a bus to Bamnoli at the Satara bus terminus.
By Air
Kaas may be reached the quickest by flying to Pune. The Kaas plateau can then be reached by taking the NH4 route on the road.
Interesting things to know about Kaas Pathar
     

Kaas Pathar is a plateau made from volcanic rocks in the Satara district of Maharashtra, and comes under the biosphere of the Western Ghats

     

Do you know that the color of the flowers at Kaas changes every week?

     

There are 1500 species of plants in total and out of that 850 are flowering plants.

     

There are 33 rare flower species found in Kaas

     

Apart from flowers, there are birds too. You will catch a glimpse of birds like Indian Robin, Malabar Crested Lark, Crested Bunting, Bonneli's Eagle, etc.

     

The Kaas flora and associated plants are unique to this area. That may be because the plateau is made of basalt, which is exposed to the atmosphere directly. The basalt is nearly fully covered by a thin layer of soil that has only accumulated to a depth of around 25 mm and was created as a result of erosion.

     

It is quite interesting to note that Kaas Pathar experiences its natural cycle of extreme weather conditions. Wet, waterlogged, cool monsoons, very dry, hot summers, and dry winters—you will experience them all. The highest and lowest temperatures experienced by Kaas are 45 and 5 degrees Celsius, respectively.
Things to do in Kaas Pathar
(visiting some nearby places, lakes, etc.)
The popularity of Kaas Pathar has multiplied since its inclusion in the UNESCO World Heritage List as a biodiversity hot spot.
Important things to carry while traveling to Kaas Pathar
Don't forget to carry the following things while planning for a trip to Kaas Pathar: -
All your identity cards, like your Aadhar card, voter card, and driving licence

A good camera because you don't want to miss the beauty of the flower valley

A guide book about the flowers you would see in Kaas Pathar is available at the entrance

Mosquito and insect repellant

Warm clothes

Sanitizers and masks

Some food items in case you get hungry after walking

Umbrella because the weather gets unpredictable and may start to drizzle

Carry comfortable shoes as there will be much walking

Wear comfortable clothes that cover most of your hands, neck, and legs so that insects or mosquitoes cannot reach you
List of flowers found in Kaas Pathar
Monsoon is the perfect time to visit Kaas Pathar if you want to witness the magic of nature. This spectacular episode of flowers lasts for a short period – only about three weeks. Mostly barren, this plateau offers a gorgeous view of pink, white, yellow, red, white, and mixed color flowers.
Along with herbaceous flowering plants, there are many insectivorous plants here. Pink balsam flowers are one of the most striking flowers found here. Many unknown flowers are also seen here in this season. Check this list of rare flowers found in Kaas Pathar: -
     

Ground Orchids or Habenaria

     

Sonki

     

Smithia or Mickey Mouse flowers

     

Bladderworth

     

Drosera Indica

     

Sita's Tears or Utricularia

     

Ceropegia

     

Strobilanthes (a flower that blooms every 7-9 years)

     

Konkan Pinda

 

Eranthemum Roseum

 

Flower Cyanotis Tuberosa or Sahyadri dew grass

 

Hitchenia Caulina or Indian Arrowroot flower

 

Cobra Lilies

 

Lantern flower/Kandilpushpa

 

Toothbrush Orchids
Care tips for travelers
If you are planning to visit Kaas Pathar anytime soon, here are some useful care tips for you: -
     

Pack your warm clothes because Kaas Pathar can turn chilly after heavy wind gusts.

     

This place has much too many flies and mosquitoes, so you absolutely must pack insect and mosquito repellant. You will return itchy, bitten, or swollen if you don't.

     

It is suggested that you reach this place by 9 a.m. Otherwise, you would have to stand in a long line for tickets, and there would be a traffic jam on the road leading to Kaas Pathar. Also keep in mind that this location is a UNESCO World Natural Heritage Site and only 3000 visitors are permitted daily. So, get moving!

     

The main attraction of Kaas Pathar is the extensive stretch of flowers. So to see those flowers, you have to trek and walk a lot. Therefore, carry your most comfortable shoes to take care of your feet.

     

If you want a budget trip or a solo trip, opt for the trek groups that conduct tours to Kaas Valley from Mumbai and Pune. For a reasonable price, they provide travel, meals, and sightseeing. Plus, they are experts to guide you on where to go, which route to take, how long to stay, etc.
Frequently Asked Questions about Kaas Pathar
What is the best time to visit Kaas Pathar?
The best time to visit Kaas Pathar is during the monsoon. To be more precise, the time between late August and early October would be suggested.
Are there flowers in Kaas Pathar now?
Yes, Kaas Pathar has more than 850 species of flowering plants that keep the valley a prime tourist attraction.
Where is Kas Pathar located?
In Maharashtra's Satara district is where you will locate Kaas Pathar. It is a plateau built of volcanic rocks and is located in the Western Ghats biosphere.
How do you get to Kaas Pathar?
You can get to Kaas Pathar by rail, road, or air. It is situated 30 km from Satara and 25 km from Mahabaleshwar. The distance between Pune-Kaas and Mumbai-Kaas is 136 km and 278 km, respectively. From Pune, it will take roughly 3.5 hours, while from Mumbai, it will take 5 hours to reach Kaas via road. You can take a train from Mumbai to reach Satara, which will take roughly 6-7 hours, and then another hour from Satara to Kaas.
0 comments