Tinda Vegetable (Round Gourd) - Facts, Benefits, Cultivation & How To Grow at Home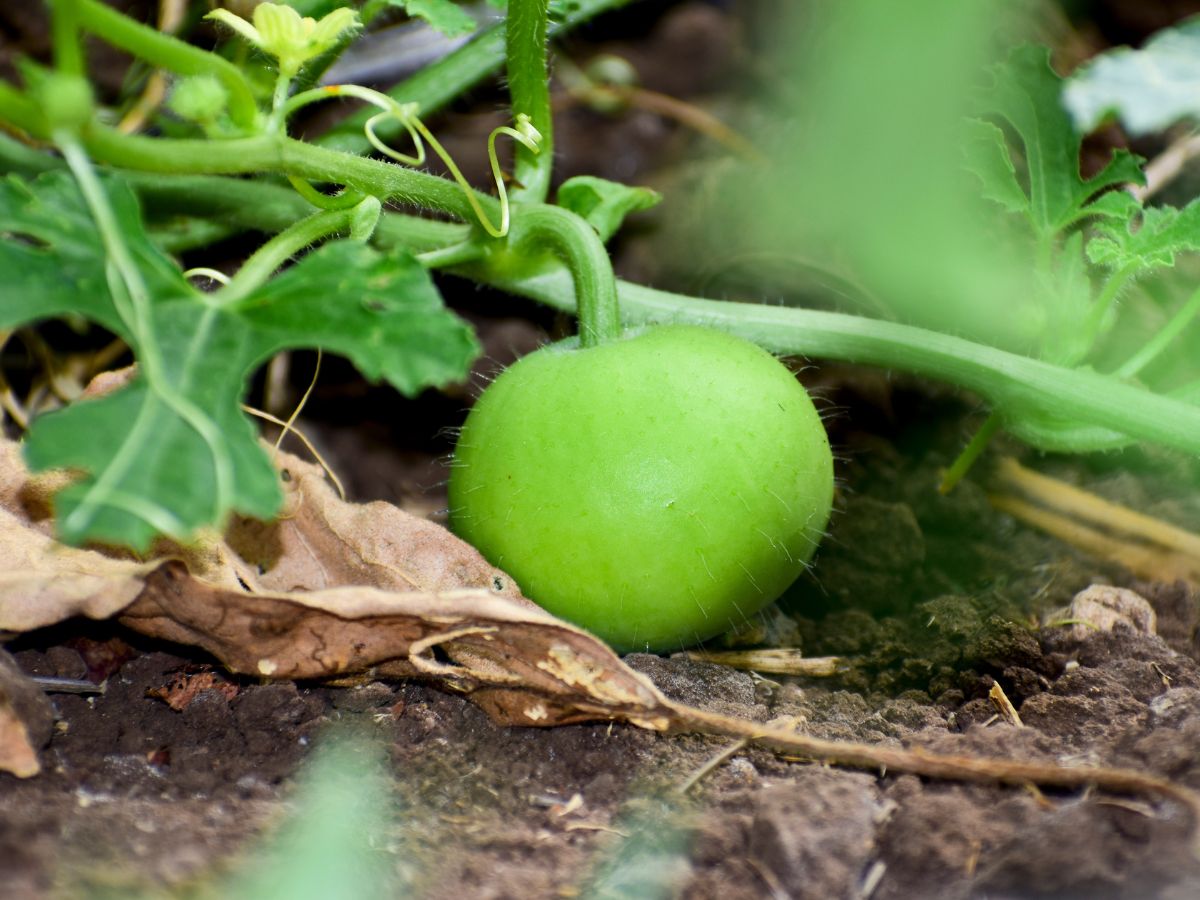 Kid: Aaj dinner mein kya hai? (what's for dinner tonight?)
Mom: Tinda
Kid: Mom, main batana bhul gaya aaj Piyush k ghar dinner ka invitation hai (oh! Mom, I forgot to mention I have dinner invitation at Piyush's house tonight)
And then the kid goes to nearby chaat and roll stall to satiate his/her hunger.
Is that your story too? You can be honest and confess that!
Tinda is the national excuse for eating outside—isn't it?
Well, in that case, you have missed knowing Tinda, or round gourd. Tinda is also known as the Indian round gourd, or Indian baby pumpkin, and apple gourd.
If you're looking to lose weight, then Tinda can be your BFF.
Why? Because it consists of 94% water and has fewer calories.
Tinda doesn't stop impressing there.
It can even reduce the formation of cancer-producing cells, control heart diseases, and is great for the digestive system.
In this blog, we will get to know Tinda more so that you can grow it easily at home.
True facts about Tinda
Health Benefits of Eating Tinda
How to cultivate Tinda at home?
How to take care of Tinda plants?
So, are you ready to send a friend request to Tinda? Let's get started.
True Facts About Tinda
Names – The scientific name of Tinda is Praecitrullus fistulosus and it is known by other names like Indian squash, round melon,[1] Indian round gourd or apple gourd or Indian baby pumpkin.
Growing season – Tinda is a typical tropical or sub-tropical vegetable and that means it is a summer season specialty. The seeds are planted in February to April and it starts growing after 70 days of planting. It grows abundantly all through the summer and spring months.
Taste – Tinda belongs to the gourd family and tastes like cucumber and ridge gourd. Some are of the opinion that spices add some taste to the tasteless vegetable.
Geographical history – This squash-like vegetable belongs to the Cucurbitaceae family along with cucumbers, squash, and pumpkins. Tinda is a native Indian vegetable that has been cultivated since times immemorial. Currently, Tinda is quite a popular vegetable throughout Asia, Middle East, and Southeast Asia.
Nutritional value – Like many other members of the gourd family, the fruit, seeds, juices, and other extracts obtained from Tinda are highly nutritious. Tinda contains a good amount of proteins, fats, carbohydrates, fibers, vitamins, minerals, and plant substances like phenolics and cucurbitacins. In a 100gms serving of Tinda, the nutritional value is: -
| | |
| --- | --- |
| Calories | 86.2cal |
| Fat | 3.9g |
| Saturated Fat | 0.5 g |
| Total Carbohydrate | 12.5 g |
| Dietary Fiber | 0.6 g |
| Protein | 2.0 g |
| Cholesterol | 0.0 mg |
| Sodium | 33.0 mg |
| Potassium | 359.1 mg |
| Vitamin A | 9.8 % |
| Vitamin B6 | 11.3 % |
| Vitamin C | 30.5 % |
| Vitamin E | 1.1% |
| Calcium | 5.1 % |
| Magnesium | 6.7 % |
| Phosphorus | 5.0 % |
| Zinc | 7.2 % |
| Iron | 5.7 % |
| Manganese | 12.5 % |
| Iodine | 5.9 % |
Plant height – The vine can grow up to 1-2 meters while the leaves are around 10-20 cm long.
Shape and look Tinda is a small to medium-sized vegetable whose diameter is between 5-8 cm. The shape is round yet tilted, and it looks like a mix of pumpkin and green apple. The outer layer, or skin, is yellow, green, or brown. It has small hair all over the surface. The interior white or semi-green flesh is tender, spongy, and moist. It also has small pale yellow seeds.
Varieties of Tinda – There are 6 types of Tinda in total which are discussed shortly below: -


Arka Tinda – this is the highest yielding variety of Tinda, which is light-green in color. As pollination is complete, the Tinda can be harvested in 5 days.
Punjab Tinda – this is a medium-sized Tinda variety which has a shining appearance. In just 2 months, this variety can produce 4.5 tonnes on a hectare of land.
Swati – this is a F1 hybrid Tinda whose vine is around 170-225 cm long. The fruit is dark green in color and is available just two months after planting.
Anamalai Tinda – the vegetable is comparatively small, and it is a South Indian variety. The color is light green.
Bikaner Green – this Tinda is large in size and grows after 2 months of sowing.
Mahyco Tinda – this variety of Tinda was developed by a private company in Jalna.
Health Benefits of Eating Tinda
Why eat tinda and include it in your diet? Tinda is an under-rated superfood with numerous benefits.
Lowers the risk of cancer
Tinda contains polyphenol and cucurbitacin antioxidants, which have great anti-inflammatory properties. These bioactive components work as a shield against free radicals and cancer-causing cells. So, basically, Tinda protects the body from cancer in all parts of the body, like the stomach, brain, heart, kidneys, etc.
Improves eyesight
Tinda has a good amount of Vitamin A that guards the eyes and improves optical functions. It is thus suggested to include Tinda in your diet as it is rich in lutein and zeaxanthin (carotenoid antioxidants). If you consume Tinda regularly, then these components would protect your retina and save your eyes from vision impairments, cataracts,or age-related macular degeneration in old age.
Improves digestion
Are you tired of constipation, bloating, and stomach cramps? Start including Tinda in your diet and see impressive results. The laxative nature of Tinda helps in a clear bowel movement and also removes all other discomfort arising due to indigestion. So, with tinda, your digestive system will be taken care of.
Takes care of the heart health
As tinda is low in cholesterol and fat, it can ensure good heart health by promoting better blood circulation and optimal functioning of the cardiac muscles. If you have high cholesterol, then you are already in the radar of heart-related problems. So, including Tinda in your diet will improve your condition.
Aids weight loss
For weight loss, you need something low in calories and high in nutrients – right? Tinda is just that and much more. The water content in Tinda is high and this would keep you full for a longer period, blocking your moments of craving. Those who follow Keto diet can have tinda.
Good for skin and hair
Tinda is good for removing skin infections like red spots, allergies, pus, or boils. Sometimes, the skin gets affected by pollution and sun rays – tinda helps to treat that also. Tinda also helps in achieving lustrous, thick, and strong hair. If applied directly as a gel, the hair follicles are nourished.
How to Grow Tinda at Home?
Tinda is a commonly grown vegetable in India. It can be grown easily at home. Read below and know more.
Season of sowing
As Tinda is a summer vegetable, you need to sow tinda seeds in January and February.
Now have a look at the planting methods to grow Tinda vegetable efficiently.
Row planting method
Planting tinda seeds in rows is known as row planting. Just keep in mind that the rows must be a foot or 12 inches apart. Place tinda seeds at a depth of an inch. Spacing is important for light and air to pass freely so that the vegetables are healthier.
Vertical trellis method
Tinda is quite an adaptive plant, and in case you have horizontal space issues, you can opt for the vertical trellis method of planting. A trellis, fence, or another tree or plant is sufficient for supporting a tinda plant. In this vertical trellis method, the tinda vegetable is often better in taste as it receives an ample amount of sunlight and air. It is suggested to use a strong frame or fence of a height of up to 6 feet.
Container farming
To grow Tinda in a container, you need a flat container of 12 inches in breadth. Use good quality potting soil that is well-drained or garden soil mixed with coco peat, sand, and manure to fill up the container. Make a hole in the container and put the seeds with a 3 cm gap among them. Apply some water and after a few minutes when the soil has absorbed the water, place the container under a warm and good source of light. Don't let the topsoil dry out. In about 11 days, you will notice sprouts.
How to take care of Tinda plants?
Soil
Tinda grows best on sandy loamy soil rich in organic manure with a good drainage system. The pH must be 6.5-7.5.
Location
A place where proper sunshine comes is best for tinda cultivation and growth. Choose your terrace, balcony, or garden spot where full sunshine reaches the plant.
Temperature
For tinda seeds to germinate, the best soil temperature should be between 25-32 degree Celsius during the day and 18 degree Celsius at night. A warm sunny temperature will help in production further and thus choose January-February to plant seeds.
Humidity
As the tinda seeds germinate, water the Tinda plant once a week. While sowing, you must not allow the topsoil to dry out.
Sunlight
Warm sunny weather is conducive to the growth of Tinda vegetables. Keep those sunny places at your home or garden reserved for Tinda.
Fertilizer
It is suggested to use FYM 10 t/ha, N 20 kg/ha as basal and N 20 kg/ha 30 days after sowing. (source: https://agritech.tnau.ac.in/horticulture/horti_vegetables_tinda.html#:~:text=Sandy%20loam%20soils%20rich%20in,requires%20a%20moderate%20warm%20temperature .)
FAQs related to Tinda & it's Cultivation
How long does tinda take to grow?
Tinda generally starts to grow after 60-70 days of sowing.
Is tinda a climber?
Yes, Tinda is a creepy or climber plant
What is the season for tinda?
The ideal season for Tinda to grow is summer, i.e, between April to June
Which fertilizer is best for Tinda?
FYM 10 t/ha, N 20 kg/ha as basal, and N 20 kg/ha are the best fertilizers for tinda growth.
Is Tinda a winter vegetable?
No, tinda is a summer vegetable.
What is Tinda vegetable called in English?
Tinda is called Indian squash, round melon, Indian round gourd or apple gourd or Indian baby pumpkin, or simply round gourd.
Is Tinda good for health?
Tinda is a highly nutritious vegetable that promotes weight loss, improves digestion, improves heart health, improves eyesight, and fights against cancer cells.
How do you grow a Tindora plant?
Tinda can be grown easily at home or garden with row planting, vertical trellis, or container farming methods. Just collect tinda seeds, put them an inch deep in sandy loam soil, and apply enough water for the seeds to germinate.
What does Tinda taste like?
Tinda tastes like cucumber, squash, ridge gourd, and pumpkin.
Can you eat apple gourds?
Yes, apple gourd or Tinda can be eaten. In India and Southeast Asia, Tinda is quite a popular vegetable.
Can we eat Tinda raw?
Yes, some prefer peeled, sliced, tender tinda in raw form in their salad bowls.
Is Tinda good for weight loss?
Tinda is full of antioxidants, carbohydrates, protein, vitamins, and fiber. Also, tinda has good water content and that makes it good for weight loss diets.
How do you plant apple gourd seeds?
You have to soak the apple gourd seeds overnight and then sow 2-3 seeds at a depth of an inch, and water the soil properly. The seeds will germinate in 11 days or 2-4 weeks depending on the temperature.
Does Tinda have protein?
For every 100gms servings of tinda, the protein content is 2.0gms.
Is Tinda good for the liver?
Due to its good fiber content, tinda is considered good for the liver. People with poor digestive and liver issues are advised to have tinda.
Ref Link:
https://www.agrifarming.in/tinda-cultivation-farming-practices-a-full-guide
0 comments