Choose Pots with a Balance of Form and Function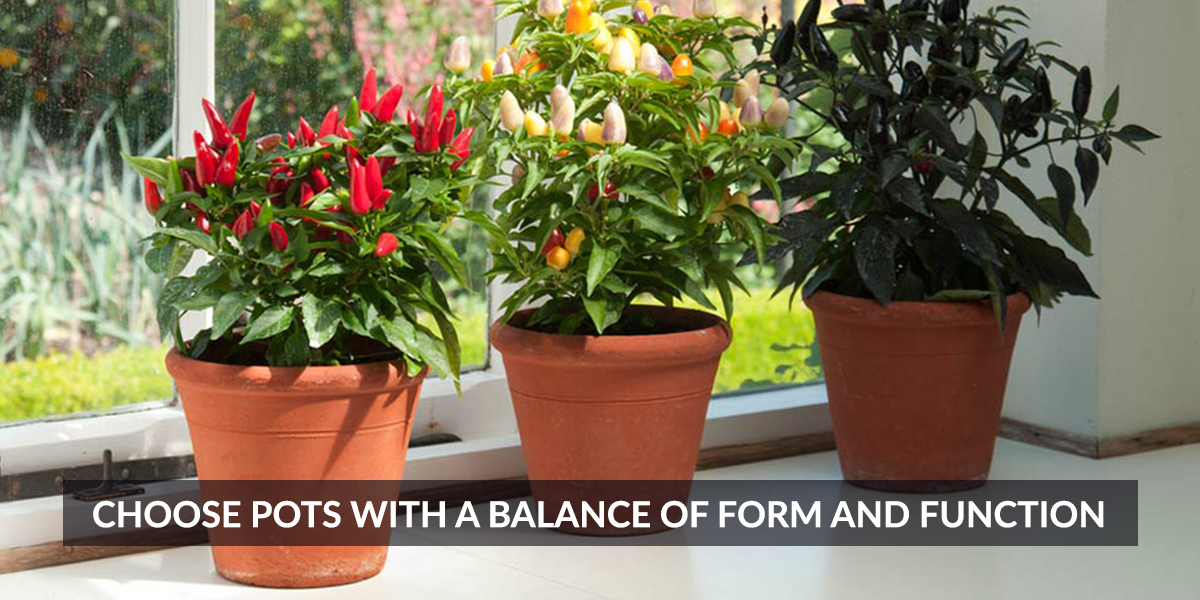 There is no better company than nature, especially after a long tired day. Bring it home with a home garden. Houseplants are a great accessory for interior spaces. For one, they are living entities that add texture, colour and warmth to your decor while infusing the home with fresh, clean air. They can serve as a focal point of a room or help soften the transition between spaces. 
Re-potting
So much about the functionality and purpose of houseplants! Let us get down to work and the very first step after getting your houseplants home is to re-pot them. Why? Because the plant from the nursery is likely to have already overgrown the pot it originally came in. If not properly re-potted in time, the plant is likely to have stunted growth or worse negative growth to continue to fit into its container. Another reason for re-potting is that it will give the plant fresh media to grow bigger and better.  
Size of the pot
There are plenty of choices available in the category of garden pots online. But you need to choose a pot as per the size of your plant. If you go for a pot too big, then the soil dries slowly making the plant prone to root rot. A pot too small may cause the soil to dry out very quickly making the plant water challenging. A small pot will also make the plant root-bound resulting in stunted growth. The ideal size to re-pot in case of fast-growing plants is 2-4 inches bigger in diameter than the current size and for a slow-growing one it is 1-2 inches bigger.     
Material of the pot
Garden pots online are available in a variety of materials including terracotta, wood, ceramic, earthenware and plastic to name a few. Which one to choose? Go for materials that are both beautiful to look at as well as functional. Porous material is recommended as the better pot material choice because they dry evenly keeping the soil well aerated. But then they require you to water the plants more often. Terracotta, ceramic and earthenware are great choices for cacti, succulents, orchids and bromeliads. Wood pots dry even faster. 
If weight is a consideration or you want the soil to retain moisture longer, then you may go for plastic flower pots online. Fiberglass pots and planters are also great options for bigger plants.    
Drainage
A drainage hole at the bottom of the pot drains the excess water out and lets air in. It allows the plant to thrive and brings down the chances of root rot. But a pot with drainage hole is not an inviting sight. We have a few methods for you to work around.
One, you can line the bottom of the pot with lava rocks or something similar. The lining creates crevices for excess water to drain into and away from the plant roots. Be quite generous with the number of rocks to prevent the risk of root rot as much as possible.
Secondly, you can use the double potting technique by placing the pot with a drain hole into another pretty container called the cachepot. Just ensure that the cachepot is large enough to hold a saucer for the plant pot. Wicker baskets, glass bowls and metal boxes to cookie jars and enamelware, choose anything eye-catching or create your own cachepot.   
Pair the plants with the right garden pots online for their health and look. Check out the fascinating collection of hanging baskets, wall shelf and plastic flower pots online at Trust Basket.    
Popular Searches: Garden Accessories for Sale, Compost Bin India, Plastic Flower Pots Online, Contemporary Plant Pots, Hanging Pots Online, Colourful Plant Pots, Bird Feeders Online, Rectangular Planters Online, Small Pots Online, Flower Pots Online, Kitchen Waste Compost Bin, Balcony Railing Planter
1 comment