Grow Methi Hydroponically, without Soil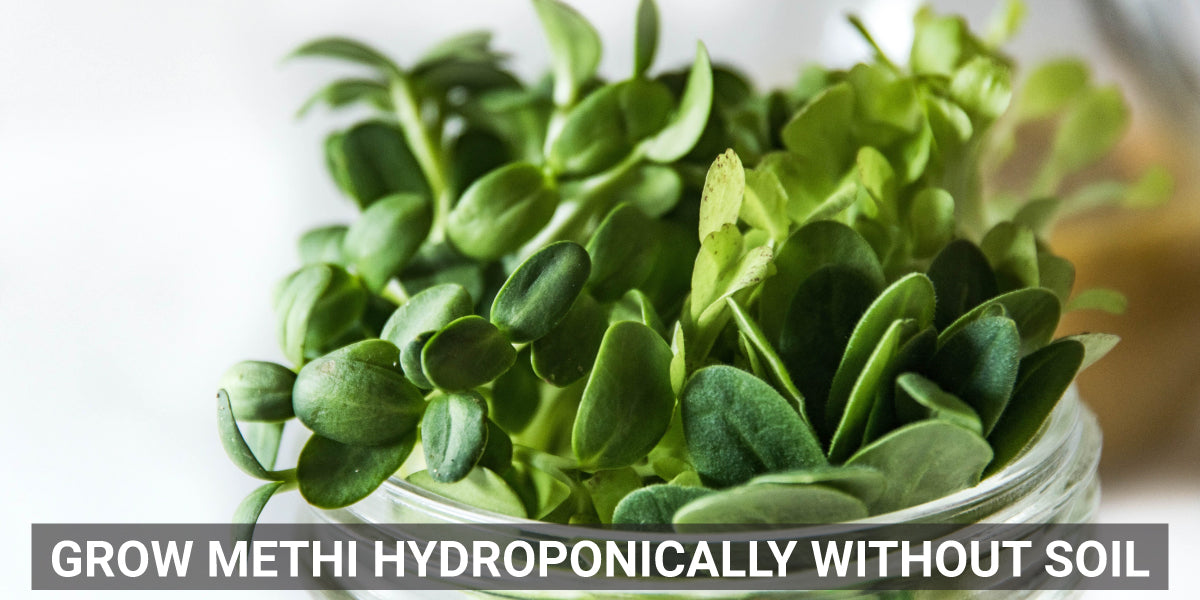 Gardening is pleasure, gardening is having a connection with nature. Gardening is soil. But it is not always true that you have to make your hands' mud to grow plants. Now the time came that you can start growing plants without using soil. Yes, plants can be grown in water without the addition of any soil. You need not mud your hands to sow seeds and to harvest the crop. Isn't it fun growing plants in water? Because traditionally we are growing plants in the soil. Let's see what it means, and how can we grow the Methi in water.
 Fenugreek a green leafy leguminous plant is also called Methi/ Menthya in different parts of India.Being a leafy vegetable, it has a bunch of health benefits. Botanically methi is Trigonella foenum graecum. Leaves and seeds are edible parts of this beautiful, small greens.
Besides having many health benefits, it is very easy to grow in your kitchen garden, indoor pots, and even in a bowl of water. Isn't it exciting to grow methi in water without using soil? Yes, fenugreek can be easily grown in water. Here is a piece of brief information about how to grow these greens in water. ( Methi seeds)
Traditionally menthya is grown in soil. Even though growing in soil is easy, but it is a very hassle process during harvesting. And part of the plant i.e. roots will be discarded when grown in soil. But it is not in the case with hydroponic methi. Because the entire plant can be consumed along with roots. Growing plants and taking care of them makes you engaging in nourishing life. Along with that growing your fruits and vegetables at home gives you a chance of eating chemical-free food. Let's check out how these tiny greens help you to gain health from greens
         How can Methi Healthify you:
Rich in vitamin K, vitamin C, vitamin A, and B complex
Strong antioxidant
Low calorific value
Intake of methi controls diabetes
Improves bone health
Stimulates breast milk production in mothers
Good for heart
Cures mouth ulcer
Prevents anemia
Magic of growing plants in water: method of growing plants in water without using soil, supplying mineral and nutrients rich water is known as hydroponics. This is a magic that works even in your kitchen. There are many benefits to going to this method of plant growth. Below are some benefits, go through them
        Hydroponics cuts your efforts:
Space-saving
Soil less makes it hassle-free to grow & harvest
Chemicals free vegetables
Reduced attack of pest & diseases
       Materials required to grow methi in water:
Fenugreek seeds ( Fenugreek  seeds) 
Netted basket/ strainer
Mineral water/ potable water
Bucket/bowl
Damp cotton cloth
       Follow this way to grow:
First, soak the seeds overnight.
Next day rinse of extra water from the soaked seeds.
Spread soaked seeds evenly on netted basket/strainer
Take bucket/ bowl with potable/mineral water
Place netted basket/ strainer on the bucket/bowl. Make sure water in the bucket just touches the lower surface of the strainer which contains seeds. Do not dip stainer/netted basket in the water in a bucket. As it will kill seeds before their growth.
Cover the netted basket/strainer where you placed seeds, with a damp cloth.
Change water in the bucket every day. Add drinking water into the bucket to supply required minerals to new plants.
Keep this setup under shade until seeds germinate.
Within 2-3 days seeds start germination.
Do not skip to change the water in the bucket and fill it with the same level of the water.
When you notice green leaves development from seeds, uncover the damp cloth.
After the development of 3-4 leaves keep in indirect light, for better plant growth.
Once the leaves are fully grown, about 4'' tall harvest microgreens and use
Enjoy chemical-free baby fenugreek within two-three weeks.                                                                                                                                                                                                                                                                    Image source
Remember these care tips for growing plants: 
Do not keep plants under direct sunlight, as it will kill seedlings.
Do not dip the netted basket/ strainer in the bucket of water, because seeds will not germinate.
You can use any transparent plastic container to cover the netted basket and for creating a greenhouse condition.
       Waiting is a waste of time  start growing fenugreek/methi. Enjoy chemical-free, nutritious, healthy & fresh greens at your home. Becoming healthy along with growing your own food, it's crazy and fun. Make it part of your lifestyle and become self-sustainable. Gain from greens.
 Popular Searches: Garden Accessories for Sale, Compost Bin India, Plastic Flower Pots Online, Contemporary Plant Pots, Hanging Pots Online, Colourful Plant Pots, Bird Feeders Online, Rectangular Planters Online, Small Pots Online, Flower Pots Online, Kitchen Waste Compost Bin, Balcony Railing Planter, Buy Pots Online, Indoor Plant Pots, Metal Flower Pot  
16 comments