How to use Coco peat / Coco coir for plants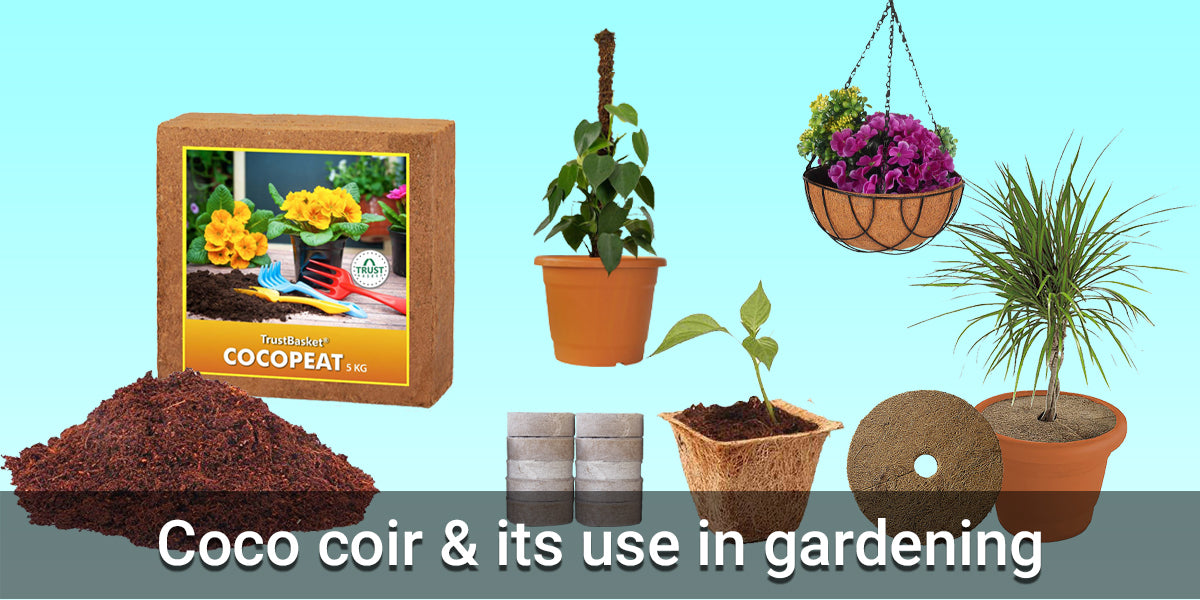 What is coco coir?
Coco coir is the mesocarp (middle layer) of the coconut drupe which is a thick fibrous layer that is present between the outer layer and hard internal shell. This fibrous coir is widely used in many materials like mattresses, automobile seats, mats, brushes. Besides its use in the upholstery industry, it has also been dragged to the gardening world by recognizing its benefits. The small fibers and pithy dust of coco coir which were once thrown away are now put in usage and have a great demand too.

Image source
When it comes to gardening, coco coir is a very friendly product among green thumbs for various reasons. Coco peat is well known for its water retention capacity and is also an easily available water holding product when compared to other products (sphagnum moss) having the same function. It is an excellent soil amendment as it improves the physical properties of the soil. Although it doesn't have an appreciable nutrient value, it improves the nutrient uptake by the plants. Some of the other benefits of coco coir/peat in gardening are mentioned below. 
Uses of coco peat in gardening:
As a soil amendment, it improves soil structure and also adds organic matter to the soil.
Unlike soil, through which excess water leaches below the root zone, coco peat helps in retaining water and also prevents soggy and waterlogged conditions at the same time.
It holds water around 7-8 times its weight and eliminates excess water.
It improves aeration and drainage for better growth of roots.
It also prevents nutrient leaching as it retains nutrients and releases them slowly to the plants. This helps in better nutrient uptake.
Coco peat is a sterile and bio-degradable organic matter and is free of weed seeds and pathogens.
The coco peat that is used for gardening generally has a low EC and pH of around 5.5 to 6.8.
Different coco coir products: 
Coco coir is used in many ways by molding it into many different forms or products. These coir products help in easing gardening and give you a better experience. Some of such products are 
1. Loose coco peat
2. Compressed coco bricks 
3. Coco discs
4. Coir pots
5. Coir mulch mats
6. Coir climbing Poles
7. Coir planter liners
8. Coco chips
1. Loose coco peat:

Image source
Loose coco peat is readily available in any of the nurseries around you or you can also get in online. It exists in hydrated form. Make sure you purchase it from authenticated sources as there may be any unwanted additives to increase its weight or volume. Uses of coco peat in gardening.


How to use coco peat in gardening:
a) For container gardening:
Prepare your own potting mix by mixing soil, compost, and coco peat in equal proportions. Or 35% coco peat, 40-45% soil and 20 - 25% compost.
You can also mix coco peat with compost alone until it reaches a 1:1 ratio. But adding it with both soil and compost is recommended to avoid nutrient leaching as compost is rich in nutrients. 
b) In gardens:
Coco peat can be incorporated into the soil by slightly ploughing the planting area in your garden. This improves the soil structure and adds organic matter to the soil.
c)For germination:
Coco peat alone can be used to germinate seeds in the germination trays. It can be otherwise called a seed starting mix.

Image source
d) Bedding material:
It can be used as bedding material/substrate in activities like vermicomposting, mushroom cultivation etc.
e) For mulching:
Coco peat is also a great mulching material that prevents water loss from the soil or any material. It can be spread as a layer on land, potted plants (upon soil), compost heaps to reduce the moisture losses from them.
f) In hydroponics:
To use the coco peat in hydroponics, it should be washed properly. Wash the coir with continuous running water to get rid of chemicals or salts if present. After that you can use it in hydroponics by mixing it with clay pebbles and fertilizers to ensure the better growth of plants.
2. Compressed bricks:
Small fibers/coir are compressed and molded into different shapes to make them into hard bricks. The size and shape of these marketing bricks may vary to meet the different requirements. They are in dry and compressed form to supply a large amount of coco peat in less surface area. It should be hydrated with water so that they expand many times more than its volume to provide a loose virgin coco peat in powder form. This process of hydrating the coco coir block is known as reconstitution.
Reconstitution of coco brick:
Place the coco brick in a large tray or tub. Now slowly add water by turning the brick. Ensure you are hydrating the brick from all sides. Coir bricks can grow up to 15 times the size of their original form.



Now let the brick sit for 5-6 minutes.





Loosen the expanded coco peat and continue adding water to the remaining dry brick. Continue the process until the whole brick got expanded.





Image source




The coco peat needs to be just damp so add water as per the instructions mentioned in the respective product description.
Reconstitution results in loose coco peat and then it can be used in many ways just as mentioned above (under loose coco peat).
3. Seed starter coco discs:
These are other forms of coir products that are specially designed to germinate seeds, a reason why they are called seed starter coco discs or coco pellets. Coco peat or coco peat with potting mix is dried and compressed into circular discs, those which vary in diameters when hydrated. They come with netted or soft woven cloth around them that holds the coco peat together when expanded. when the seedlings are ready for transplantation, you can directly place the plant without removing it from the discs as the cloth enclosing the coco peat permits the growth of roots through it.
Reconstitution of coco discs: 
Add warm to normal water as mentioned, to hydrate the coco discs. This results in an expansion of coco discs up to the height of 3 - 5 cms bags.
Advantages:

TrustBasket's Seed Starter Coco Discs are enclosed with bio-degradable non-woven cloth and they expand up to a height of 5 cm when hydrated.
Netted/woven cloth acts as a pot to facilitate the sturdy germination of seeds in the expanded discs.
4. Coir pots:
Like any other pots, coco coir is also molded and pressed to form coir planters. Like plastic/ceramic pots they also exist in different sizes and shapes to fulfill the space requirement of different plants of your choice.
Image source
Advantages of coir pots over other pots:
Coir pots are bio-degradable and can be used both indoors and outdoors.
Create well-drained conditions for plants. 
Retain moisture for a long time.
Ensure better aeration for the healthy growth of roots.

You can directly transplant the plants into your garden along with the coir pots as they ensure the growth of new roots through them and degrades gradually over time.

5. Coir mulch mats: 
It is a well-known fact that coco coir is also used as a mulching material to restore moisture in the soil for a longer period. To facilitate the better mulching process, coco coir is now pressed in the form of mats. These mats can be spread on the top of the soil easily. As the coco mulch mats are very porous you can even water plants even when these mats are spread on the soil.
Advantages:
Highly advantageous in summers.
Available in different sizes according to the pot size.

Placing and removing of these mulch mats is very easy.


 6. Coir climbing poles/stands: 
Like moss sticks, climbing poles are also designed using fibers of coco coir to support the climbers. They also hold the moisture for a long period and nourish the aerial roots of vining/climbing plants. They also provide mechanical support to plants.
Image source
How to use coir climbing poles:
Place the coir climbing pole in the middle of the pot with soil and now plant any climbing plants around it. Keep tying the growing climbers to poles to support them. Water the coir pole regularly to maintain them moist. or
Place the climbing poles in already potted plants and tie their stems along the length of the poles. Water the coir poles regularly to maintain them moist.
 
Advantages:

Image source
Provides mechanical support to plants
Nourish aerial roots, so that they also absorb water to support the healthy growth of climbing stems.
Exists in different heights to support most of your plants.
7. Coir planter liners: 
Coir planter liners are made of several layers of thick coir fibers that are pressed together to prevent the loss of soil through them. They can be fixed in any metallic wire baskets/window boxes.
Advantages: 
They are not spongy like the peat moss ones.
They also come in different sizes and shapes according to the planters they are designed to line.


8. Coco chips: 

Image source
Coco chips of different sizes are made from both exocarp and mesocarp or only mesocarp of coconut drupes. They exist in different sizes and shapes. They are mainly manufactured to serve as mulches while some are also used in potting mixes to improve the aeration and drainage in the growing media.
Frequently asked questions:

1. How to use coco peat in gardening?
Coco peat can be used in many ways in gardening. They can be used as
Soil amendment

Mulch

Constituent in potting mix

Media for germination

Media/constituent in hydroponics.
2. Can we mix coco peat with soil?
Yes, you can mix coco peat in the soil to grow plants. It makes the soil well-aerated and well-drained. It also prevents water logging conditions and thus helps in the prevention of root rots.


3. Can we grow plants using coco peat and compost?
Yes. you can grow plants using coco peat and compost in a 1:1 ratio but there will be leaching of nutrients as compost holds excess nutrients. so we recommend you to make a potting mix using soil (35-40%), compost (20-25 %), coco peat (35%) to make use of all the goodness of both coco peat and
compost
nutrients.


4. Can we grow plants in coco peat alone?
No, coco peat is an excellent soil amendment and constituent but it doesn't hold appreciable nutrients in it. So do mix the coco peat with soil and/or compost to make a better growing media for plants. However, coco peat alone can be used to germinate seeds.
5. What is the pH of the coco peat?
Coco peat that is designed for gardening generally has a low EC and pH of around 5.5 to 6.8 which is slightly acidic and facilitates the slow release of nutrients to plants.
6. How long can we store the reconstituted/hydrated coco peat?
You can definitely store the hydrated cocopeat for long years (3-4 years). Dry the coco peat under shade until it turns damp or dry and then store it in any plastic cover/container. A good quality coco peat will always be resistant to bacterial and fungal growth as it is free of pathogens. So do consider buying coco peat from trusted sources.

7. Where can I get coco peat online?
You can try buying coco peat from TrustBasket as it is one of the trusted sources of gardening products in India. 
Popular Searches: Garden Accessories for Sale, Compost Bin India, Plastic Flower Pots Online, Contemporary Plant Pots, Hanging Pots Online, Colourful Plant Pots, Bird Feeders Online, Rectangular Planters Online, Small Pots Online, Flower Pots Online, Kitchen Waste Compost Bin, Balcony Railing Planter, Buy Pots Online, Indoor Plant Pots, Metal Flower Pot 
0 comments