Vertical Gardening made better with our products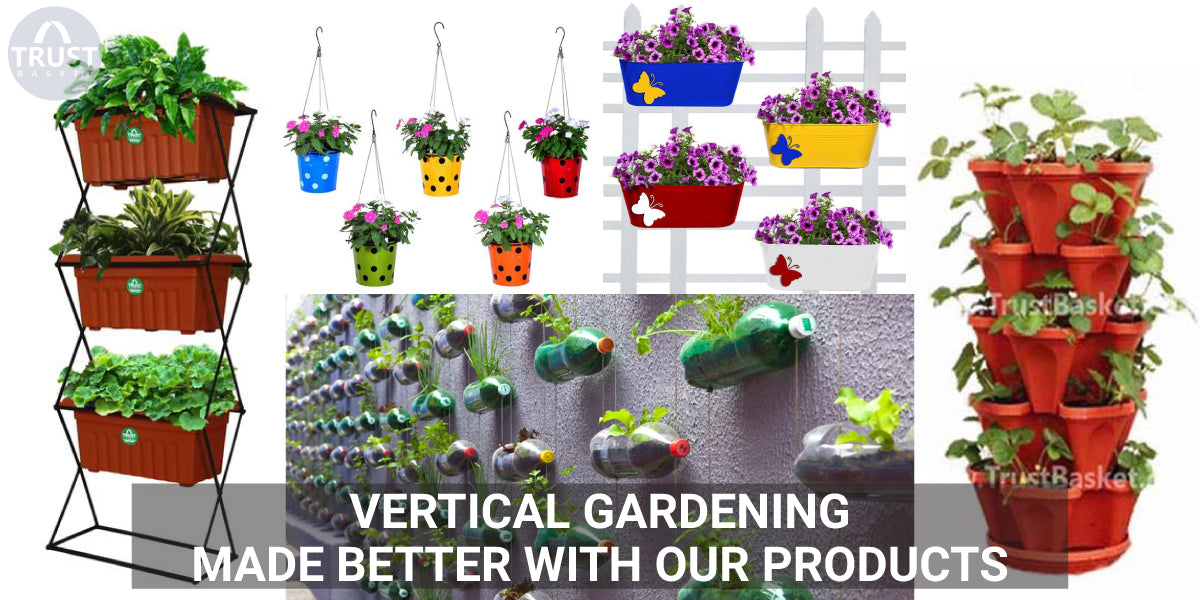 Everyone loves gardening. It is the best hobby one should have. Having a beautiful garden around your home keeps you always energetic. They also purify the air around the home and provide fresh air. Green plants with colorful flowers around your home would be the best landscape you can have. But they consume bigger space around your house. In today's congested world filled with concrete buildings, we cannot find sufficient place to grow plants. In spite of having the interest to grow plants, people living in apartments will not be having sufficient space. To those who are willing to have a small garden with a little bit of space, here are some ideas to have a beautiful garden around the concrete buildings.


1. Vertical Gardening
Vertical Gardening is a technique of growing plants vertically on the walls or pillars. As they are grown vertically, they consume vertical space which will be rarely used. Generally, this technique is used on the house walls, pillars or compounds. The vertical garden can be set up in a lesser horizontal space and the plants are placed one above the other. So you need to select certain plants which suits the best. Plants like Money Plant, Jade Plant, Syngonium plant etc., can be grown easily in the vertical garden. There are different types of planters for vertical gardening.
a. Vertical Gardening Panels

A panel console is fixed to the wall such that the pots can be easily placed on the panel. You can suspend the pots on the panels and grow plants in those pots. They won't consume much space but decorates your house. These vertical gardening panels can be purchased in the nearby gardening stores or through online gardening stores. You can purchase Vertical gardening pouches and suspend them on the wires or you can purchase the whole set containing vertical gardening panel and pouches.


b. Stack Planters

You can also purchase Stack planters. These planters are Stackable flower pots which can be used as either a hanging or freestanding planter. These planters are suitable for strawberries, herbs and any other seasonal vegetable or flower combination. It can also be ideal for patios and balconies.
You can create your own combinations of fruit, flowers, vegetables or herbs.


c. Tier planters

Tier planters also contribute to vertical gardening. The pots are placed on the stand one above the other. The whole setup can either be suspended using rope and hook or with the help of a stand. They decorate your household using the available space. Most of the herbs can be grown in these planters.


d. Recycling the used plastic bottles
You can also utilize the old plastic bottles for vertical gardening. Take a used plastic bottle and make an opening in the middle. Fill the bottle with soil and place the plant inside it. Using a binding wire or a thread, hang them to the loops or to the nails on the wall. Instead of throwing the plastic bottles, you can utilize them in this way.
2. Railing Planters

Railing planters  or Balcony planters are also related to vertical gardening but the concept is a bit different. It has a hook which can be fixed to the balcony railings. Most of the railing pots are made of metal with attractive color combinations. You can get these railing planters in astonishing designs and sizes. These balcony planters are not placed one above the other. So there are no restrictions on the size of the plants. You can grow the plants of any size in these planters. 
3. Hanging Planters
Hanging planters are also a good selection for today's homes. As They can be suspended to the roofs and the plants can be grown easily. So it is also related to Vertical gardening. These pots may have metal chains or with cotton threads with macrame patterns. Hanging pots are the trending pots in gardening. So they are vastly used for home gardening.
Popular Searches: Garden Accessories for Sale, Compost Bin India, Plastic Flower Pots Online, Contemporary Plant Pots, Hanging Pots Online, Colourful Plant Pots, Bird Feeders Online, Rectangular Planters Online, Small Pots Online, Flower Pots Online, Kitchen Waste Compost Bin, Balcony Railing Planter
3 comments