How to grow Fenugreek plant/Methi plant in your Garden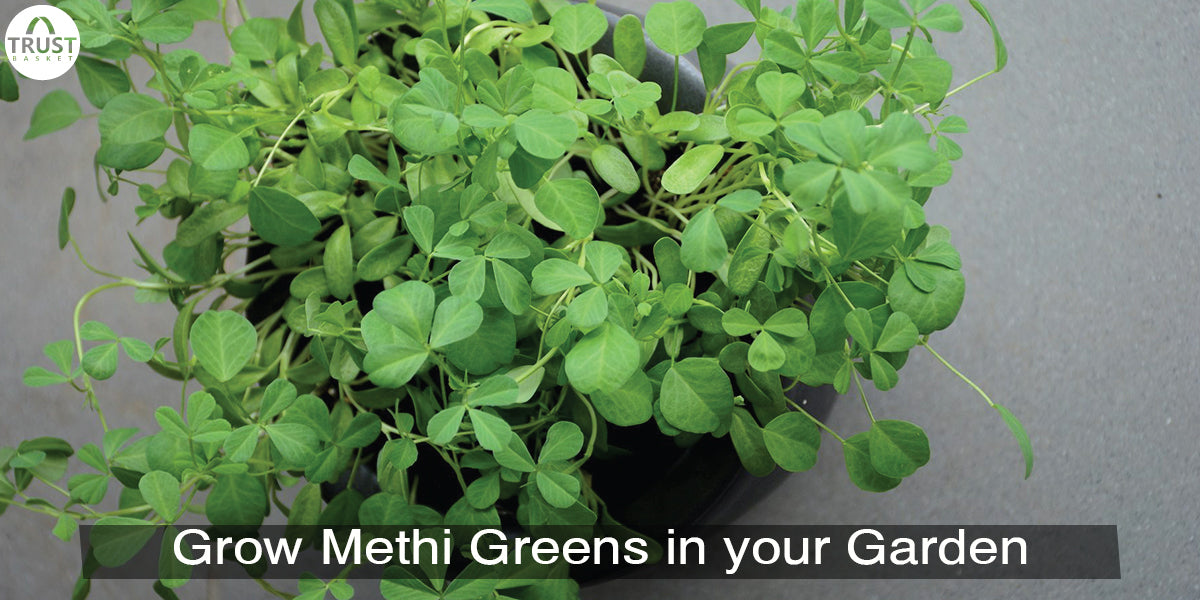 It is very easy to grow Fenugreek plant or Methi plant from seeds in pots or ground at home, even indoors.


Fenugreek plant is a half-hardy annual herb indigenous to Western Asia. It has been grown for many centuries in the Mediterranean region and can be found in many commercially prepared curry powder.


Botanical information
Botanical name: Trigonella foenum-graecum
Family: Fabaceae 
Common names: Menthya, Methi, Medhika, Greek clover, Greek hay 
Centre of origin: South-Eastern Europe/ Europe. 
Climate: You can grow Fenugreek plant in a warm climate. If you have planned to grow from seed, spring the best time to start.
Soak the seeds in a jar or container with 4 to 5 inches of water above the seeds and leave them for 12 to 24 hours.

Soil: Prepare the soil , by adding some compost. Methi can be planted in direct soil as well as in the container. Scatter seeds dense in the growing area
In order for the seeds to germinate, you have to water them daily. Make sure that the soil is evenly moist. With the perfect potting mix and moisture, the seeds will be germinated in 7 to 8 days.
It can be grown both indoors as well as outdoors, so select a place where it can get 4 to 5 hours of sunlight daily.
After 20 days from plantation methi plants are ready for the first harvest, chop up its leaves and use for preparing delicious recipes.

CHOOSING THE POT / LAND AND SOIL
Once you have decided to start gardening, selecting a planter is very important. Here are some tips to buy Planters.

There are many features to be considered while selecting a plant pots online below are some of them.
Depending on the gardening whether indoor/outdoor select the pot with suitable size and material. Which are best suitable for your place. For Methi plant select a pot which has 12 inches in depth and width. Be sure to select a pot which has a drainage hole at the bottom so the excess of water may flow out, This prevents your plant root from rotting. For outdoor gardening select a planter which can withstand all the season. Select colorful planters will give an attractive look for your garden.
While select soil, never use soil found in your garden for growing, As it lacks in nutrients. If you want to use soil alone check our organic fertilizer else coco peat-based potting mix which holds fertilizer as well as compost content in it. The major advantage of using coco peat-based potting mix is it retains moisture content and you will not have to invest in fertilizer/compost.



Learn how to grow fenugreek plant / methi plant in 7 easy steps. Growing fenugreek plant is easy if you'll follow the tips given in this article.
Buy best quality seeds from an online store. The seeds are brown in color which are irregular in shape. Soak the seeds overnight to increase germination rate before sowing.


You can grow them in any container. Take a shallow wide planter at least 6 inches deep (it has shallow roots) with good drainage.
Sprinkle soaked seeds all over it and add a thin quarter inch layer of soil over them. Sow seeds ¼ inches deep in a good potting mix or soil. Remember, fenugreek hates to be transplanted. Leave 2 inches of space for each plant while sowing seeds. They'll sprout quickly and you'll see seedlings just within 2 - 4 days.
It grows well in a warm and hot climate when the temperature ranges from 50 to 90 F (10 C to 32 C).
They prefer neutral soil with pH level around 6.0 - 7.0. Plant it in a spot that receives at least 4 hours of sun with shade in afternoon. Do regular watering. Do not over water.


Within 20 days methi plant will be ready for the first harvest, chop up its leaves to use as a green leafy vegetable and prepare delicious recipes or air dry it to use as a herb.


Leave the twigs, which will grow up again within 15 days, you can do this up to four times. To harvest the seeds you've to wait for 2-4 months.
 Pests: Methi greens are usually attacked by leaf miners, aphids, and sometimes with thrips and cutworms. 
Diseases:  rarely Methi greens are attacked by powdery mildew, Cercospora leaf spot, and damping off. 
How to control pests and diseases: Use horticultural soap or neem oil solution once a week as a prophylactic spray for plants, to control the occurrence of pests and diseases.  
Harvesting of seeds: 
When you have grown Menthya plants for their seeds, you need to wait more days until the plant produces pods. Wait until the pods turn yellow and dries. Then collect the seeds from pods and dry them one day under direct sunlight. Store it in an airtight container. 
Health benefits of methi plants:
1. Consumption of methi may reduce the blood sugar level
2. Fenugreek helps in the digestion 
3. Consumption of methi/ fenugreek enhances milk production in lactating mothers 
4. May control bad cholesterol levels. 
5. Methi reduces menstrual cramps 
Most frequently asked questions on growing of Methi: 
1. How long does Methi take to grow?
Fenugreek or Methi usually takes very little time. You can start harvesting methi leaves from 20 days itself. If you are thinking to harvest seeds you have to wait for more days to get dried and matured fenugreek seeds.
2. How do you germinate Methi seeds?
There are different ways to germinate methi seeds. First, you can soak them in water for 4-5 hours after that, you can keep seeds in an airtight container for getting germination. Second, you can place the soaked seeds on a wet cloth and tie it airtightly to get germination within a day. The last way is you can sow seeds directly in the soil to get germination.
3. What is the best time to grow Methi seeds?
Methi can be grown all around the year in Indian climatic conditions.
4. Can we grow Methi at home? 
It is the easiest leafy vegetable that can grow at home compared to other vegetables. you require seeds, potting mix/ fertile soil, and water for starting/growing methi plants.
Questions on Harvesting: 
1.How to harvest methi?
When plants reach physiological maturity start harvesting leaves with a pair of scissors. Cut the tip of plants to enjoy the best taste of the plant. If you have secateurs, you can use them cutting stems and leaves of the methi plant. 
2. When fenugreek plants become ready for harvesting?
Fenugreek greens are the fastest-growing plants among the leafy vegetables. You can start cutting plants from the third week onwards. Do not wait for too many days the leaves may turn bitter due to the production of flowers. harvest early and enjoy the tender plants. 
3. Can we store methi leaves for more number days after harvesting? 
Yes, you can store the leaves for days in airtight zipper bags or any other container. But it is always better to eat the leafy greens on the day of harvesting for the best taste and texture. 
Popular Searches: Garden Accessories for Sale, Compost Bin India, Plastic Flower Pots Online, Contemporary Plant Pots, Hanging Pots Online, Colourful Plant Pots, Bird Feeders Online, Rectangular Planters Online, Small Pots Online, Flower Pots Online, Kitchen Waste Compost Bin, Balcony Railing Planter
9 comments