Beautiful Botanical Gardens in India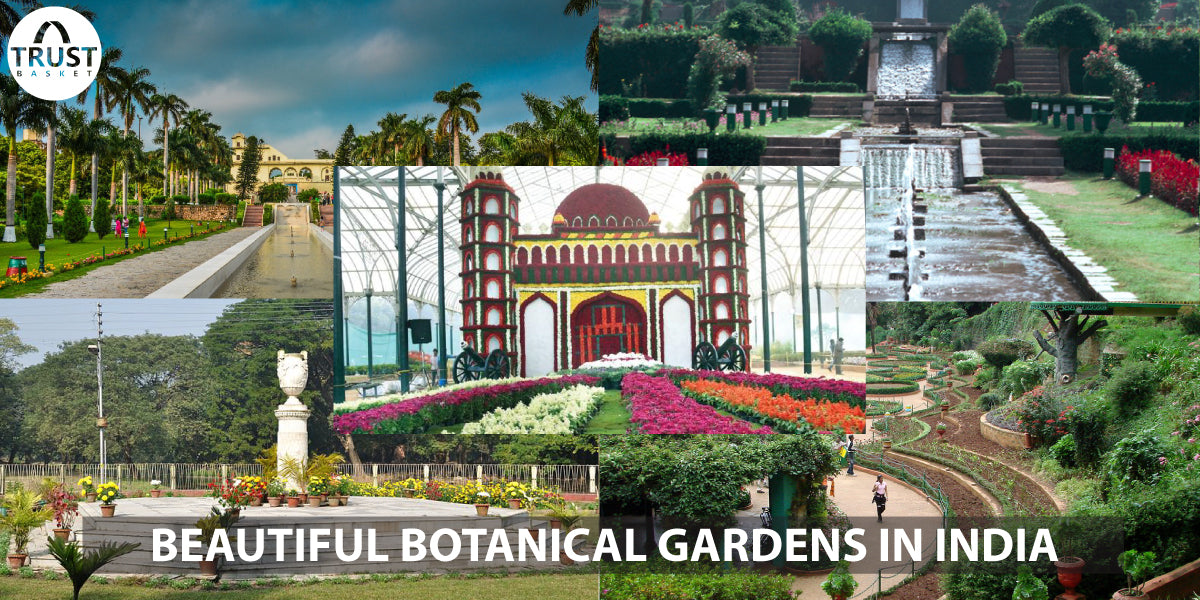 Nature is one beautiful creation of God. There is nothing equivalent to God's creativity. We cannot imagine our life without nature. We are totally dependent on nature for our every requirement. The plants, trees, animals, rivers etc., are the inseparable elements of nature. One of the very important elements in nature is Plants. It is the only source of oxygen. Botany is called the study of plants. We have many places where the different variety of plants are grown such places are called Botanical gardens. We have many beautiful Botanical gardens in India. Come let us discuss about some of the beautiful Botanical gardens.
1. Indian Botanical Garden - Howrah, Kolkata
It is popularly called as Acharya JC Bose Botanical garden. It is located in Howrah, Kolkata. It is constructed in 100 acres of land which contains the spectacular collection of plants. It contains about 12,000 specimens of different plants including orchids, bamboo, Palms etc., This flower garden was started in the year 1787 by a British officer named Col. Robert Kyd in order to increase the trade of spices. The greatest attraction of this botanical garden is Giant Banyan tree. It is considered as the largest Banyan tree in the world spreading about 300 meters in circumference.


2. Lalbagh Botanical Garden - Bangalore, Karnataka
One of the key attractions for tourists in Bangalore is Lalbagh. It is also known as Red Garden. This garden was built by Hyder Ali and his son Tippu Sultan, one of the prominent rulers of Mysore state. This beautiful flower garden was built in the year 1760 in 240 acres of land. We can see a wide variety of plants and bird species here. The Department of Horticulture also sells good quality plants and seeds at a good price. The main attraction of Lalbagh is Glass House. Lalbagh hosts flower shows twice in a year during Republic day (January 26th ) and Independence day ( August 15th). People around the world come to enjoy the floral extravaganza. Apart from Flower shows, Lalbagh hosts botanical research and also imparts garden related researches. It also has an orchestra stand where cultural programmes are conducted more often. The Peninsular Gneiss is also one of the tourist attractions. The tower constructed on this rock is one of the 4 towers constructed by Kempegowda. W can enjoy a beautiful view of Bangalore from this tower.


3. Government Botanical Garden - Ooty, Tamil Nadu
This Botanical garden is located in Ooty, Tamil Nadu. This is one of the beautiful gardens famous for Roses. It has about 300 variety of Roses. This garden was built in the year 1848 by William Graham McIvor. It has a vast collection of plants, shrubs, herbs, Bonsai and other categories. The flower garden has been divided into 5 parts namely Lower garden, New Garden, Italian Garden, The Conservatory and Nurseries

The lower garden comprises lawns and ferns. The house of ferns made of 127 variety of ferns can be seen here. The key attraction of this section is the Indian map made of colorful lawns and grasses. The new garden comprises 300 variety of Rose plants. Apart from rose plants are also many colorful flower plant in this part. This part also has a natural pond containing many aquatic plants. The Italian garden contains many colorful flowering plants like Asters, Balsam, Pansy and perennial plants like Salvia, Dahlia etc., This is the main attraction in this part of the garden. This garden was built by the Italian prisoners who were shifted to Ooty.

The Conservatory was constructed in 1912 which comprises flowering perennials like Cineraria, Balsam and other colorful plants. The Nurseries contains 8 glass houses where a different variety of ferns, Cactii and Succulents are grown. Flowers show is organized in the month of May every year.


4. Nishat Bagh Botanical Garden - Srinagar, Jammu & Kashmir
Nishat Bagh Botanical garden is located in Srinagar, Jammu & Kashmir. It is a Terraced Mughal style flower garden situated beside Dal lake. Nishat Bagh in Urdu means 'Garden of Joy'. This was built in the year 1633 by Asif Khan. It has been constructed on 49 acres of land. It contains the cascaded layers of terrace gardens containing Chinar and Cypress trees from the lake shore to the top layer of the garden. It has 12 layers of terrace garden representing 12 Zodiac signs. There are many buildings with the Mughal architecture around the Nisham Bagh.


5. Pinjore Botanical Garden - Panchkula, Haryana
Pinjore Botanical Garden, also called Yadavendra Garden is located in Panchkula, Haryana. This was built in 17th century by the rulers of Patiala dynasty. This garden was built as a summer retreat for Aurangzeb. The garden has been constructed with seven Terraces in which a Rajasthani - Mughal style of Palace is been constructed in the topmost Terrace. The first layer has 'Shish Mahal', a palace made of glass and 'Hawa Mahal'. Apart from these two, a palace containing paintings called 'Rang Mahal' was also constructed. The other layers of the Terrace consist of Cypress trees, Flower Beds and Fountain. The lowermost layer has an Open-air theatre where cultural programmes were conducted. It is one of the beautiful Botanical gardens in the foothills of Himalayas.
Popular Searches: Garden Accessories for Sale, Compost Bin India, Plastic Flower Pots Online, Contemporary Plant Pots, Hanging Pots Online, Colourful Plant Pots, Bird Feeders Online, Rectangular Planters Online, Small Pots Online, Flower Pots Online, Kitchen Waste Compost Bin, Balcony Railing Planter
3 comments