3 Vegetables that can be grown in Monsoon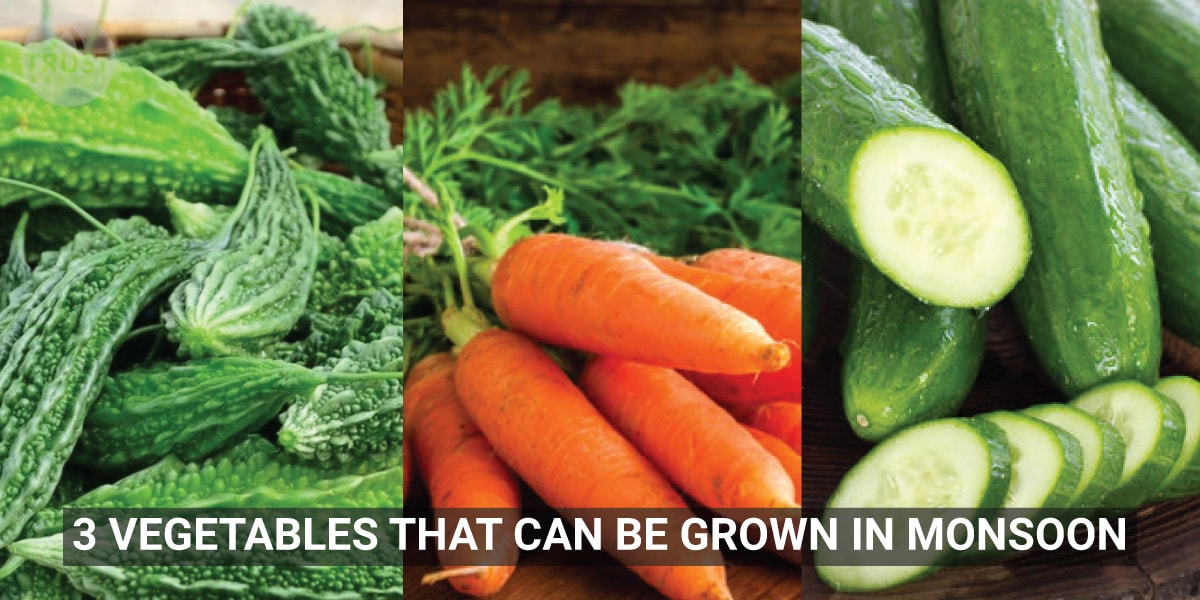 The season plays a very important role in the growth of plants. As the plants require a certain optimal temperature, plants have been categorized according to the seasons. In the previous blog, I had discussed about the plants that can be grown in summer. I had also given some tips and hacks to maintain the soil temperature during the summer season. Here is one such season, the Monsoon. Monsoon is one amazing season where the wind in the Indian Ocean and southern Asia blows from the southwest from April to October. The monsoon rejuvenates many beautiful plants. It is the transition time where the hot summer is dominated by the cool breeze and rain. So why don't you try growing some vegetable plants during this monsoon?



1. Cucumber:

a. Plant category: Vegetable.
b. Germination time: 15 to 20 days.
c. The temperature required: minimum 21°C.
d. Harvest time: 90 days from germination.


Cucumber is one of the most popular and most used vegetables that can be consumed raw as well as cooked. They are called as kamal kakdi (Hindi), sowthekayi (Kannada) and has a lot more local names. Consuming cucumbers fights against inflammation manages stress, reduces cholesterol etc. Cucumbers are climber/creeper plants can be grown in containers as well as in your garden patch which requires good care in the process of growth. 
Cucumber can be easily grown from Cucumber seeds. They require 15 to 20 days to germinate under optimal conditions. The temperature should be at least 21°c so that the seeds can germinate well. They prefer wet soil to grow. Hence maintaining the moisture of the soil is very important. Plants require good soil for healthy growth. Well-drained potting mix helps the plant to grow well and absorb sufficient moisture. A potting mix containing cocopeat helps in retaining moisture content for a quite long period as cucumbers might lack water content. In summer water two days once depending on the plant and in winter water four days once in case of rain watering is most probably not required as the water flows directly into the plant well depending on the plant water four days once in case the plant gets dried up.
Image source

Beetles, Whiteflies, Aphids and Spider mites are the common pests that cause diseases to Cucumber. Use natural pesticides like "Neem oil". Cucumbers from the day of sowing approximately 90 days fruits will be of 6-8 inches in height and green in color then they are ready for harvest. While removing be careful avoiding plant damage as they re-grow. Cut off the fruits with pruning secateurs or by a knife.


2. Carrot:


a. Plant category: Vegetable.
b. Germination time: 15 to 20 days.
c. The temperature required: 12°C to 26°C.
d. Harvest time: 60 to 75 days from germination.


Carrot is a common vegetable used to prepare most of the delicious cuisines. It can be eaten both raw or cooked. It is basically the root part of the plant. Carrots help improve eyesight, prevents cancer, promotes healthier skin, prevents heart disease, protects teeth and gums. As the carrots are root vegetables they need the pots of about 12-18 inches deep to grow. You can even use grow bags which even has a drainage hole at the bottom. In the case of land, choose a place where the plant gets sufficient sunlight and space to grow.
Image source

Select good quality carrot seeds to grow the plants. It takes about 15 to 20 days to germinate from the seeds. Carrot plants grow in loose soil as their roots grow downwards. Use cocopeat based potting mix so that the roots can grow freely inside the soil. It requires 12°C to 26­­°C temperature to grow well. Carrots are cool weather crop. So it takes more water to grow. If you are providing proper water it will grow soon. Water the plants daily once during summer, once in two days during winter and only if required during the rainy season. The carrots are commonly affected by Aster yellows and Rhizoctonia diseases. Use organic pesticides like Neem oil instead of chemical pesticides.
Image source

Carrots are ready for harvest within 2 to 3 months from the day of sowing. Most carrots are ready to harvest when the shoulders are 1/2 to 3/4 inch in diameter, but again, there is much variation depending on the variety. Remove the plant by headgear safely as it cannot regrow again. As tender roots are sweeter and crunchy.


3. Bitter Gourd:


a. Plant category: Vegetable.
b. Germination time: 20 to 25 days.
c. The temperature required: minimum 21°C.
d. Harvest time: 150 to 180 days from germination.


Bitter gourds are also called as Bitter melon, karela in Hindi, Hagalakayi in Kannada and different names in different languages is a popular creeper/climber vegetable plant in India used for cooking and also known for its bitterness but holds medicinal values. They have been in use for a very long time in or Ayurveda. Bitter gourd has been used in various Asian and African herbal medicine systems for a long time. It has been used as a folk remedy for a variety of ailments, particularly stomach complaints. In traditional medicine of India, different parts of the plant are used as claimed treatments for diabetes as it contains Polypeptide-p, an insulin analog. It is also used as a stomachic, laxative, antibilious, emetic, anthelmintic agent, for the treatment of cough, respiratory diseases, skin diseases, wounds, ulcer, gout, and rheumatism.
Image source

Bitter gourds can be easily grown at home using seeds. They take 20 to 25 days to germinate. You can grow them either in pots or directly on the ground. But make sure to provide the good potting mix. Use a well-drained potting mix to avoid moisture accumulation at the roots and hence causing root rot. They require minimum 21°C to grow. We can grow Bitter gourd either indoor or in the outdoors. But it requires nearly six hours of sunlight every day. So it is better to grow them outdoors. Bitter gourd is a low water consumer plant. It does not take more water to grow. So, in summer, water them two times per week. In winter, watering three days once would be sufficient.
Most of the times watering is not required during the rainy season. Water only if it does not rain for 4 days in a row.
Image source

The common diseases that affect Bitter gourd are Powdery mildew and Downy mildew. Pests like mites, aphids, beetles, fruit flies and caterpillars are also responsible for the diseases. In order to help the plant grow healthy, use natural pesticides like Neem oil. Mix 20 to 50 ml of neem oil into one liter of water and spray on the plants. This can prevent most of the plant diseases. Bitter gourd will be ready for harvest after 150 to 180 days from the day of sowing. Cut off or pluck the fruits when they are about 10-15 cm. It's good you pluck them when they are tender as over ripen gourds may taste more bitter. Approximately a single healthy plant produces minimum 12-14 fruits.
Popular Searches: Garden Accessories for Sale, Compost Bin India, Plastic Flower Pots Online, Contemporary Plant Pots, Hanging Pots Online, Colourful Plant Pots, Bird Feeders Online, Rectangular Planters Online, Small Pots Online, Flower Pots Online, Kitchen Waste Compost Bin, Balcony Railing Planter
3 comments