Give a new dimension to your garden with Trellis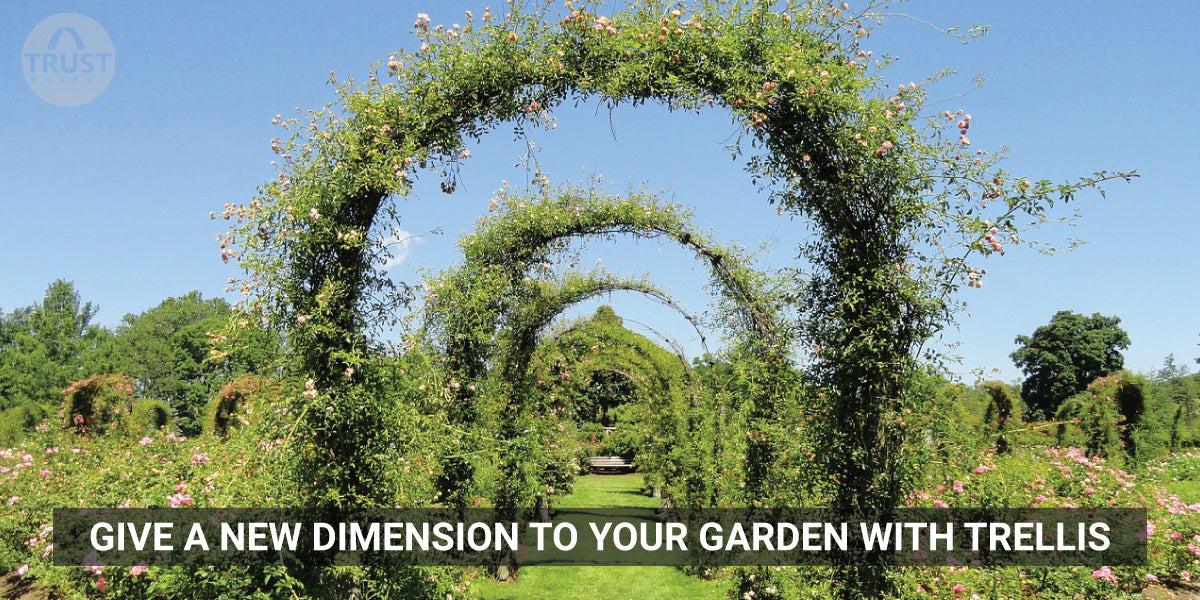 A garden consists of many varieties of plants. Some produce beautiful flowers and some do not. Few plants can tolerate high sunlight, some are capable of surviving in less sunlight and some can survive with minimum water. Some depend on other plants for food and some feed on insects. Growing each kind of plants has a technique. Previously I had given some details about Topiary technique which can enhance the beauty of your garden. Here is another such technique. Growing creepers and climbers by using support structure is one such technique. This technique can be implemented by Trellis.


What is Trellis?
Image source

A Trellis is a support structure, usually made from an open framework or lattice of intersecting pieces of wood, bamboo or metal that is normally made used to support climbing plants, especially shrubs. It is an outdoor garden frame which can be used to grow vines or other climbing plants.

It is a method used to decorate your garden in a unique way. Trellis is common in Europe and other rose-growing areas, and many climbing rose varieties are grown with the help of a trellis to reach their potential as garden plants. Some climbers wrap themselves around a trellis without any help but some needs to be tied to the framework.


Trellis culture:
Image source

Trellis has been mentioned in literature and many botanical works throughout history. An author named Pliny the Younger wrote about trellises in some of his letters about gardens during the first and second centuries. In the 19th century, a port named Walt Whitman has also mentioned a trellis in his work "Give me the Splendid, Silent Sun". The trellis was used to support shrubs in espalier, also to separate roads from thickets and diverse sections of vegetable gardens. These sorts of fences were made by the gardeners. Two French architects and landscape designers named André Le Nôtre and Jules Hardouin-Mansart were the persons who made the trellis became an object of decoration. They made different trellis structures based on the type of plants they grew. Hence Trellis was a part of garden architecture and landscaping.
Image source

In the 20th Century, landscape architects such as Edouard François and Gilles Clément used the trellis to provide the modern architecture a new elevation. Nowadays this has become a new trend in gardening. A garden trellis can add so much charm and functionality to a garden. It offers supports for beautiful flowering or fruiting vines and add more growing area for small gardens, and helps to create attractive outdoor spaces such as beautiful walls and fences.
Image source

Cucumbers, squash, peas, pole beans, tomatoes and sweet potatoes are some of the most common climber vegetables. These vegetables are categorized into three types based on their climbing nature. Some have tendrils, some are twiners, and some are scramblers. Knowing the difference in their growing tendencies can help you choose the right support structure.


Types of Trellis:

1. Flat Trellis or Wall Trellis:
Image source

This type of trellis, also known as wall trellis, is ideal for creeping vegetables like peas, cucumbers and pole beans. This structure is very popular because it is sturdy and thick and can support the weight of various types of climbing vines and vegetables. A flat trellis is also very flexible because you can make it large or small, depending on the size of your space and your chosen plant. If you are interested in growing pole beans, you should make a large trellis because this plant can grow as high as 15 feet. You can use wood, plastic or metal materials for this trellis, provided that the material you pick can support the type of vegetable that you want to grow.



Tower Trellis or Obelisk Trellis:
Image source

This kind of trellis is more popularly known as the obelisk trellis. It requires sufficient space and is ideal for landscaping. This pyramidal trellis allows you to grow different types of vegetables on each of its sides. However, there are certain kinds of plants that grow only on this type of structure. Tomatoes, peppers, gourds and melons grow well in a tower or tepee-style trellises.

When using these tower trellis, it is important to make a support for each fruit or vegetable. Many climbing vines or plants cannot hold the weight of their fruits. Individual structures or strips allow Pumpkins, Bitter gourds, Bottle Gourds, Sponge Gourds, Watermelons, Musk Melons and squash to grow really big. Materials that are commonly used for structures are metal and wood.


Plant Box Trellis:
Image source

If you are interested to grow a vegetable garden but only have a small space available, the best type of trellis is the Plant box trellis. It is very easy to grow vegetables using a horizontal trellis or lattice attached on one of its sides. Even if you only have a small patio or a window space, you can grow your own vegetable using this type of trellis. However, not all creeping plants can grow well on this trellis, you need to select certain vegetables that neither grows very tall nor has very deep roots. Some plants that are suitable for this type of trellis are squash and miniature pumpkins.
Popular Searches: Garden Accessories for Sale, Compost Bin India, Plastic Flower Pots Online, Contemporary Plant Pots, Hanging Pots Online, Colourful Plant Pots, Bird Feeders Online, Rectangular Planters Online, Small Pots Online, Flower Pots Online, Kitchen Waste Compost Bin, Balcony Railing Planter
0 comments